Temple Ewell 10k Race Report and Results
A few months ago at a race someone handed me a flyer for the inaugural Temple Ewell 10k race.  Knowing the area pretty well I remarked "That's bound to be a bit hilly isn't it ?".  Fast forward to today and I found myself in good company with plenty of other TRAC runners milling around race HQ waiting for the start of the race.
I thought I would take the perfectly sensible approach and carry out my warm up on "the hill" which was right at the start of the race to become familiar with it.  After running up and down it I was thinking it wasn't too bad and the course profile was perhaps a little inaccurate.  Well, the mistake I made was that the slight hill I warmed up on wasn't actually part of the course and the actual hill which was part of the course was hideous, up a really steep gradient coupled with an off road section which was covered with thick mud, tree roots and was as slippery as anything.  I mentally congratulated myself on both my comprehensive race preparation and also my race shoe selection as I was wearing my racing flats with absolutely no grip at all.  The first few kms were like watching me star in Bambi on Ice.
Two runners from Deal Tri and Ashford AC set off ahead of me and attacked this hill at quite a pace.  I was more than happy to sit behind them and just keep them in sight.  The reward for reaching the top of the horrible hill (about a mile long) was a section over a really boggy farmer's field which was covered in thick mud and dotted with cow poo.  I slipped and slid my way into 2nd place at this point and was looking forward to a slightly different terrain underfoot.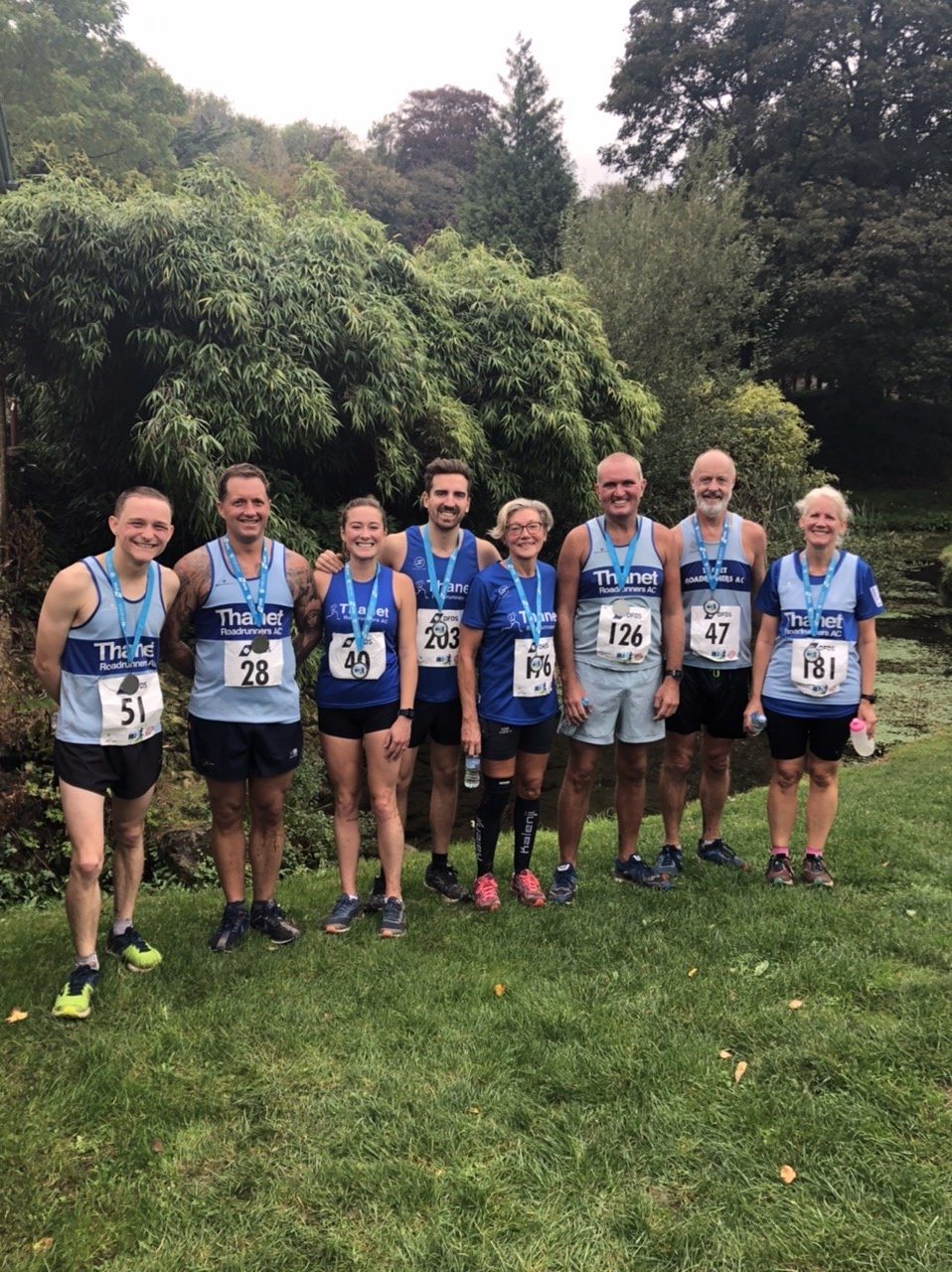 I felt a lot more comfortable when the race entered the country lanes although these were covered in pot holes, standing water and more mud.  It was here at about 4k in that I caught the leader and started to put my foot down.  The next few kms were on slightly better surfaces and I focused on the lead cyclist and entered the cow poo field for the 2nd time at the 8km mark still in the lead.  I had no idea how much of a lead I had as I was telling myself not to to look behind me.  Running across the boggy field for the 2nd time sapped the legs but one of the marshals told me I had a big lead which kind of answered the question I had in my head.
What goes up most definitely comes down on this course.  The last mile was a suicidal descent through more water and mud and I just told myself not to fall over and ruin it now !  Towards the bottom of the hill the terrain changed to a better road surface and I was greeted with the "400m to go" sign.  This was my cue to floor it round the corner, over the little bridge and towards the finish line.  A first 10k race win for me and, although my time of 38:31 was much slower than what I did at the Ashford 10k the week before, on this course and on this sort of terrain I was very happy. It was like a cross country race.  The second place runner came in almost 90 seconds later so perhaps I didn't need to risk my life motoring down that downhill finish !
There were some great performances all round from the TRAC contingent.  Everyone had a smile afterwards even though they were covered in mud.  It was a shame there wasn't a team prize as we claimed 1st, 4th (Ashley) and 6th (Jamie) places which would definitely have been enough.  Ashley Day got the first MV40 trophy in 4th place and Abi Cardwell ran a great race to finish second overall lady and finished within a minute of the first female back.  Lots of nice trophies all round !
Perhaps with better weather in the week before the race the conditions would have been easier.  It was a total mud fest and a really tough 10k.  The hill at the start was probably the toughest one I have dealt with in any 10k race before. Having said that, for those about to start cross country season it was a great warm up for what is in store this Autumn/Winter !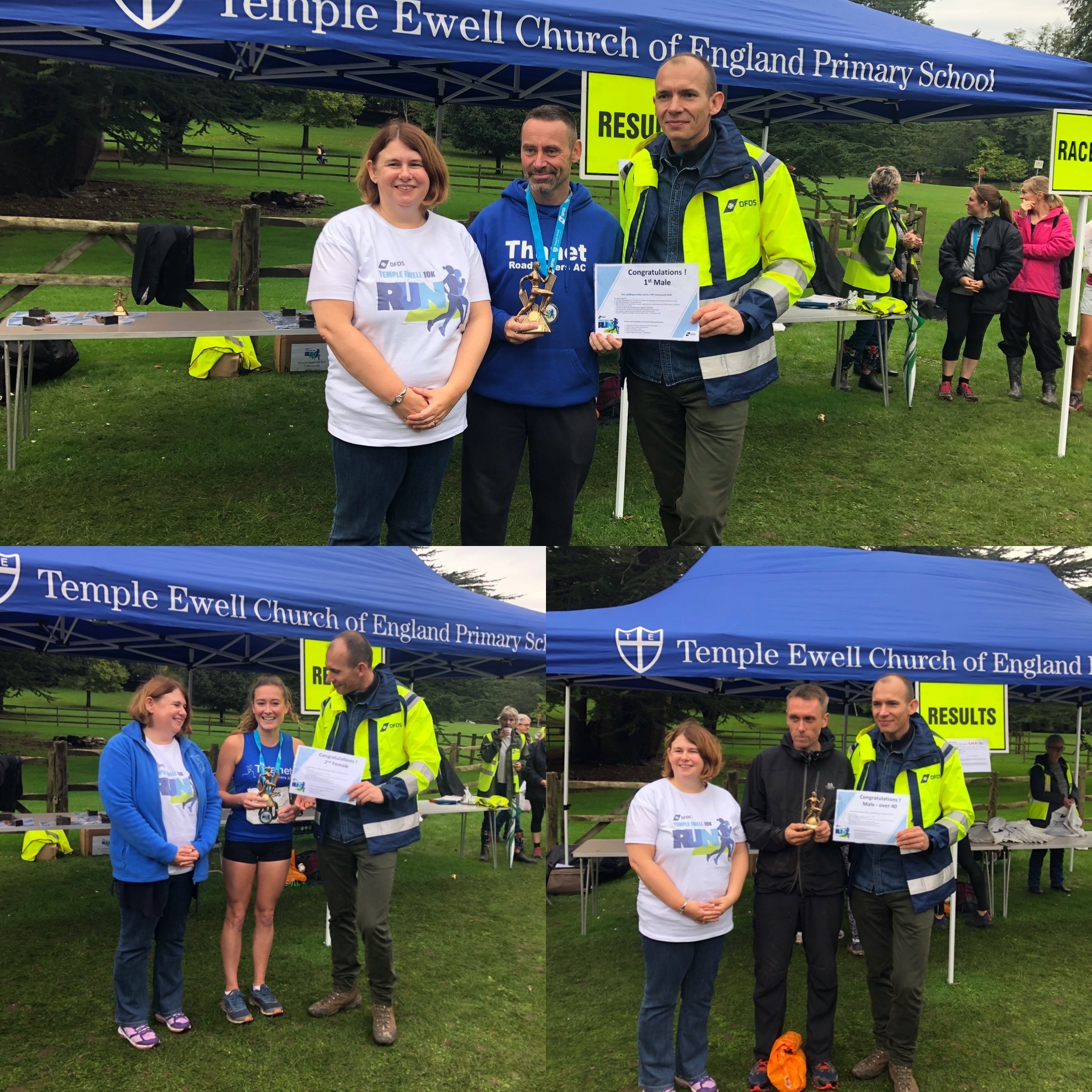 TRAC results:
1st Andy Stevens 38:31
4th Ashley Day 40:40
6th Jamie Collins 41:26
22nd Abi Cardwell 47:49
23rd Andrew Richardson 47:50
50th Paul Brackenborough 50:33
82nd Steve Clarke 53:42
83rd Spencer Hoult 53:54
158th Janet Morgan 1:02:30
189th Karen Moys 1:06:49
There were 254 finishers.
Andy 💪