Thanet men win team prize in field of 1000 runners
Canterbury 10-mile road race 2023
TWENTY SEVEN traccies took part in this year's opening race in our club championships and the KCAA Grand Prix road racing calendar in a field of around 1000 competitors.
A cold still morning awaited the runners for the early 9.00 am start, luckily the temperature was rising to give perfect race conditions, you might need your hat and gloves for this one.
The pre-race talk between us was mainly about the little steep farm track at mile 4 and the much longer hill at mile 7. We will all like those nice long downhills to find our pace and enjoy a 10-mile run in the countryside rather than the seaside.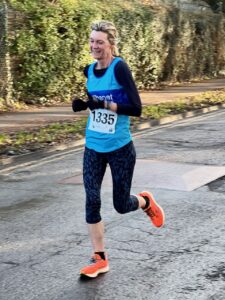 A fantastic performance by our runners meant many personal bests and first race times were set. I'm sure some individuals will be high up after this first race in the KCAA league. Our men's team took the coveted team prize in this big event to show how big our presence is within the big clubs in the county. It will give us a good start within the KCAA league as a team. As this race forms part of our club championships, many runners claimed some early points in this year's club competition. Julie Williams (above) claimed a VF55 trophy in her category.
Andy Stevens was called forward as first man in his category.  However, it became clear Stephen Male from Folkestone running club, who Andy had battled for 10 miles was in fact the winner, but his chip had failed.  Andy nobly handed his trophy to Stephen and they will race again soon!
TRAC are well proud of our men's team's prize. Thanks to Andy, Jack Bradley, Lee Hardy, and Jay Bailey.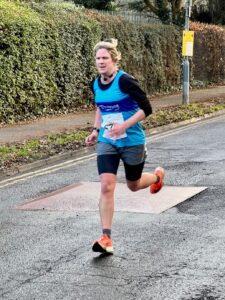 Well done to all our competitors.
Chris and Nikki. Club captains.
Full TRAC results.
Andy Stevens 57:42 16th overall (leading Club Champs men's table)
Jack Bradley 58:19
Lee Hardy 59:15
Jay Bailey 1:02:00
Dan Clarke 1:03:03
Jacob Burton 1:04:06
Richard Allan 1:07:07
Arron Baldwin 1:08:48
Ben Dunbar-Brunton 1:09:44
Simon Cowdery 1:11:40
Steven Lennon 1:13:02
James Figgins 1:13:10
Mark Croucher 1:13:13
Steve Hawkins 1:13:36
Steve Suttle 1:14:08
Jo Kemp 1:17:15  (Leading Club Champs ladies table)
Peter Heath 1:17:13
Britany Crombie 1:18:19
Julie Williams 1:20:27 1st VF55
Charlotte Barton 1:23:01
Nikki Boyes 1:24:35
Mark Hadden 1:28:41
Sarah Bailey 1:32:30
Janet Morgan 1:32:33
Gemma Hawkins 1:36:31
Phil Cope 1:45:28
Lainey Carter 1:49:30 (first race in a TRAC vest)
---
Tunbridge Wells Half Marathon on Sunday 19th February is the next Club Championship race in our calendar.