Thanet Roadrunners Summer Relays 2022
Events are throughout the early summer on Tuesdays 7pm for a 7:30pm start.
May 17th Folkestone, Lower Sandgate rd., near Lift café CT20 1PS.
May 31st Minnis Bay, The Parade CT7 9QP
June 14th Ashford, Victoria Park, Jemmett rd. TN23 4QD
June 28th Samphire Hoe, Samphire road CT17 9FL
July 12th Canterbury, Knight Ave CT2 8QA 
Teams.
You must be a full member of our club and run in Thanet Roadrunners Race Vests. Light blue/Dark blue.
Mens senior- 4 runners in team. (Age 11 to 39, there are no junior teams, clubs including ours might use juniors in senior teams)
Mens V40- 4 runners in team.
Mens V50 and V60 -3 runners in team.
Ladies senior (11 to 34), V35, V45, V55 – 3 runners in each team.
A runner can compete down an age group but not up an age group, e.g. A V40 can run in a senior or V40 team but not a V50 or V60 team.
A runner may compete in only one scoring category in each event, but may run again in a no-scoring C team to make up a team if required. A runner can run in a different team at a different event, e.g.you could be promoted into an A team for one or more events, or could move down to a different age group team. 
Each age group can have an A and B team.
C teams can be made up of men and ladies to allow others to take part for fun and get chip times, but your team will not score towards any league. Our juniors might take part as C teams.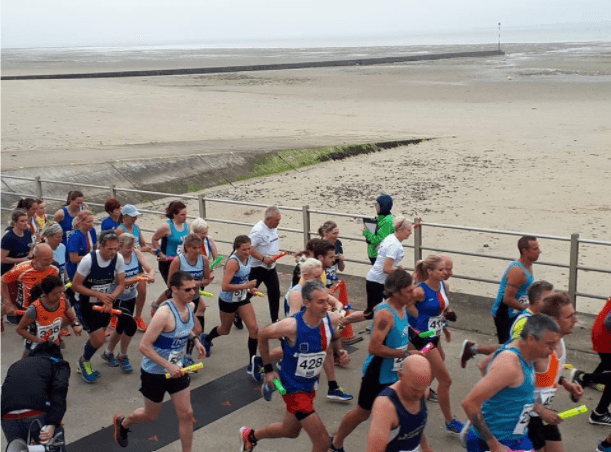 All teams start together at 7:30pm. Your team time will be recorded by starting your run with a baton, this baton is taken over the start/finish line after each competitor on the exchange and at the end for your team's total time. Each relay leg will then have a time as well as a team time. Each relay leg is between 2.25 and 2.75miles 4-4.5K. You can choose any leg to run in your team on any event and it's encouraged to change the team around. The captains will need to know the line up in advance by 7pm on each event to be submitted to the organisers.
After each event we will display the times of the competitors and teams. Nice Works will also display this. There is no individual competition for this season, purely a team result each week. So, at the end of the season, a team could consist of a number of participants across the series.
We encourage you to make up teams using the most competitive runners in your age group. The teams are a commitment to all the events; however, you can be covered by other runners if you cannot make an event. The captains and assistants will also manage the teams using recent performances.
The Captains already have your initial interests into the relays and will begin to list out possible teams, mainly using the cross-country and relays Facebook group.
We encourage you all to cheer on our teams, this is best at the baton exchange, this has been a great atmosphere in the past and is great for team morale.
All costs for the 2022 league are paid for by Thanet Roadrunners AC as part of your club membership. The last event at Canterbury often has the awards shortly after.
Practising starts soon on the track nights. Thank you and we look forward to seeing you at the relays.
Chris and Nikki – Team Captains.