Dartford 10k Race Report and Results
It was an early start for six of our TRACies on this fine bank holiday Monday who set off down the motorway to take the 8th Race in the Kent Grand Prix Series – The Dartford 10K. Upon arrival at Princes Park, despite the 9am start, the temperature was already very warm with it only heading in one direction as the morning went on.
After reviewing the race map, provided by Elizabeth Carr (more on this later), our TRACies knew what lay in front of them and were comforted by the apparent lack of hills despite the mention of a hilly course in all of the race materials.
As our TRACies set off in what was to be record breaking bank holiday heat, they were treated to a quick first kilometre mainly due to it being almost entirely downhill. What became clear very early on was that our runners were definitely running a different route to what they had been shown earlier in the day, leaving what lay ahead a complete mystery.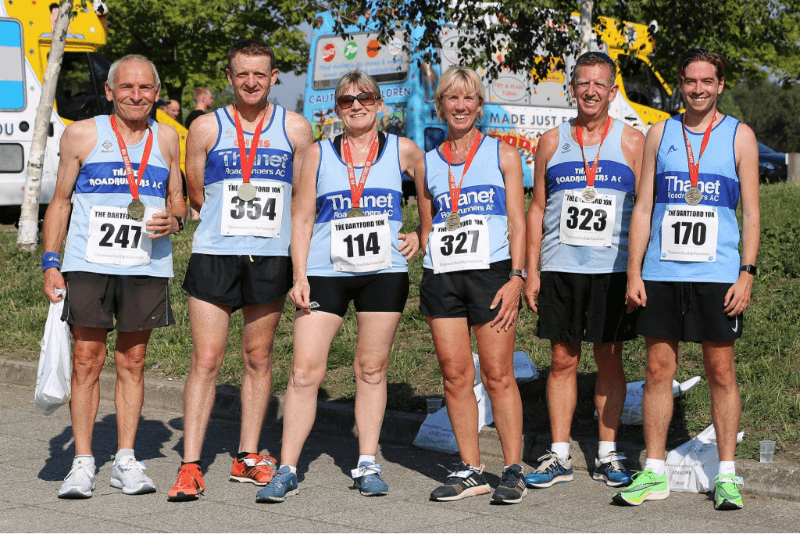 The course soon flattened out and headed straight towards South Darenth along the main road before negotiating a narrow alley which ran alongside the river Darent. Despite hugging the shade at every opportunity and with the temperature constantly rising it was a relief to finally get to a water station just after the half way point. It was also at this stage that hills started to be introduced and they most certainly were not a welcome sight. These hills were long, drawn out and exposed to the sun.
As the route looped back around and came past Darenth County Park only a couple of kilometres remained and although most of this was up hill, our TRACies dug deep to pick up the pace and finish strong. Crossing the line just outside the stadium, it was a glorious sight to be presented with your medal and also an ice cream which went down a treat.
First of our runners home was Chris Brenchley in an impressive time of 39:09 especially when you consider only yesterday Chris completed his first ever Oysterman Triathlon! Our women's Captain, Nikki Boyes, was the first of our ladies to finish in a great time of 54:35 in tough and challenging conditions.
Thanks again must go to David Carr for his fantastic photos of the event capturing our runners on that sprint finish. Thanks must also go to all of the marshals on the course which must have been difficult in these hot conditions. Everyone at Thanet Roadrunners AC are all aware of how vital the marshals are and without them giving up their time, we wouldn't have events like this.
Well done to all of our runners. The full Club results were as follows:
20th – Christopher Brenchley – 39:09
43rd – Maxwell Hubbard – 43:59
144th – Peter Heath – 53:25
157th – Nikki Boyes – 54:35
190th – Elizabeth Carr – 57:34
223rd – Philip Cope – 1:00:06