Kent Coastal Half Marathon Race Report and Results
The Kent Coastal Half Marathon is very much a highlight in the running calendar for us at Thanet Roadrunners AC. Not only is this because we host this race in our home town, but also because it is rapidly building upon its reputation as being one of the most picturesque and friendly Half Marathons around with the most enthusiastic and supportive marshals.
With a course starting at Palm Bay and heads towards Margate before looping back on itself, hugging the coastline as it passes through Kingsgate, Broadstairs and Ramsgate and back, it is easy to see why this race gets so much praise for its scenic route. With the same token, this undulating course can be tricky and with a route that is exposed to the elements it can often be a real challenge.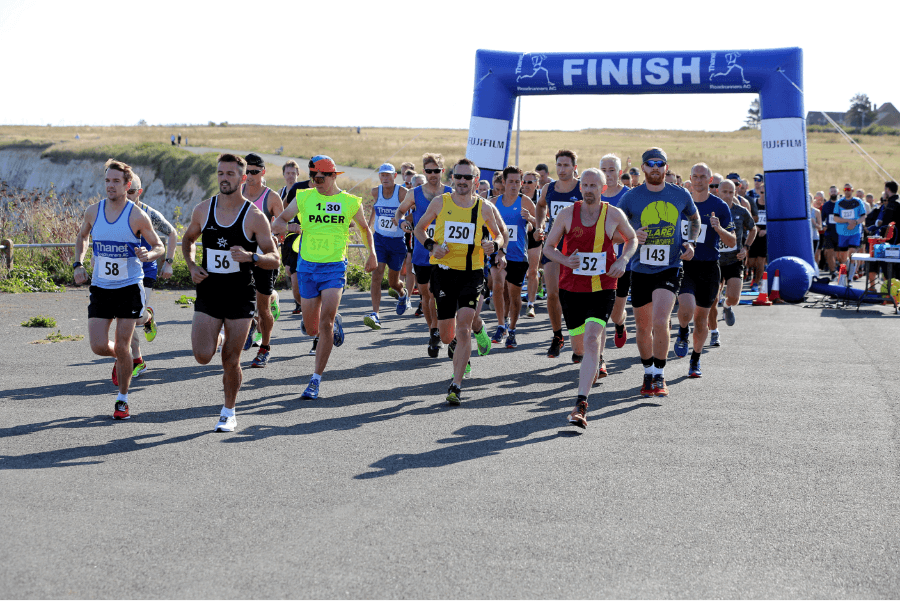 This year's race saw nearly 400 runners enter from running clubs all over the county including an impressive 40 form Dartford Road Runners. Like last year it was another warm day with the small coastal breeze doing little to tame the temperature. Even with the heat and the challenging course the race was a complete success. Our lead cyclists John Dickerson and Richard Purton did an excellent job in leading the way and all of our pacers came in on cue. However, the biggest impact on the day by far was our marshals and volunteers, many of whom were also TRACies. It was their enthusiasm and encouragement that was recognised throughout the race by all of the runners and we continue to be inundated with amazing comments and feedback.
We had 325 finishers in this year's race and leading from the start until the finish was our very own Bradley Cameron in a winning time of 1:21:00. Asmaa Hatim was our first female runner to finish in an impressive time of 1:35:46 and claiming 3rd place female overall. Capping off a fine performance from our TRACies was a first place victory in the men's team which consisted of Bradley Cameron, Matthew Collyer, Phil Stevens and David Riordon. Well done to you all, fantastic running.
We want to say a massive thank you to everyone that contributed to make our Kent Coastal Half Marathon a great success. On behalf of the Club we would like to say thank you our race directors Terry Brightwell & Spencer Hoult, all of our marshals who were superbly organised by our Marshal Coordinator, Maryanne Aitken, and all of today's runners. Without you all, today would not have been possible.
We would like to say thank you to our official sponsors FujiFilm. We would also like to say thank you to Sporting Events UK, David J Carr Photography and the Bay Running Shop for supporting our event.
Well done to all of our runners. The full Club results were as follows:
1st Bradley Cameron – 1:21:00
8th Matthew Collyer – 1:29:54 (1:30 Pacer)
25th Phil Stevens – 1:34:35
29th Asmaa Hatim – 1:35:46
30th David Riordan – 1:36:06
46th Stephen Suttle – 1:40:22
51st Jordan Gilbert – 1:41:38
56th Vitas Faux-Bowyer – 1:43:37
57th John Hunt – 1:43:47 (1:45 Pacer)
104th Royston Robertson 1:53:39
113th Aeryn Stetton – 1:54:36
119th Claire Morgan – 1:55:41
124th Paul Preston – 1:56:05
151st Maxwell Hubbard – 1:59:27 (2 hour Pacer)
152nd Peter Gough – 1:59:29
155nd Steve Jones – 2:00:16
215th Daniel Otley – 2:10:45
235rd Kerry Collins – 2:12:44
301st Martin Palmer – 2:40:40
321st Bill Wright – 3:26:42 (Tail Walker)
325th Ian Lockyer 3:28:04 (Tail Walker)