Oysterman Triathlon Race report
Six TRACies swam, cycled and ran the Whitstable Oysterman Triathlon last Sunday.
For Nikki Boyes, Jordan Gilbert and Jo Holl this was their first triathlon.  Seasoned athletes Chris Brenchley and Andrew Richardson had set superb times in the 2019 race and Spencer Hoult hoped to get value for money from this race, by completing the whole thing this year!  
The week before, all participants were avidly checking weather forecasts, with rough sea conditions up until a couple of days before the race and stormy weather forecast.  As it happened the sea conditions were perfect for all participants, if not spectators.  
After an early start, all TRACies were ready to go in good time, with some sound advice from the more experienced participants. Had it not been for the encouragement from Spencer, Jo and Nikki would not have entered.  
With that, hundreds of bodies hurled themselves into the sea.  Once into the sea nerves seemed to disappear and it was time to get the task done!  Andrew was first out of the water (8:40), followed by Chris (9:14), Jordan (10:35), Jo (11:28), Nikki (11:57) and Spencer (time query).  Chris and Andrew completely smashed their previous swim times of 13:23 and 10:50 respectively.  
Then they headed off for a 20k bike ride.  No punctures or mishaps were reported and all participants seemed to keep to the route this year! (Spencer!) Andrew was fastest finishing in 37:15 and Chris in 37:37, followed by Jordan (41:17), Spencer (42:28), Nikki (46:09) and Jo (47:57).
And, after all this, a 5k sprint including running up Tankerton Slopes… Chris (19:23), Andrew (20:34), Jordan (21:07), Jo (24:37) and Nikki (26:52).  These times really do need some perspective about them. They were after a sea swim and 20k bike race!  
Chris Brenchley 1:14:35 (shaving 9 seconds off his previous time)
Andrew Richardson 1:15:29 
Jordan Gilbert 1:18:02
Spencer Hoult 1:26:23
Jo Holl 1:31:22
Nikki Boyes 1:31:42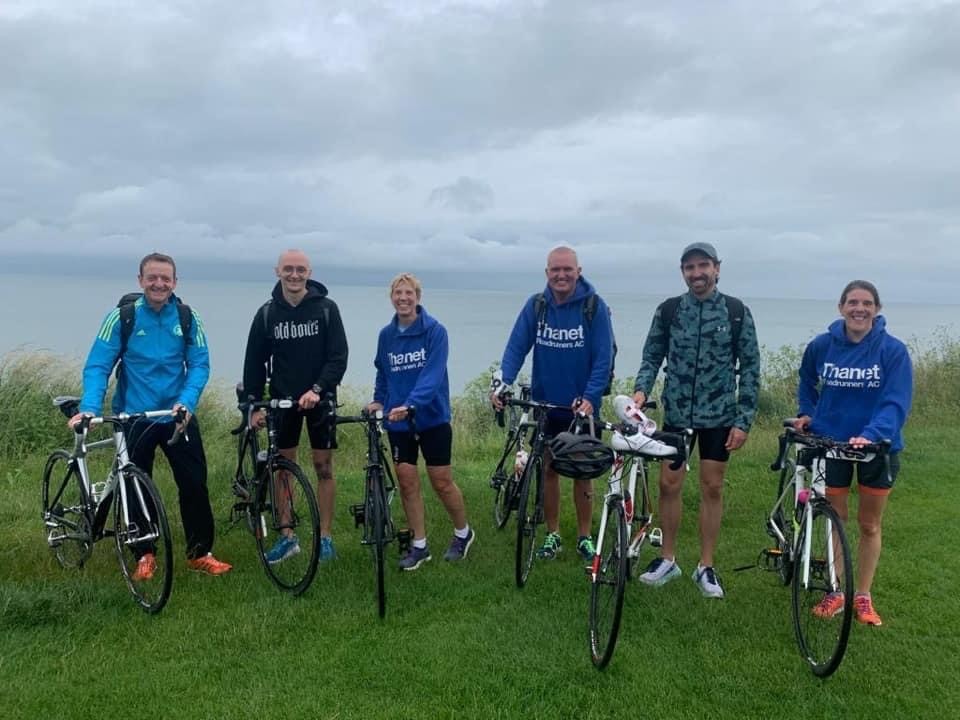 We all completed the Tri and then shared our experience over a hearty breakfast with all three first timers already discussing future Tri's. For a road running club, we achieved some superb results and hope others will enjoy this event in future. 
Nikki Boyes