The 32nd Wingham 10K & 5K Race Report and Results
Over 15 TRAC runners turned up to run the popular Wingham 5k and 10k races today. Our runners were met with favourable running conditions with a slight tailwind on the way out and cooler temperatures than we have all been running in lately !
In the 5km race (which is actually 5.4km) junior member Jake Stevens finished in 1st place in his first "senior" race.  His time was 20:52 – a minute clear of the 2nd place runner.  His complaint to me afterwards was "You told me it was all downhill in the 2nd half"!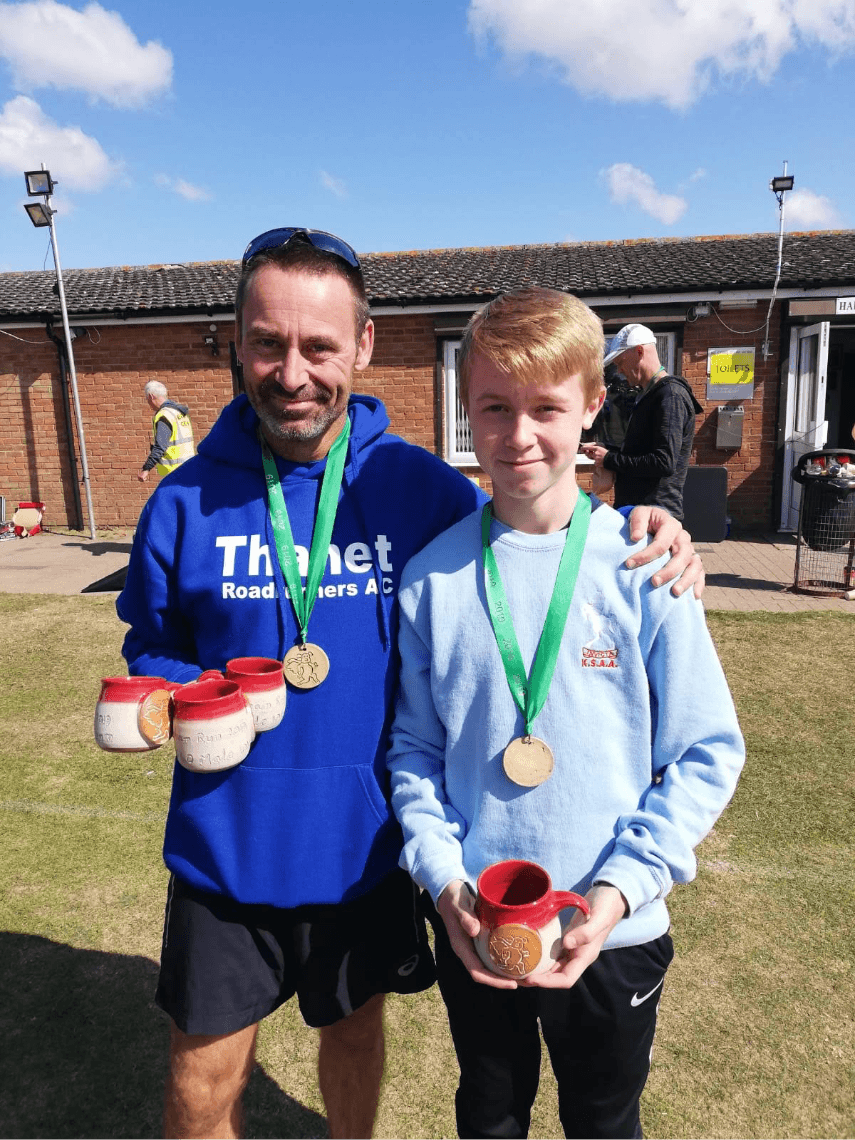 16 TRAC runners took part in the 10km race.  The course starts with an uphill stretch followed by an undulating next 5km or so.  Although the 2nd half is easier than the first half there are still some inclines to navigate but the last km is almost all downhill to the finish.  Overall it is a pretty tough 10km race – perhaps a bit tougher than the Deal 10km but not quite as tough as the Darent 10km if you were thinking of entering next year.
The race was won by Jim Allchin who finished well clear in 33:46.  First TRAC runner back was Andy Stevens in 3rd place in his 3rd ever fastest 10km race.  He was closely followed by Chris Brenchley in 4th.  Henry Swandale also made the top 10 which sealed the team prize.  There were some great runs and some PBs claimed too.  Of particular note were fantastic runs by Simon Burton, Paul Preston and Kevin Bullions who were all really chuffed with how their races went afterwards.  As is the tradition with this race the medals were handmade pottery and the awards were really nice hand made mugs rather than traditional trophies.
TRAC finishers
5.4km
1 Jake Stevens 20:52
There were 87 runners
10km
3 Andy Stevens 36:35 (1st MV40)
4 Chris Brenchley 37:49
9 Henry Swandale 39:55
12 Alfie Grafton 40:16
13 Simon Arter 40:22
16 David Riordan 42:07
36 Andrew Richardson 45:53
37 Abigail Cardwell 45:53
41 Michael Philpott 46:20
45 Simon Burton 47:02
91 Pete Heath 52:10
97 Paul Preston 53:09
102 Kevin Bullions 53:38
160 Terry Brightwell 57:58 (race adjudicator)
175 Janet Morgan 58:34
261 Ian Lockyer 1:07:31
There were 319 runners