All Hallows Round 7 KFL cross country News.
The 7th and final cross country in the Kent fitness league saw our team of 10 competing at the new All Hallows seafront venue on Sunday. Conditions were perfect with a calm morning on the Thames estuary with a view of the Essex coast.
The course was new to us all and started with a lap of a field before turning down onto the river beach for a few miles of mud and sand with several deep gulleys to negotiate. A return to the field then led to a repeat of the beach section to complete the 6-mile course with a fast downhill finish.
Brittany Crombie was our first lady home in 12th followed by Jo Kemp, Claire Greenaway, Julie Williams, Nicola Boyes, Janet Morgan, and Sorcha Page completed our Ladies team.
Philip Morton led our Men's team with Peter Heath and Tim Kerr also competing.
Overall, in the league, our joint team's position within the 18 clubs was 11th and the ladies held onto 7th in their individual league. This is the highest the lady's team has achieved in the league ever. Well done to our lady's team.
Individually in the league, Jordan Gilbert came 26th overall in the Male standings after competing in 6 events. Philip Morton competed in all 7 events and finished 41st and 6th in his age category 50-54. Peter Heath came overall 5th in the 65-69 from 6 events. Tim Kerr also ran all 7 events in the 60-64 category. Many men contributed to the overall team scores.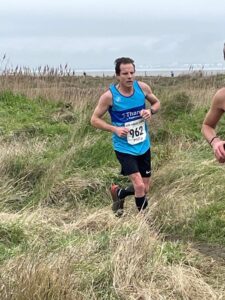 Brittany Crombie finished 14th overall in the lady's league and 11th in her age group U35 in her first season in the league. Jo Kemp completed all 7 events and finished 25th overall and 4th in her age group 40-44. The age group ladies have all heavily contributed to the team scores.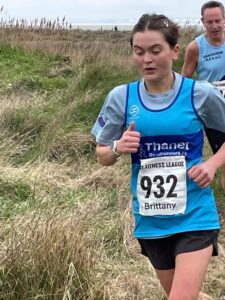 Claire Greenaway 3rd 35-39.
Sorcha Page 16th 45-49
Julie Williams 4th 55-59
Nicola Boyes 8th 55-59
Janet Morgan 5th 60-64
Many more contributed this season with some debutants that will take the experience into next year. Well done to all our runners who have taken part in cross country this season.
At the All Hallows event, we finished the morning with our usual hot drinks and a great selection of snacks.
Look forward to some great pics on social media.
Details KFL events https://kfl.canterburyharriers.org/index.php
Chris Brenchley and Nikki Boyes team Captains.