Chester Half Marathon race report
Time flies.  It only seemed like yesterday that I got the email telling me I had been selected to run for England Masters in the Half Marathon at Chester and here I was on the start line – a good deal more nervous than usual at the start of a race.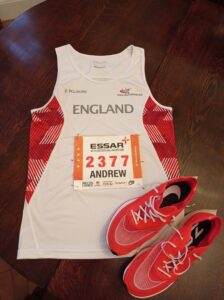 The forecast rain hadn't made an appearance and we were left with quite a muggy morning with the sun making brief appearances through the clouds during the race.
After meeting many of my England team-mates at the start of the race (a private suite no less at Chester racecourse with our own toilets and refreshments !) we were off bang on 9am.
A steep climb right from the start put a big emphasis on pacing followed by a downhill second mile.  The course then heads out into the countryside before returning into Chester city centre.  Definitely not a flat course with pretty constant undulations.  
You know you sometimes get those races where you just don't feel 100% comfortable and at ease all the way round.  This was one of them.  Perhaps it was the pre-race nerves, perhaps the 6 hour drive the day before.  I was feeling like I had to work hard for every mile and decided to adjust my pre-race plan during the race.  I did a quick calculation at mile 10 and was aiming at dipping just below 1.20 at this point.  The final mile was just a killer – two steep hills back into Chester followed by a downhill last 200m to the finish line.  The support at the end was brilliant and I was determined not to get my "finish line photo" with me looking down to stop my Garmin as usual.  My finishing time was 1.19.44 – 7th in my age group in the national champs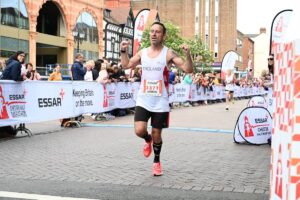 What a fantastic experience it was.  It felt a little weird racing in a different vest but a day to remember and I had an absolute blast.  Full kudos to England Athletics for giving some of us "oldies" a chance to compete in national colours.   Andy.