Chicago Marathon race report
After a 3 year wait, various injuries and ailments, four long standing Traccies and new Traccie Nick Taylor reached the Chicago 2022 start line on a very chilly October morning.  Forty thousand starters gathered in Grant Park, with the race starting off through Millenium Park through some of the highest buildings in the world. Everything in Chicago is built to be BIG, with concrete and steel everywhere.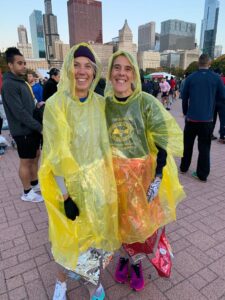 Chris was the first to go, with his starting corral just 20 metres behind the elites. With a woolly hat and a pair of socks on his hands the photos are interesting!  As the National Anthem was sung the hairs on his neck rose and tension built. They were off at 7.30am. Nike Vapourfly shoes were everywhere. 
After the first half mile the route became almost subterranean, and with the huge skyscrapers, as expected the GPS went haywire.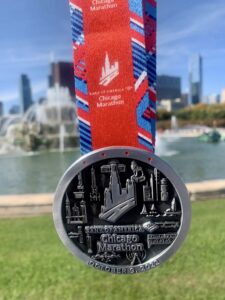 Jo, Jon and Nikki started just after 8am , chatting with runners from all over the world who were all saying London was the ultimate marathon, which was really nice.
As expected, the race went off fast but we all managed to stick to our plans. Nikki used a Nike pacing transfer (which now seems to be a permanent tattoo)!  The pacers were simply outstanding in accuracy and encouragement.
The road surfaces in Chicago were simply awful, but runners looked out for each other. 
The race went North out of the city and then returned through the business district. This is where our tech gear was known to fail and Jo apparently put in a 5-minute mile!  Jon's Garmin recorded a final distance of 27.5 miles!  Discipline and a cool head were really important for this race.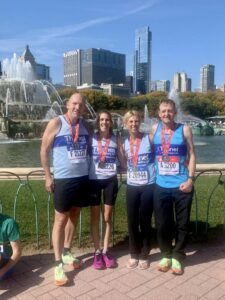 The marshals were happy and encouraging and many nations were cheering along their fellow countrymen. Mexicans can cheer very loudly! 
Chris was really disciplined especially in the first few miles as the calibre of runners was so high and it would have been easy to go with them when you're so race ready, instead focusing on the fact that 20 miles is the real half way.  In the last 6 miles he passed hundreds of runners who had gone out too fast.
Jo left Nikki and Jon at about 4 miles, nudging her way forward step by step. Nikki stuck with the 3.50 pacing group as watches were so hopeless.
Jon stuck with his 8.50 plan as his only goal was his first sub-4 marathon. He might have been helped along the way by taking a lung full of white powder at mile 20, when a runner sniffed a line of cocaine as he ran and it blew across Jon and another! Jon reports that he ran the last 6 miles with a huge smile on his face!
For all four, solid training and focusing on their plans resulted in good performances.
Chris, Nikki and Jon achieved new PBS with Jo putting in her second fastest time. Jon took 13.5 minutes off his marathon PB, completing a sub-4hr marathon for the first time.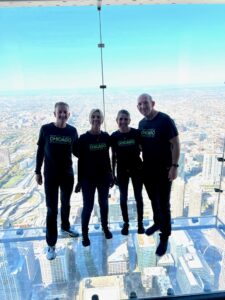 New Traccie Nick Taylor second time around the majors, having run Berlin 2 weeks prior to Chicago finished in 5hrs 16 minutes.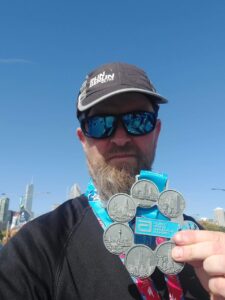 Chris Brenchley 2.57.10
Jo Holl 3.48.52
Nikki Boyes 3.49.41
Jon Holl 3.51.20
Nick Taylor 5.16.30