East Kent relays (Ashford) race report
Captain's report from Victoria Park, Ashford- round 3 of the east Kent relays.
Finally, we have some results! A warm, dry, June evening, perfect for short distance road running at Victoria park in Ashford. A new, single lap course, gave us two miles each of full throttle running competing against clubs in the East Kent area.
40 Traccie's with 12 teams: 7 teams of 25 men including a younger team of senior boys and 5 teams of 15 ladies including a younger team of senior girls, took part in the third of the east Kent summer relays.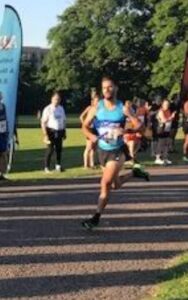 Jacob Burton headed up our senior men's A team or AKA the "J" Team in a fantastic time of 11:06 handing over the baton to Jude Wood, Jay Bailey, and finally Jack Bradley with a 10:22 who stormed home in the anchor leg this time to come 1st place out of 10 in this highly competitive league. In the absence of our senior B team our younger senior boys competed in this league flying in with the fastest time in the B league out of 7. 
Overall, in the league table, the A team should now be moving in on 3rd place and the B team, thanks to the younger lads, also competing for 3rd. Fantastic lads, I cannot recall Thanet Roadrunners ever taking such great senior results.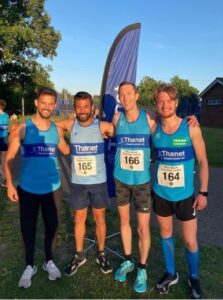 Asmaa Hatim led our senior ladies, passing the baton to debutant Georgia Hughes and despite a little crash she ran a top Thanet Ladies time of 13:56. Britany Crombie completed the team. Our younger senior girls team also competed in the B league storming in with the second fastest time again and claiming the club some points.
Overall, in the league table, the A team is still in a strong league position and the B team thanks to the young ladies competing for 2nd place.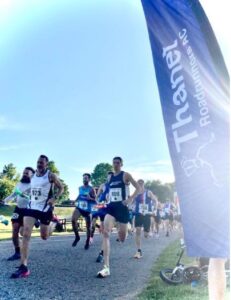 Dean Evans and Richard Allan in the V40 men's team handed the baton to James Figgins and Matt Finch to complete a great 3rd place out of 5. Oliver Northrop, Spencer Hoult, Simon Cowdery and Paul Brackenborough competed in the V40 B team league to 3rd place.
Overall, in the league table, the V40A team remain in a joint 3rd place battle and the V40B team will remain in a strong 3rd. Great performances teams.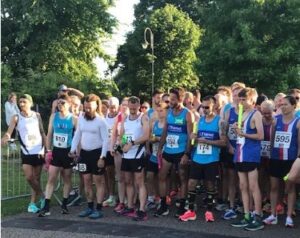 Claire Greenaway led out the Ladies V35 team in 13:57. The team included Vicky Birkett and Jo Kemp who equalled a Thanet ladies top time on the night with a 13:56 on the anchor leg. 
Trac V35B team didn't compete at Ashford.
Overall, in the league table, the V35A team is now in a 3rd place and the V35B team should remain in top 3.
Sadly, Thanet didn't compete with a V45 team. Overall, in the league table, the V45A team can still potentially compete for 3rd.
Our men's V50 team scored 1st place out of 9 in the event with Andy Stevens on the outward leg with a 10:51, followed by Phil Stevens 11:51 and Chris Brenchley 11:33, this time just 12 seconds ahead of our rivals! Simon Burton, Stephen Forshaw and Steve Morgan competed in the V50's B team to 3rd place on the night.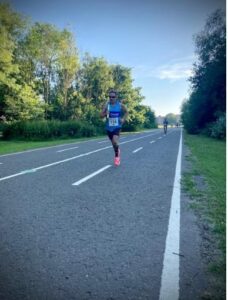 Overall, in the league table, the V50A team is now in a strong 1st place, thew that was tight! and the V50B team now a clear 3rd. Well done teams.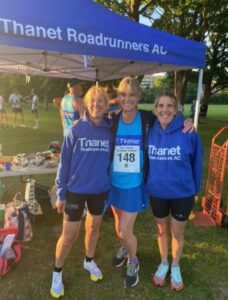 The Ladies V55 team continued a fantastic performance in the relays with Jo Holl leading out with a 14:30, handing onto Julie Williams 14:14 and Nikki Boyes 14:45, to clinch 1st place by over 5 minutes!
The Ladies V55B included Pauline Petitt, debutant Carol Burton and Jacquie Brazil and claimed 1st place on the night.
Overall, in the league table, the V55A team now remains in a strong 1st place and the V55B team is also in a strong 1st. Brilliant!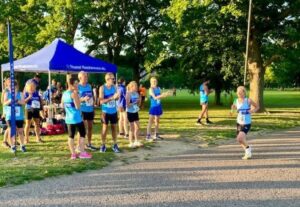 Our V60 A team didn't compete at Ashford.
Overall, in the league table the V60's can still salvage some points in the next legs.
My runner of the day goes to Carol Burton for enabling our v55B team to compete and boosting our performances with some very welcome cakes.
Please find the results on the Nice works website, however we are still currently adjusting some errors.
Thanks to our runners, we are in some strong positions to take some podium positions in amongst the highly competitive clubs in East Kent. This is also helping to boost our club's friendly, fun competitive spirits and has so far promoted a great inclusive atmosphere.
The next relay is on 28th June at Samphire Hoe, Dover 7 for 7:30.
Christopher Brenchley Men's Captain and Nikki Boyes Ladies captain.