Harbour Wallbanger race report
The Thanet Roadrunners' iconic Harbour Wallbanger Beach Race made a triumphant return at the weekend with a great turnout from runners all over Kent including plenty of our own TRACies.
This race has been in the works for the best part of two years due to the pandemic cancelling the 2020 race. 
Despite all the planning and preparations being undertaken, Southern Water did there upmost to interfere with this years race due to their wastewater spillage into the see just 5 days before the race. However, after a tense few days and some additional measures put in place meant we got the formal approval to go ahead just in time.
Although the event took place later in the year than usual, our event was blessed with unseasonal glorious weather and sunshine which is always a bonus being a beach race. The route of our Harbour Wallbanger is always the same with a start on the beach on Viking Bay which then follows the coast all the way to Ramsgate Harbour Wall and back again making one of the most picturesque and unique races around. Although only just over 7K in distance, underestimating the effort that this race takes out of you would be a mistake. David Hasselhoff may have made running on the sand look easy, but it can be really tough going despite how good it looks in slow motion.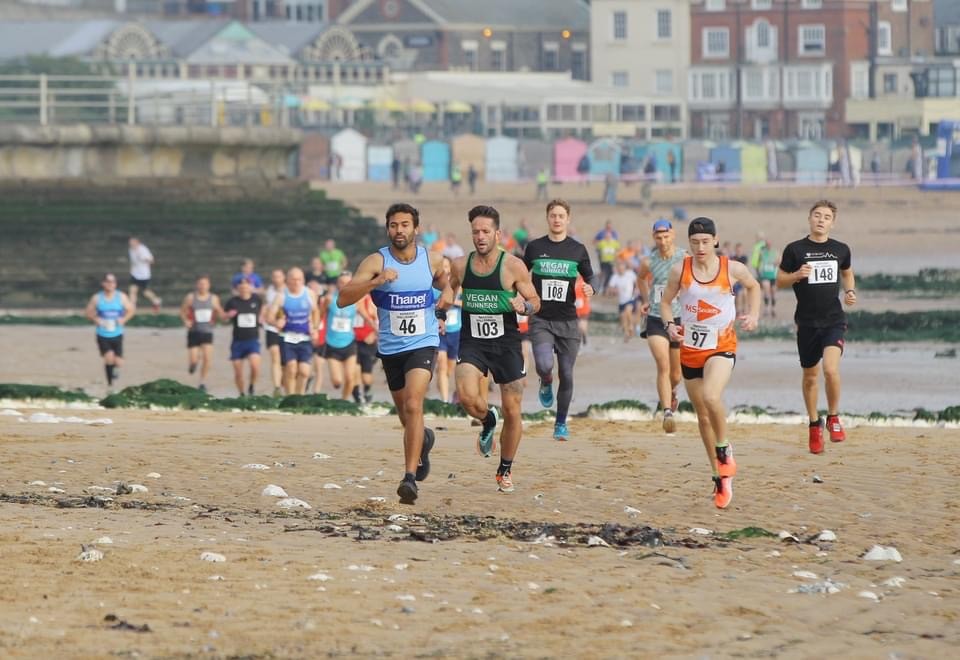 This year's race was won by local man and Vegan Runner Dean Evans in a rapid 27:33 closed followed by our own Jay Bailey in 28:20. The first female runner to finish was Liz Weeks in an impressive 32:44 (retaining her title for the 4th time in a row). She was closely followed by a very promising young talent, Isabel Tyler who is one of our Thanet Roadrunner junior runners.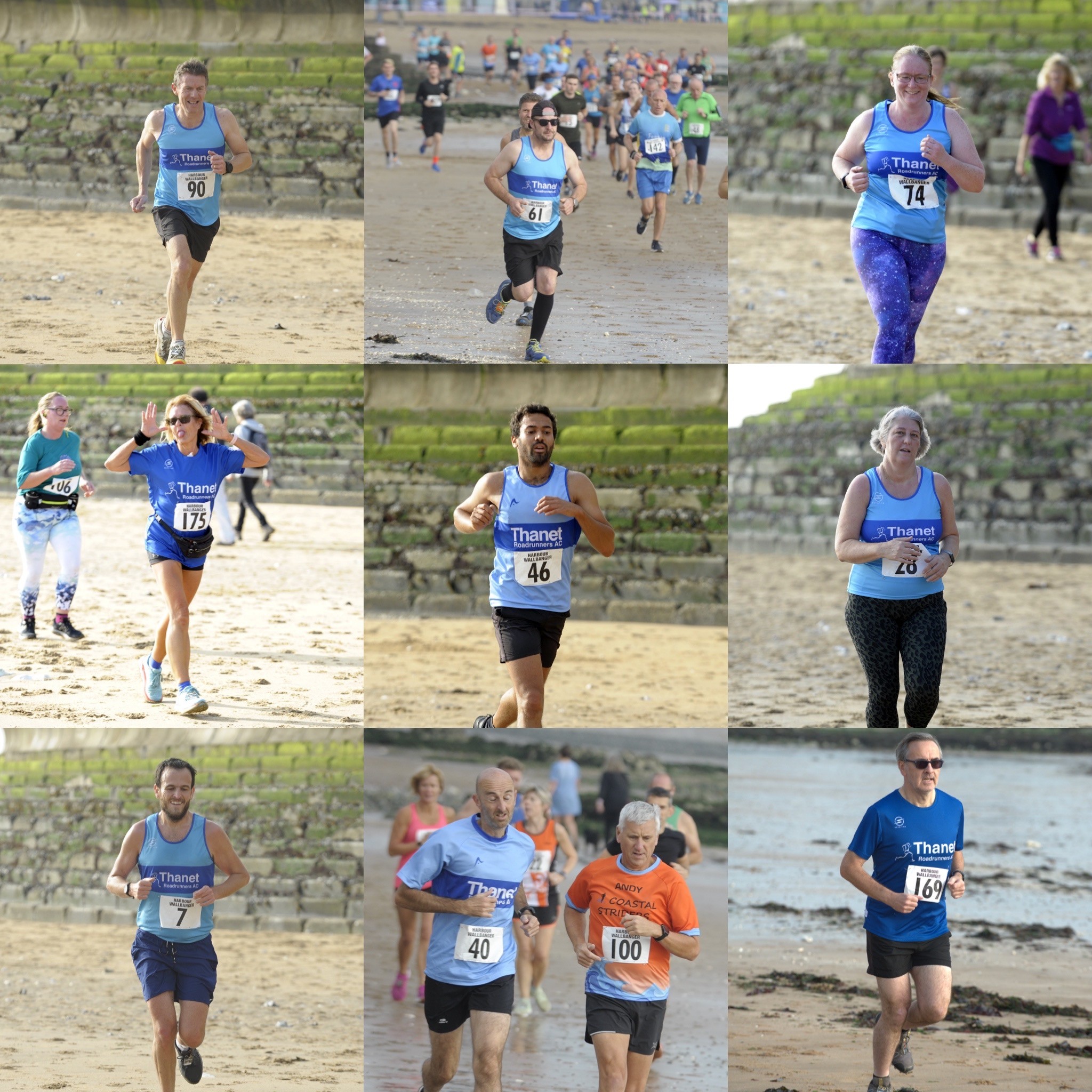 Our men also took home the team prize with Phil Stevens (31:00) and Ryan Dargan (32:12) joining jay for the honours. Unfortunately, our female team narrowly missed out on the team prize to Dover Roadrunners. Well done to Dover, but be warned, our ladies will be coming back for this next year!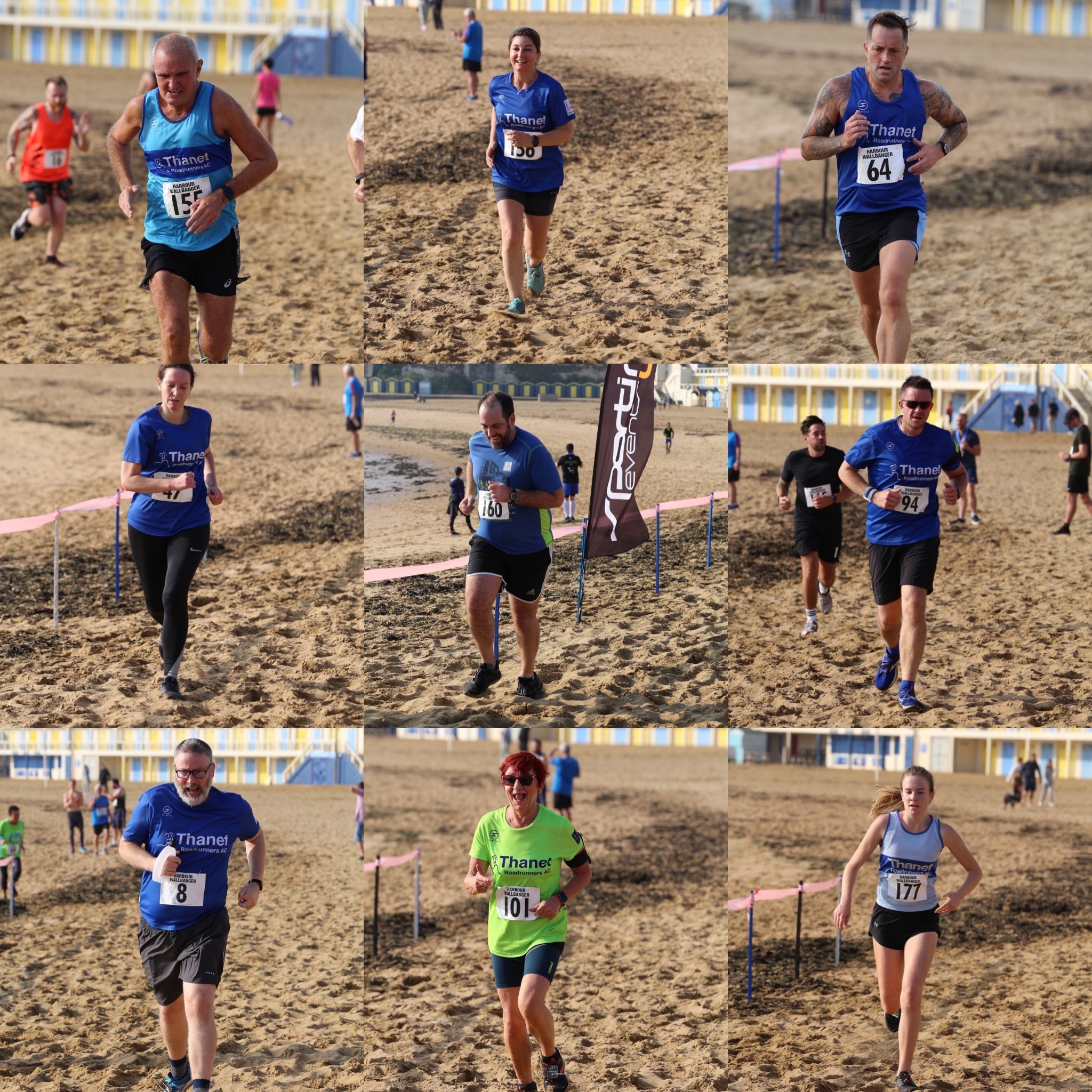 Well done to all of our runners who took part. All 154 starters finished the race and were safely shepherded home by our tail runner Ian Lockyer. As well as a well earned medal, this year all of our runners got a free ice cream from the Broadstairs Pavilion which they could enjoy on the beach in the sunshine. 
Of course our event could not go ahead without the support of our incredible marshals, volunteers and event partners. A huge thank you to Maryanne and marshals on the course and at race HQ, a massive thank you Barry and the Sporting Events UK team for providing the chip timing for our race, a big thank you to the Broadstairs Pavilion for letting us use therepremises as a race HQ and a special thank you to Margate Ambulance for being on stand by for us. 
The full results can be found here
Our incredible photographer, David Carr, has uploaded all ofthe race day photos for you to download, absolutely free here
Our next event will be the return of the Alan Green Memorial 10 Mile Race which takes place on the 5th December. We hope that you can join us for this fantastic flat and fast road race. You can book your place here
Great race report, well done to all runners and, on behalf of the club, I would like to recognise and highlight Maxwell's efforts to make sure this race went ahead as planned. After seeing first hand the trials and tribulations he had to contend with on race week I'm sure you agree we owe him, and all the members who helped him, a huge vote of thanks for organising such a great event.  Andy.