Join now! 15 months membership for £20!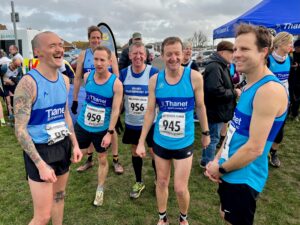 No we're not joking!
We are proudly a club for all and recognise that paying the 2022/23 full fee for just 10 weeks membership is a big ask.  The committee have therefore agreed a special offer on 15 months membership, (to 1/4/2024).
For just £20, new or lapsed members can join/re-join the club.
For this you get quality coaching, track training on our newly refurbished, floodlit track, discounted social functions, advice from seasoned runners at all levels, marathon training clinics, access to Kent Fitness League inter-club Cross Country and Summer Relay races, not to mention the many fantastic running social events during the year.  Members also receive discounts at a number of sports shoes and sportswear retailers.
As we've said goodbye to the 2022 race year, the club has several promising runners wanting to join track training and to compete in the 2023 Club Championships, which start next weekend with the the Pentland Homes Canterbury 10 mile Road Race.   Our coaching and club runs are very much in demand as marathon season approaches.
If this bargain membership works for you, please join the club by bank transfer (not PayPal), using the details below.  It is essential you include your name and 2023 in the 'Reference' field.
For example 'Heath P 2023' 
There are just 18 digits available, but we need to be able to identify you! 
Please also contact the club by emailing membershipsecretary@thanetroadrunnersac.com 
Sort code 20-17-92
Account 50034673
Thanet Roadrunners 
We look forward to welcoming you to Thanet Roadrunners!