Race report – Folkestone Half Marathon
A mid-morning start on a sunny autumn day in Folkestone was welcomed as well as the light winds often expected on the coast. The charity race had a friendly atmosphere as runners warmed up and shared experiences and plans for this well timed warm up race for the marathon season. Janice Lee-Miller also ran to raise money for charity, supporting the 'friends of the wisdom hospice'.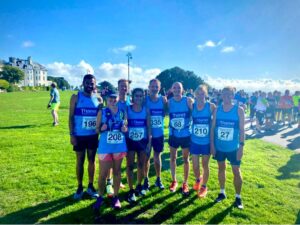 The course here starts high up on the leas area and takes a little tour of the town before descending a steep hill into some pretty parks and onto a familiar relay route on the esplanades towards Hythe. A little turn near the familiar 10 mile start, and then a return along the same route towards the steep hill, which is now an ascent!
For me this was a good warm up race for the forthcoming Chicago Marathon. Jay Bailey set a great pace early on and drifted away into the distance. Jordan and I ran a very similar race pace and had a good catch up before getting into the zone along the esplanade. We gradually caught back up with the fast starters and both ran the hill hard at the end. Unknown to me Jordan had me in his sights at  the end and tried hard to beat me to the line for 18th and 19th place respectively. A well-deserved PB Jordan. Peter Heath put his recent quality training to the test to run an excellent PB. Spencer was on adjudicator duties today, taking part in the club champs whilst checking the course. Julie Williams had a great run taking an age group position 1st VF55.
Julie quoted it was "it was lovely being there with Thanet Roadrunners, previously I always did that kind of event on my own. It's nice being part of a friendly club."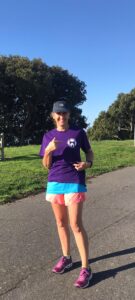 Christopher Brenchley 1:25:45 1st V50
Jordan Gilbert 1:25:47 PB
Jay Bailey 1:27:58
Peter Heath 1:41:33 PB 2nd V65
Stephen Forshaw 1:43:48
Spencer Hoult 1:48:54
Julie Williams 1:51:01 1st VF55
Asmaa Hatim 1:56:45
Mark Hadden 1:59:43
Janice Lee-Miller 2:30:01
Next race is Woodchurch 10 mile part of our 3 header 10 mile time challenge for points.