Race report – Mid Kent 5 mile race
After a break of a few weeks, the club champs and Kent Grand Prix competitions resumed on Sunday with the Mid Kent 5 mile race.
A 9am race start in Staplehurst isn't for those who like a lay-in but we arrived to a mix of sunshine and clouds with quite a fresh breeze blowing across the fields.
A great turn out from our runners.   16 TRACies made the trip – eager to claim some more points.  
The course was mainly flat with a bit of an incline between miles 3 and 4.  A headwind just after mile 2 was annoying but the country lanes and hedgerows protected the runners from most of it.
Jack Bradley was the first TRAC runner home – finishing in 5th position in a time of 27:11.  Andy Stevens followed in 8th place in a time of 28:04 and grabbed the V50 trophy.  Judging by the smiles at the end, our runners were generally pleased with their races.  The amount of racing in recent months catching up with some and a few of us remarked on feeling fatigued during the race.  Matt Finch was trying out new shoes and they seemed to do the trick as he finished in 30 mins exactly.  Brittany Crombie followed up on her recent ultra-marathon adventures by finishing in 36:47.  Asmaa Hatim led the ladies back in a time of 34:48.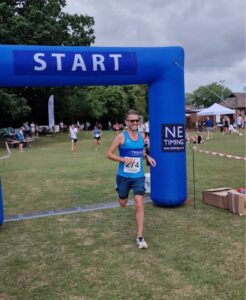 The race was meticulously organised.  From the people organising the car parking, to the marshals out on the course to the friendly welcome at the finish line, everyone was very welcoming and helpful.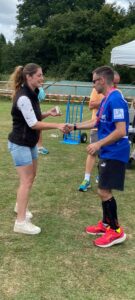 TRAC finishers:
5th – Jack Bradley  27:11
9th – Andy Stevens  28:04
18th – Matt Finch  30:00 
73rd – James Figgins  34:25
76th  – Chris Pascoe  34:42 
78th – Steve Suttle – 34:45 
79th – Asmaa Hatim – 34:48
94th – Jo Kemp  35:51
113th – Brittany Crombie  36:47
119th – Jo Holl  37:06
139th – Julie Williams – 38:07
146th – Charlotte Barton  38:24
155th – Pete Heath  38:55
259th – Zoe Berry  44:50
335th – Phil Cope  50:06
409th – Terry Brightwell  58:28
Club champs points will be added over the next 48 hours and added to the points tallies.
Next club champs race (not Kent Grand Prix) is the Mount Ephraim 10k on Sunday 13th August.  Next Kent Grand Prix event (and club champs event) is the Larkfield 10k on 17th September.