Race report – The Hythe Bay Tri
On Sunday 22nd May, eight Traccies took on The Hythe Bay Tri.

The weather conditions were perfect for the race, myself and Steve Clarke, attempting a Tri for the first time.
The event was organised by Ashford Tri Club, it was very well organised and Marshalled.  It was an early start, race HQ opened at 06:40.
We arrived as race HQ opened, as we wanted to start the race, feeling ready to go.  Once we collected our race packs, our bikes were checked, along with our helmets.  Next we racked up the bikes, laid out our kit, double checking, we had everything ready for our first transition.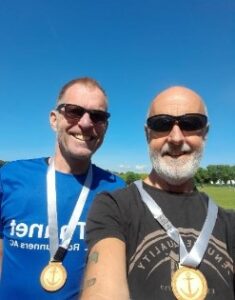 The swimming is the first to do, a race briefing was given at the side of the pool, then we were set off at 30 second intervals.  The swim consisted of 10 lengths of the pool, zigzagging across the pool. Myself, Steve and Spencer, all being together in the pool at different times.
Spencer was the first out of the pool, followed by Steve, then me.

Next up was the cycling, unfortunately, we had some roadworks to contend with, controlled by traffic lights, I caught them all on green, very lucky! Eventually, myself and Steve caught Spencer on the hill section of the course and managed to pass him and open up a bit of a lead, which was needed, as Spencer is a stronger runner.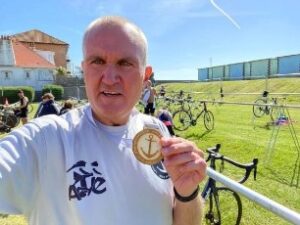 The course was well Marshalled and signposted, at one point, we had a foot down rule, at a give way junction, if you ignored this, it was disqualification from the results.

After 9 miles of pedalling, it was time to dismount and rack up the bikes, then onto the 5k run. After the cycling my legs felt like jelly, but once I'd got going I soon got into my stride. Unfortunately Steve had only just got over Covid, so wasn't able to run as well as normal, I managed to get away from him, but was caught by Spencer, eventually we finished within 50 seconds of each other.

There was also some impressive performances from the rest of the group, with Jordan James getting a PB in the 5k run.

A great day on Hythe Seafront.
Thanks to Ade for the race report and well done everyone !