Royal Parks Half Marathon Race Report
The Royal Parks Half Marathon is an extremely popular race set in central London with an impressive 16,000 participants. It takes in some of the capital's world-famous landmarks on closed roads, and four of London's eight Royal Parks (Hyde Park, Green Park, St James's Park and Kensington Gardens). Taking all of this into account I was keen to run in this event.
Despite not gaining an entry via the public ballot for this race, I was lucky enough to be offered a charity place with St John Ambulance. I had already been raising money for them after taking part in the Brighton and London Marathon's for them earlier in the year so I was more than happy to raise a little more to secure my place in this year's race.
I had made no secret of the fact that I had been targeting this race for a new half marathon PB. The time of year was perfect for running, the course profile only had a few inclines and the closed roads made it an ideal race to achieve a good time. I had been coming into this race in good form with recent good results at the club 5K Time Trial and the Ashford Givaudan 10K, but I could also feel myself becoming a little race fatigued. I could feel my muscles getting tighter after each run and I was also starting to feel the mental pressure from expectations that I have been putting on myself. With this in mind, I took the week leading up to the race fairly easy with just a couple of runs in the week to keep me ticking over.
It wasn't long before race day came around and it was an early 5am start to ensure that I was able to get up to London and navigate across town to Hyde Park allowing a small buffer for any potential protest related delays. The weather was perfect for running, grey, overcast and not too warm. Unfortunately consistent rain the day before had turned Hyde Park into what I can only assume Glastonbury starts to look like after a little rain, a mud bath. Luckily I had come prepared with an extra pair of trainers to protect my beloved Nike Next's as I trudged over to the bag drop and got changed. This did however still leave a small area of the park to navigate across without falling over, getting my socks wet or worse, getting mud on my trainers!
With 16,000 competitors the start of the race was always going to be a fairly congested affair but I was allocated into a wave that was fairly near the front and managed to slot in comfortably. Over the past couple of races I had been experimenting with taking caffeine before the start of race following on from the nutrition talks with Noel Sutton that I found incredibly helpful. I have been using Revvies Energy Strips which dissolve on your tongue. I have no idea of how much of this is in my head but it seems to be doing the trick.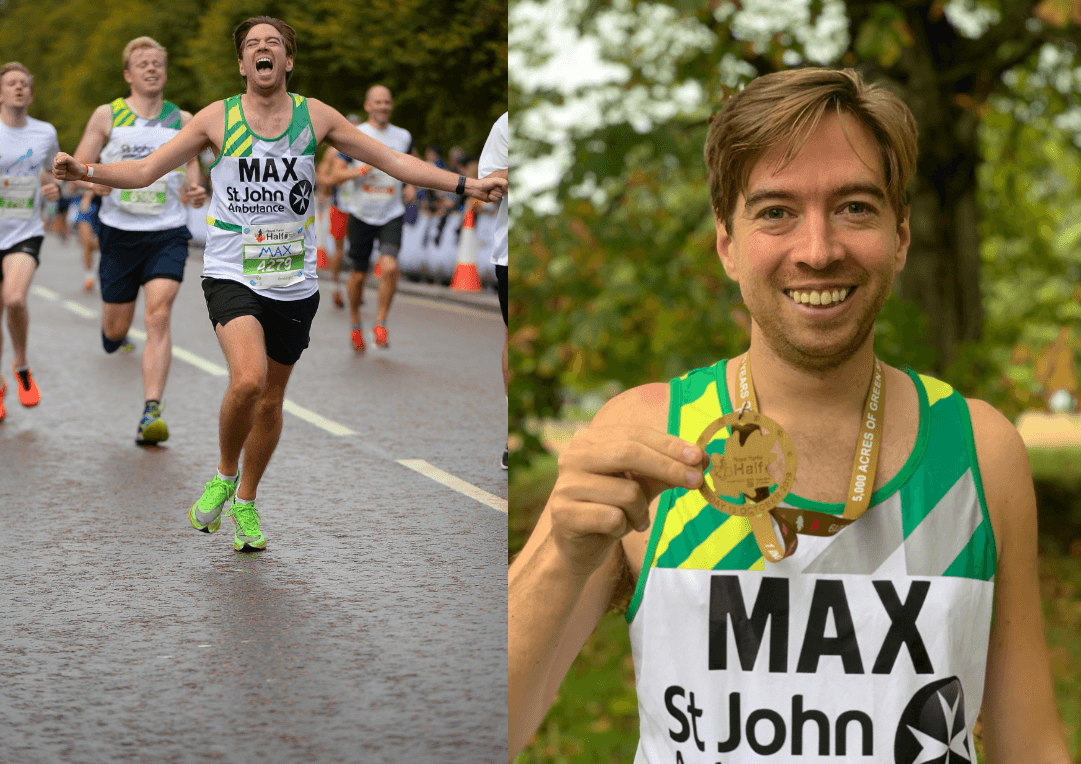 The race starts just outside of Hyde Park and has a fairly impressive first couple of miles as it heads straight down through Green Park and turns right just after Buckingham Palace and alongside St James's Park. This was ever so slightly downhill and knew I was going a little quicker than planned but it was hard to not get swept up in the occasion in those early stages. Once we go to Westminster the route headed back up towards Trafalgar Square and on towards Covent Garden where the course looped back around on itself.
The Royal Parks Half Marathon prides itself on being an environmentally friendly and sustainable event. There are no plastic bottles on the course, the medals are made from FSC Certified Beech wood and the finishers t-shirts and made from bamboo and recycled plastic bottles. It was at this early stage of the race that I got to try an 'Ooho pouch' which is essentially an edible water capsule made from seaweed (they sound horrific, but they did the job). The rest of the race had paper cups at its drink stations which, although are a nightmare to drink out of whilst running, I am completely on board with the need to make these large scale events as environmentally friendly as possible.
I was very happy with my pacing at this stage and was progressing nicely up the field (There was no way I was going to let someone dressed as a cow finish in front of me!). Back down and around Trafalgar Square at around four miles is where we got to see what all the fuss was about with the Extinction Rebellion protests who turned out to be very supportive to all of the runners despite a noticeable and questionable odour in the area.
The course continued to be an absolute delight in terms of landmarks as we then headed down the top of the Mall before a slight left towards Horse Guards Parade. Here, however, there were some unwelcome guests on the course with a flock of geese congregating together on the road causing a slight panic amongst some runners as they waddled out of harm's way. After looping back again the course takes you straight down the Mall which is about as iconic as it comes when running in London. Running back up through Green Park and into Hyde Park as the race approaches six miles you can start to hear a tremendous noise. This was the start of the charity cheer zones which stretched for almost a mile.
Thousands of people representing charities, spectators and live music lined the path as the runners streamed through. This was a real highlight of the race and it gave a real boost especially as we approached halfway. I was well on track in terms of my pace, I was feeling great and continued to take on water, even if it was just a sip, at every opportunity.
Miles eight and nine I found really tough, my legs felt heavy and I thought I was going backwards. My pace had been fairly consistent up until this point, I knew I was on track for a good time but I just needed to regain focus, concentrate on my breathing and remind myself that I can do this. The Thanet Roadrunners Monday Night Club runs have been fantastic for my training. However much I may have dreaded those messages from Chris Brenchley showing the route or describing the planned pace, these runs helped push me out of my comfort zone and prepared me better for race day. Although, one particular progression run attempting to follow Chris and Andy Stevens up the Margate Road in torrential rain definitely still haunts me. I would encourage all of the club runners to venture out of their comfort zones once in a while as you really will reap the benefits of this.
Passing the ten mile marker signalled the last stage of the race which takes place in the beautiful grounds of Hyde Park and Kensington Gardens which winds its way around the pathways. I was definitely starting to flag but I could also start to hear the roar of the crowd that had assembled by the finish. I kept pushing despite my legs getting heavier and mentally started ticking off each of the remaining miles. One last look at my watch confirmed that I was on for a good time and as I exited the park, just by the Royal Albert Hall, I entered the mile long home straight. As soon as I turned that corner with the finishing line in almost in reach, it was as if any fatigue or tiredness I was experiencing just evaporated. I was able to open up my legs and go for it.
Feeling inspired by Eliud Kipchoge's historic sub two hour marathon the day before and being spurred on by the massing crowds of people, it felt as if I was flying. I picked up speed and overtook as many people as I could as I made a final push, crossing the line in a new person best time of 1:33:23 and taking nearly five minutes off my previous best effort. It is always a great feeling crossing a finish line especially when you see that all of the hard work has paid off. After finishing the race, collecting my medal and t-shirt, there was just one more muddy trek back towards the bag drop although I didn't mind too much now as I had achieved the time that I was aiming for.
This was a fantastic event to run in with incredible support all around the course from charity cheer points, live music, hundreds of marshals and the general public. I was proud to represent St John Ambulance again and continue to be blown away that I have managed to raise almost £2,500 for this charity over the past year. If anyone would like to donate to this fantastic charity that support a large number of running events around the country, you can do so here.