Sandwich 10k race report
Sandwich 10k Club Championships Race 6 Sunday 26th June.
40 Traccies including a few potential members took part in the Sandwich 10k. 
An English summer morning awaited us at the local grammar school with a village fete atmosphere and a real buzz of running for internal championship for some, whilst others were here to try their first race or first 10k distances as well as the normal prizes up for grabs.
Pre-race nerves were dealt with using the surrounding town and fields to warm up and the obligatory group photos. Soon we were directed to take our start positions, and were clear to start to take a short lap of the school field and into the town where some Sunday morning folk helped us up to speed with some welcome shouts on a very fast first KM. The route then left the town and followed the River Stour out towards the golf courses. The middle section became a little cross country as we raced the gravel paths into little warrens of trees before popping out back on the road, this time with a head wind. The last few KM's were hard work to keep a good pace, but I'm sure most found a little boost seeing the school gates, albeit with a lap of the field just to make up the full 10K!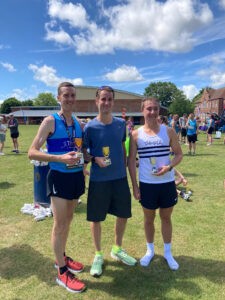 Ladies first. Annabel Carter with a 39:19 took the first place closely followed by Elisa Ellis and Kerstin Sung. Thanet Ladies featured in the top 10. Our first Traccie was Abigail Cardwell in 4th overall with a 40:23, Asmaa Hatim in 7th 44:29 and Jo Holl in 9th also claiming the first VF50 with a 45:54.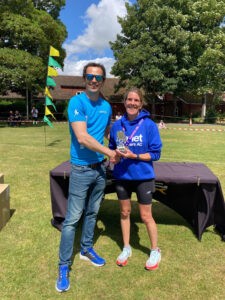 Men's. First overall in the race was Daniel Bradley in 31:56 with a good gap to second place Cameron Chambers 33:45. 3rd place was our own Jack Bradley needing a 33:56 PB to keep him in his sights.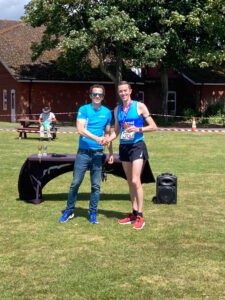 Thanet Roadrunners featured heavily in the top 10. New Traccie Lee Hardie was 6th with a 35:38 claiming the V40, Jude Wood took 7th place overall in a great time of 36:36 and me (Chris Brenchley) 9th with a 37:16 claiming the V50. Jay Bailey hung onto a top 10 finish with 37:41.
Whilst the great speeds of our racers were impressive it was also a race of welcoming first timers, new members and potential members that gave it such a welcoming feel. Well done with all your performances from Thanet Roadrunners AC. Many Traccie members thanked our run leaders for getting them race ready and achieving their goals.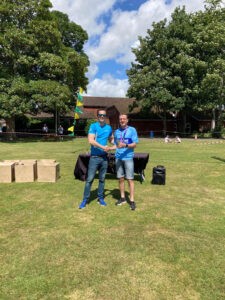 Club Championship points will be displayed on the website very soon.
Next Club Championship race is Gusbourne 10k, 24th July in the vineyards (now you're interested!)
Results of traccies and friends.
Jack Bradley 33:56 3rd overall 
Lee Hardie 35:38 1st V40 no vest but soon will have one.
Jude Wood 36:36
Christopher Brenchley 37:16 1st V50
Jay Bailey 37:41
Phil Stevens 39:28 3rd V50
Abigail Cardwell 40:23
Philip Morton 40:46 No vest
James Figgins 41:30
Ben Dunbar Brunton 41:44 First Race with TRAC.
Steve Suttle 43:07 2nd V60
Simon Cowdery 43:34
Paul Brackenborough 43:54
Spencer Hoult 44:19
Asmaa Hatim 44:29
Vitas Faux-bowyer 45:06 No vest 
Stephen Forshaw 45:10
Jo Holl 45:34 1st FV50
Mark Croucher 45:43
Peter Heath 46:13
Steven Hawkins 47:31 First club championship race with TRAC
Nicola Boyes 47:31 2nd VF50
Julie Williams 47:52 3rd VF50
Joanne Kemp 48:05
Jacob Burton 48:28
Martin Palmer 49:05
Jon Holl 50:58
Helen Spain 53:56
Sarah Bailey 54:25
Simon Burton 55:16
Jacquie Brazil 56:24
Charlotte Barton 57:32
Philip Cope 59:05
Sandra Baldock 1:00:41
Nicola Figgins 1:01:23 First 10k looking to join soon I'm sure. 
Terry Brightwell 1:04:52
Alison Smith 1:05:03
Gemma Hawkins 1:05:15 First race with TRAC.
Tim Kerr 1:06:12 First Race with TRAC.
Carol Burton 1:14:54
Thank you, Christopher Brenchley Men's Captain and Nikki Boyes Ladies Captain.