Tunbridge Wells Half Marathon 19th February 2023 KCAA Grand Prix and Club Champs Race 2
An early start on a bright early spring day in Tunbridge Wells was the second race of this year's KCAA Grand Prix and our own club championships to run the Half Marathon. Some aimed for fast times and others used the well-planned half distance for setting a benchmark during the half marathon phase in the spring marathon training.
The members with experience of the course will tell you it's notoriously hilly. it's famed for the scenic and challenging route through the countryside and specifically the 300ft ascent of spring hill in Fordcombe. 
14 of our club athletes took part with Andy Stevens leading our men to come 15th overall in the race with a time of 1:18:19. Julie Williams led our ladies' team and set a new personal best in 1:46:23. Dave Winch ran a 1:46:39 to take a V70 win. Our runners and team will be featured in the top positions in the KCAA league following this and the first race in Canterbury. Well done Team TRAC.
TRAC runners results.
Andy Stevens 1:18:19 2nd V50
Jay Bailey 1:25:57
Phil Stevens 1:27:33 PB
Dan Clarke 1:30:02
Steve Suttle 1:37:55
Peter Heath 1: 43:46
Julie Williams 1:46:23 2nd VF55 & PB
David Winch 1:46:39 1st V70
Christopher Brenchley 1:49:19
Nicola Boyes 1:52:06 3rd VF55
Jonathan Holl 1:54:06
Mark Hadden 1:58:10
Richie Rebbeck 2:00:02
Phil Cope 2:23:13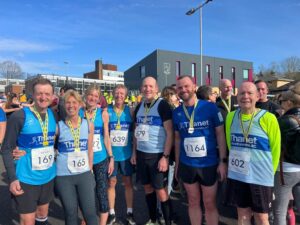 Team Captains Christopher Brenchley and Nicola Boyes.
The next race is the Bromley VAC 5mile on the 26th of March.