10 Ultras in 10 Days
Thanet Roadrunners AC would like to say a huge congratulations to Pam Philpott for her superhuman achievement of completing Ten Ultra Marathons in ten days at the Gravesend Cyclopark Challenge.
Pam kept a diary of her latest challenge. See how she got on by following her journey and insights into this fantastic achievement of a great endurance runner.
Day 1 (50k/500k)
I arrived at 08.50am to start for 09.00 only to find I could have started at 08.00hrs. This will give me more wiggle room in the future.
Being a Covid secure event meant no hugs from people, no big speech about 20 in 20 and 10 in 10 challenges. Just register, collect your number and let them know when you are ready for the off, similar to the cycle time trials.
I run / jog and walk with different folk. The mind-set is different for me when completing a multi-day event, the aim is not to complete one marathon and be shattered, because you have to recover enough to do it again and again. Chatting with likeminded people helps pass the time and make it much more of an enjoyable journey to share rather than being on your own.
When I completed the first of my 50km challenges, shock, horror, the café was closed, so it was check in to the hotel, stretches, bath and food. Hopefully finishing earlier tomorrow, I will be able to get to the shops.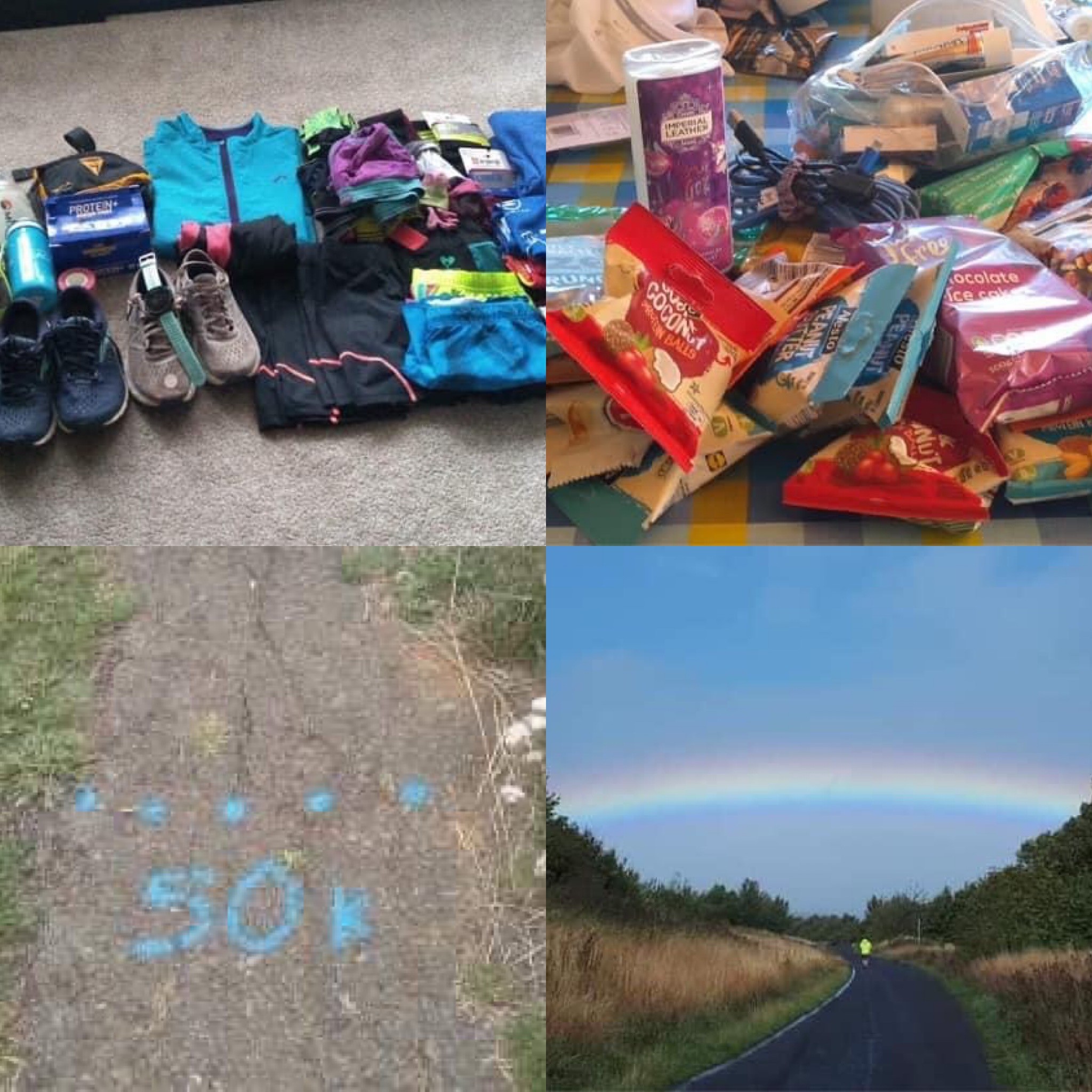 Day 2 (100k/500k)

The fire alarm went off at midnight and I found it difficult to settle again, in the morning I had a headache, felt nauseas and had an unsettled stomach. So a good start to the day!

I was joined along the way by my running friends and shared some miles.

I have yet to describe the course. It is a mixed trail starting beside the cyclopark
It is four laps for a half marathon, eight for a full and nine and a half for a 50km.

The start cone, the "owl face" tree, the "rabbit "bridge which crosses the A2; not forgetting the infamous "cone of doom!" and my personal favourite signage for the 50km turn.

I was also presented with my 2000 mile SVN hoodie (2060 miles in total) which was very nice.

Once finished, I had to quickly shower and get to the local superstore before Sunday closing.

Food choice is limited as there are no heating or cooking facilities. Hopefully I will get a better night's sleep and recharge my batteries for the morning. Bring it on 💪🏻

Day 3 (150k/500k)

Well, I would like to say how wonderful the day has been, however it was a struggle for me. If you have ever experienced this you will understand, if not well done!

I slept well, but breakfast was difficult to eat the nausea and upset stomach remains a nuisance. Trying to eat little and often is the aim to refuel the body, enjoying it is another matter.

I met my running buddy, Beryl, who I had the pleasure of sharing my 100th marathon with. Beryl has a prolific running record but due to covid-19 had been limited.

We set off, it usually takes me about 10km before feeling comfortable. By 18km, I suddenly felt weak as running on empty, nausea, spots before the eyes, oh yes, I was having low blood sugar.

As we shuffled back to the check point. Then came the dark thoughts:

"What am I doing?"
"Can I do this"
and "Why?"

It is not uncommon to get these negative thoughts during running. You have to deal with them and tell them to go away (ahem).

Beryl said the right thing "Don't be so stupid, of course you have got this" or words to that effect. I slowly ate a rice pudding and a banana and eventually competed the 50km.

It's going to be a tad windy and raining tomorrow. So I live to fight another day. Bring it on!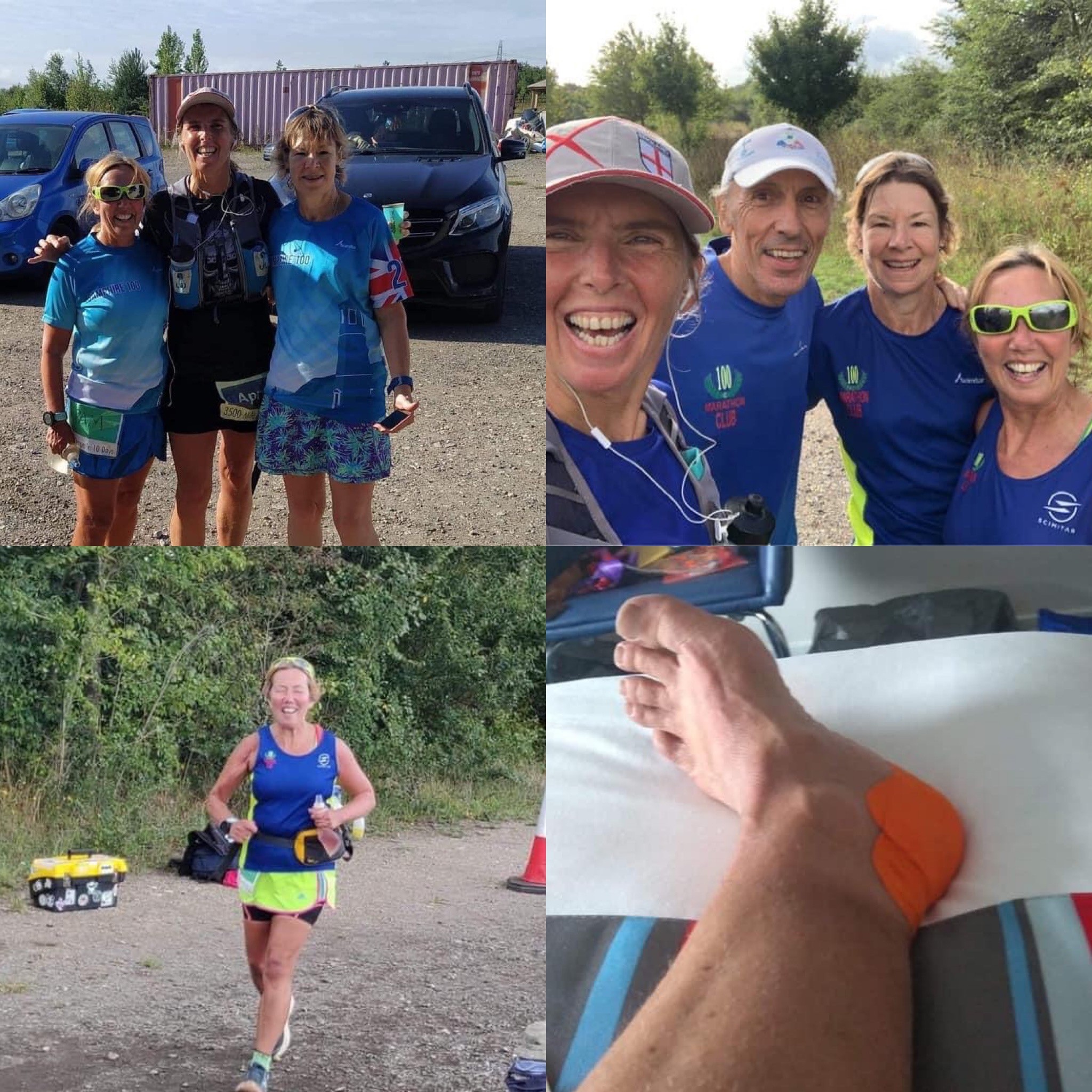 Day 4 (200k/500k)

I slept well again, managed to get a Weetabix down, yippee, but nausea still persists. I have got to adapt my fuelling system if I am to get through this without burning fats which burns more energy than burning carbs, thus leading to a downward spiral.

Plan: even though each loop is just over three miles, from the start I will take a handful of nuts/twix/chocolate/grapes, and oh yes I have bought some bread to make cheese sandwiches to have something each lap to help keep my blood sugar level on an even plan. To keep it simple I should be taking around 300 kcals every hour. Drink more fluids, even if it means visiting a bush.

So met up with my pal Beryl and off we trotted. Felt a lot better today, however we did have a visit from storm Francis not as bad as anticipated, but still got soaked to the skin. The problem being with that is you have to take care of your feet, soggy, wet feet = blisters. Thank goodness for my injinji socks!

I spent the last two laps in the presence of an experienced multi-day runner who suggested to walk as it will be a good recovery and will not feel so stiff. Well the jury's out on that one!

The thing with multi day ultras is no two days are alike and we all have our ups and downs. Eat, sleep and repeat.

Day 5 (250k/500k)

Slept well, but seem to be getting slower at getting organised. My brain is starting to feel a bit "FUZZY". Do not ask me any in-depth questions, as from now on I apologise as part of the cognitive brain functioning is closing down!

Nutrition intake improving, little by little however, It's all very well knowing what to eat, the problem is when you cannot physically eat. Did the little and often food along the laps, just a couple of hooey moments, so result.

Weather was blustery but no rain today. The first part going uphill with the wind behind did not help as we were shielded by the trees; the rabbit bridge acted very nicely as a wind tunnel and the usually relaxed long downhill run into camp was strong headwind. This really took it out of me, to the point of do I run or walk as I would probably be using more energy.

My legs feel heavy and tired today; ankle ligaments are talking to me. My body has started to realise I am out of my comfort zone, big time. To put it into perspective, yes I have completed 10 marathons in 10 days and a few multi day events. However, until now I have only completed two back to back 50kms!

But whoop! Whoop! Halfway there! And I have it on good authority that the next five 50kms are easier!!

Day 6 (300k/500k)

"When the going gets tough, the tough get going" so says the song. It is not easy, even for the hardened multi day people. Talking to folk, COVID certainly has had mostly a negative impact on their running; still running but not so much the long endurance runs which we took for granted.

Ladies let's talk "chub rub" and "bra rub" getting soaked to the skin has not helped with chaffing issues, hyperfix to the rescue. The general aches and pains still continue, so I just need to get on with it. Nausea continues, but I am managing to eat better now, thank goodness.

The weather gods were kind to us today, not too hot or cold, little wind and no rain.
So Beryl and I coordinate our running shirts for the day, sad as it is, this is a focal point of discussion with the runners!

ALERT! The cone of doom has been changed to the Gnome of Doom. Eat, sleep, run repeat.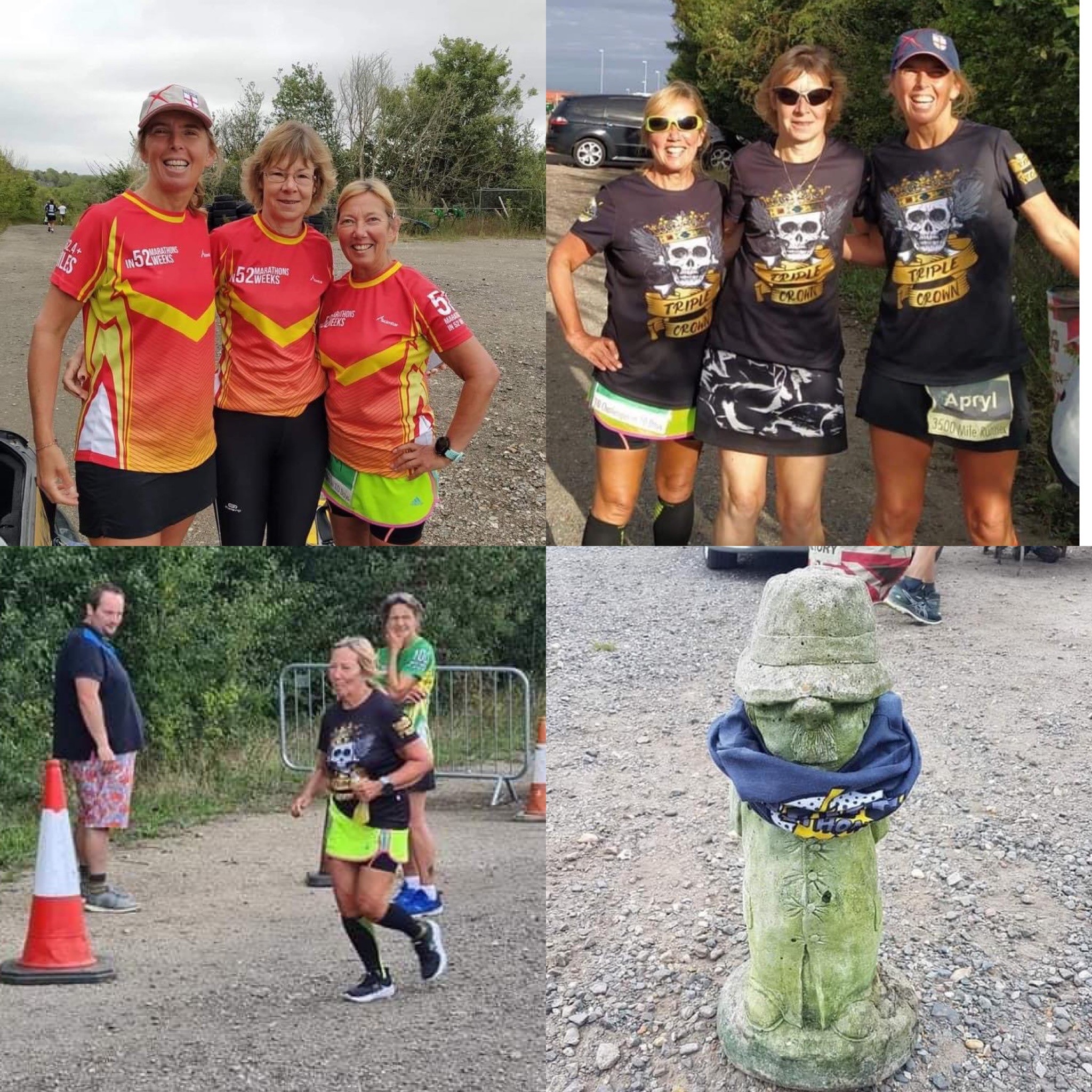 Day 7 (350k/500k)

Had a decent meal last evening, the first in six days – bonus. Nausea subsiding – bonus. Only slept fairly well- not good.

The weather Gods were good. All clear until lap 4 then the heavens opened, squelches squelch soak clothes again – Not the best.

I am getting fatigued and achy, but having a great supportive running family around you really helps to motivate you. Update on list of "issues":
Left foot – peroneus ligament tight

Discomfort along lower outer edge of shin (made worse on impact on concrete, can feel the vibration through my body)

Right quadriceps tightness

Both legs have niggling hamstrings.

Shirt coordination of the day – the 100 marathon club shirt. It was also a nice surprise to see Michael for a while, what else do you do on your Wedding Anniversary?

Plan: – Get on with it. Eat, sleep,run,repeat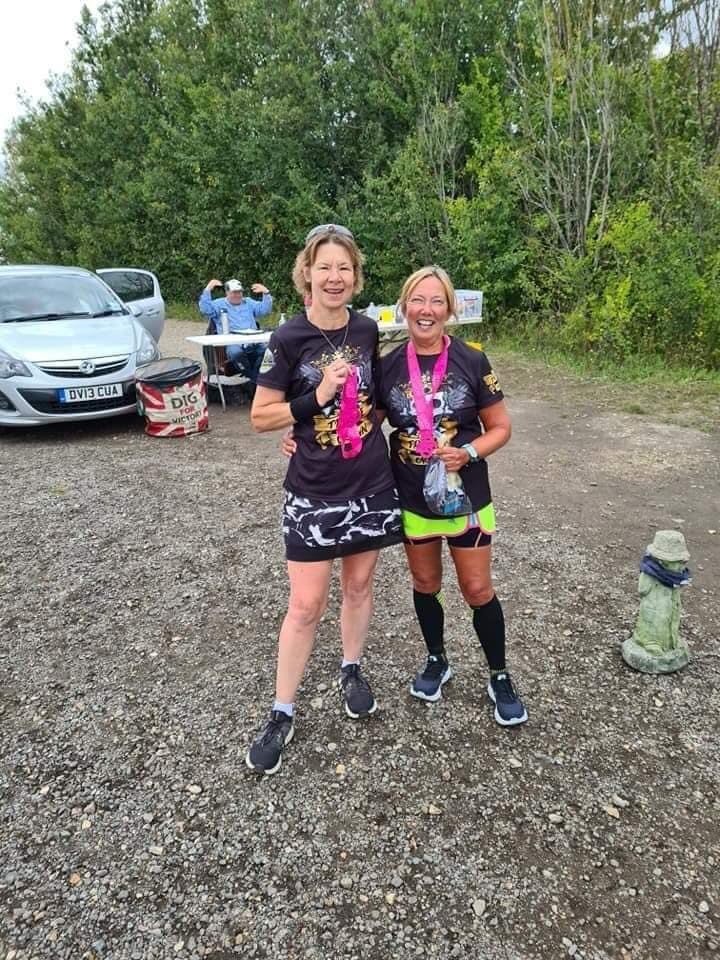 Day 8 (400k/500k)

Eating well, sleeping well-ish. The weather Gods were good, no rain, but a little bit of headwind when you don't need it.
Shirt coordination of the day 10 marathons in 10 Tee shirt.

Body tired and in pain. This is THE day, the darkest most painful of the series. I woke up with a few tears and the desperate thought of "how will I get through" and I briefly thought about going home.

I had the twitching and twinges every time I moved during the night and morning. I have attempted to stretch and self massage. It helps.

I continue to have the "issues" from yesterday. I messaged James Maybourn (Bay Running) to ask for advice; it was good to know he confirmed what I was already doing. Then I brought out the my ace card, compression socks and new New Balance 1080's. Oh, the cushioning and bounce really helped to reduce the impact of the concrete.

Off I started with the lovely Beryl, everything hurt, of course it will, "are you stupid, not many 60 year olds complete these challenges, of course you will have pain!"

I got to ten miles and I felt the quad start to tighten, gave a little stretch and ignored it. Got to fifteen miles and gave a yelp of pain, I had to stop and walk; if I tried to run it would give out. Lap 5 out of 9.5, so just over half way the lovely Ian Collier said he would get me round, he had already completed 7 laps. We walked lap 6 to rest the quad. The problem being we have a time limit to complete 31+ miles within seven hours, which is fine in the ordinary world but on day 8,(I am not Steve Hobbs, who would have probably finished every day within 4-hours) I had to finish the marathon within six hours otherwise I could not continue. I will also add I am not a fast walker, that is a skill all of its own which I admire greatly.

Oh and my big toes are numb with the pounding, and I bit my tongue now I have ulcers and I have managed to get some tiny stones in my sock which over time have embedded and blistered the side of my heel.

I managed to gently include some walk/jog and finally got back to jog/walk to complete within the cut off limit. Yes, I have maxed out on analgesics and voltoral gel. It certainly is a mental game, because that's what I am running on at the moment.

My aim is to complete the 50km tomorrow within the time limit. This is very much about looking at the bigger picture. Tomorrow is another day. Eat, sleep, run, repeat.

Day 9 (450k/500k)

Oh my goodness, after yesterday feeling I may not make it and my emotions a bit erratic. I did my "suck it up, buttercup" and got on with it. I wonder how I got round, oh yes, having encouraging runners around me and my max up of drugs.

I still have the same "niggles" plus my right ankle ligaments are seizing up a bit and my quad is giving me a bit of jip. I am just deciding whether or not to pierce my blister, left it yesterday and now I can feel the pressure building, so I probably will then tape. At present every step I take, my feet are sore and the stones hurt the soles of my feet.

I will never be complacent about "only one more day "as anything can happen in this game of running. I got to mile 88 of 100mile race once and was a DNF which was devastating for me.

The other issue being is that my mind is in control if I let that relax, it may go to pot.
At present I have to pack up what seems like the kitchen sink into the car ready for tomorrow. Michael will be coming up to see me at the end and thankfully driving home. Shirt of the day 52 marathons in 52 days. Eat, sleep, run, repeat

Day 10 (500k/500k)

I woke up after a twitching night, having found another "issue" being the tops of my feet were swollen and sore, possibly due to tightening the laces too much.

I won't go into details, but there is a certain feeling of satisfaction on piercing, draining and dressing blisters. I gave them two days to reabsorb; alas they did not, so took to needle. Massage, injinji compression socks and maximum analgesia.

Tee shirt code triple crown – completion of a 100mile, 10 marathons in 10 days and 52 marathons in 52 weeks. Started just get it done!

Although we were socially distanced in running, small numbers, every time we passed another runner there were cheers and whoops.

I was being led by my mind until the last lap, only then would I allow myself to think I will actually do this, bloody hell! As I approached the finish with Beryl, Michael was waiting. It was a wonderful relief to know I had completed it and had a few tears.

Did I enjoy the challenge, even with its lows as well as highs? Hell yes, this is what endurance running is all about. I wanted a challenge to celebrate my sixtieth birthday. Thought it was going to be the Berlin Wall 100, but instead it was the cyclopark challenge.

I would like to thank everyone who has taken the time to read these ramblings of a runner during an endurance event. Thank you for your support and kind comments.

Due to covid restrictions, I posed for the "traditional 10 in 10" photo at home.