TRAC Juniors Kent Schools Cross Country Championships Race Report – Dover
The next cross country race for the TRAC juniors was the Kent School Championships in Dover yesterday.  16 TRAC junior members made the trip to Dover and raced in many different age groups.
The course was fairly hilly with thick mud in places.  The weather was ideal and was sunny with a very cold wind.
In the junior girls race (years 8 & 9) we had 6 runners running a distance of 3100m.  Natalia Austin paced her run perfectly and moved through the field to finish in 3rd place.  The results were:
3rd Natalia Austin  11:29
14th Millie Dack   12:11
17th  Lola Sutton  12:13
40th  Mercedes McGivern  13:05
46th  Ferne Peirce  13:16
56th  Eleni Godwin  13:35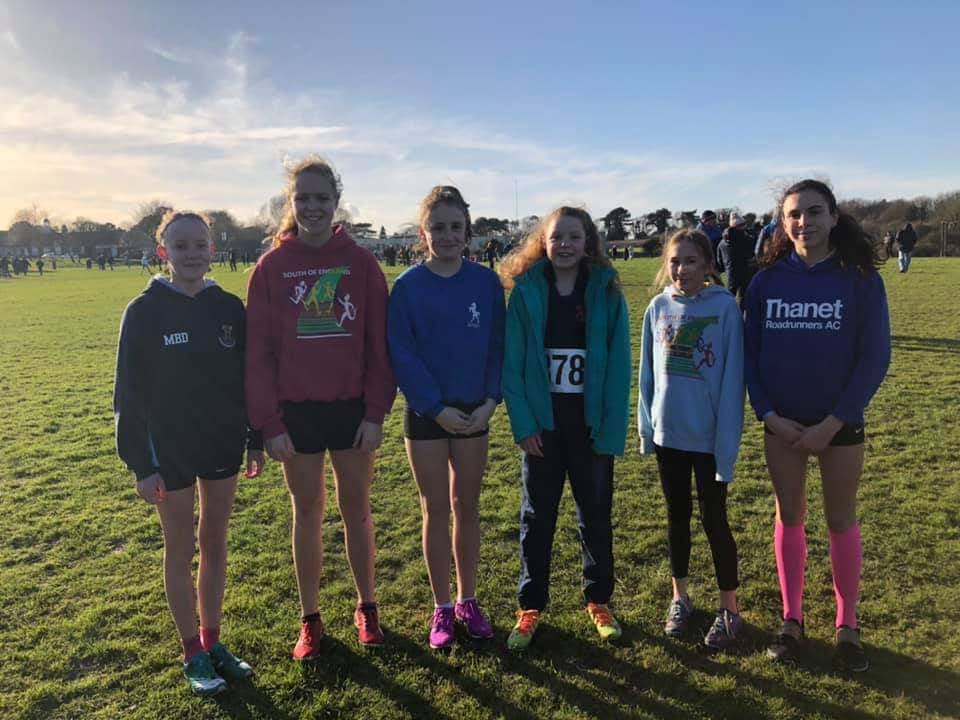 There were 102 runners
In the junior boys race (years 8 & 9) we had 6 runners from the club running.  They ran 4000m.  Jake Stevens took the lead just before half way and pulled clear on the second lap – winning by 12 seconds.  Alex Dack paced it really well considering he was running against the older year group.  Our newest junior member Finley Hickmott ran a really good race too.  TRAC results:
1st  Jake Stevens  12:51
7th Alex Dack  13:35
15th Louie Procopi  14:10
16th Riley Maisey  14:17
20th Franklin Shepherd  14:27
58th   Finley Hickmott  16:02
In the intermediate girls race (years 10 & 11) one TRAC junior ran and ran probably her best race of the season, moving up the field and finishing 4th over a 4km course.
4th Jenny Swandale  15:12
In the intermediate boys race (years 10 & 11)  we had two juniors running over a 6km course.  They both did great against a really top field of 80 runners:
24th Dylan Leach  21:02
29th Rowan Tyler  21:51
The final race for our juniors was the senior girls (years 12 & 13) race over 4km.  We only had one runner in this race but she put in a really good performance:
22nd  Aeryn Stretton  17:12
As this was the Kent Championships, the first 4 finishers in each age category automatically qualified for the national schools cross country finals which are going to be in Liverpool in March.  It is a real credit to the juniors that we have three TRAC juniors taking part in this national final; Natalia, Jenny and Jake.  There are some other races which act as qualifiers as well so hopefully we can increase these numbers even more.
Jake