TRAC Pegwell Parkrun Takeover Run Report
Today saw Pegwell Bay parkrun's second running club take over. Today it was the turn of Thanet Roadrunners, who put on an impressive turn out. Smiling marshals and happy pacers set the tone for a fantastic morning's parkrunning. It was all topped off by some fantastic cake, kindly baked and provided by the club's members as well.
The day started crisp and clear; perfect running conditions. My personal parkrunday began with a fry up and a run over to the country park. As a member of Thanet Roadrunners (and a fairly regular volunteer anyway) I was funnel managing. It's an interesting role, perfectly suited for someone who loves cheering finishers across the line, but doesn't fancy the pressure of taking charge of the hallowed stopwatch!
This week's parkrun saw some milestones, with Ian Dodds completing his 100th parkrun. Further congratulations go to Becky Rosedon and Anthony Rake, who both completed their 50th parkruns today. It also saw tourists from the far-flung, exotic locales of Canterbury and Colchester! Representatives of 21 different running clubs were present.
The race began promptly after the super pre-race briefing from Jon Holt. Over 200 parkrunners ran, jogged or walked their way around the park in the glorious sunshine. As today's tailwalker, Thanet Roadrunners' own Claire Greenaway, made her way past the dreaded bollards, the remaining volunteers' attentions immediately turned to the cake and hot drinks!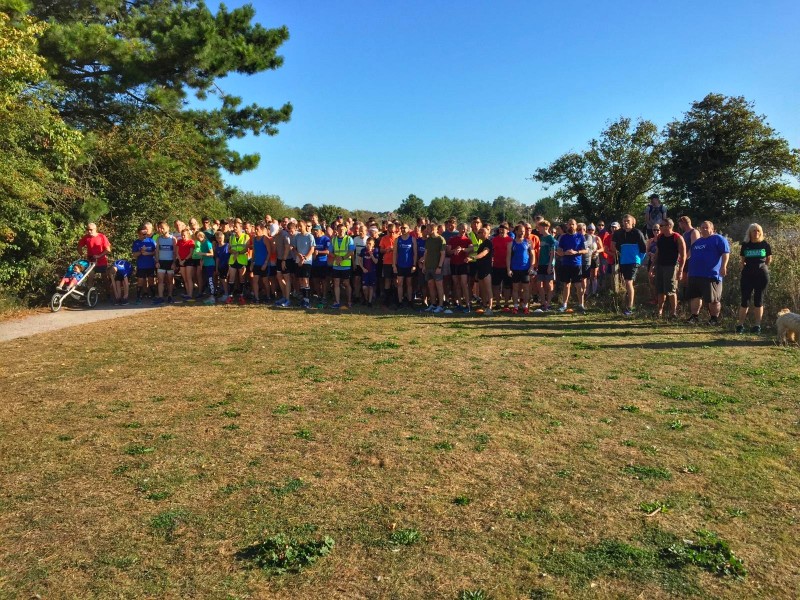 It seemed like almost no time at all before the second lap was complete, and we saw the first finishers coming in. The first three finishers all came in in Thanet Roadrunners colours; the father/son pairing of Andy and Jake Stevens set an impressive pace throughout the run, and were closely followed by 18-minute pacer, Chris Brenchley.
Today's pacers were superb, and helped a number of runners achieve new PBs. We had pacers from 18 to 35 minutes. Here is what one runner had to say about our 35 minute pacer, Kirsty:
'Massive thank you to Kirsty the 35min pacer at pegwell bay parkrun today, for dealing with my breathlessness, being supportive even though I had headphones on and couldn't communicate well and also encouraging me and waving me to pass by. I have never managed to pace someone all the way through and it is a massive achievement. Thank you so much for your kindness and positivity, the world needs more people like you guys.'
And that is what makes parkrun special. Well done, Kirsty, for your super efforts and encouragement!
Then began the serious work of funnel managing; cheering everyone across the line, but also ensuring everyone stays in order through the funnel, and takes their barcodes. Volunteering enables you to see the simple truth that no matter how long it takes, everyone pushes themselves at parkrun. You could see the effort and emotion on every runner's face. Everyone from finisher 1 to 201 is working hard, and received a hearty well done from the volunteers and their fellow runners at the finish line.
For those who have not considered it before, I highly recommend volunteering. It gives you a little insight into the workings behind our Saturday obsession, it is a great opportunity to encourage others, and it is great fun chatting with the other volunteers.
Equally, if you have not considered joining a running club, I cannot speak highly enough of what membership means to me. Being strictly non-partisan for a moment, I can honestly say that joining any club will greatly improve your running, whilst also providing a massive family of friends to encourage and support you. Since joining Thanet Roadrunners at the start of 2018, I have made great friends, and seen my running go from strength to strength. I've achieved things I never thought I'd achieve, and had a laugh getting there.
Finally, a huge well done to all the finishers at Pegwell Bay this morning, and a big thank you to all our volunteers.