Battle of Britain Challenge Race Report and Results
Sunday 29th September at Samphire Hoe saw 4 brave Traccies tackle not only epic weather but a tough course with plenty of ups and downs around Shakespeare Cliff and the Samphire Hoe Country Park.
The event is one put on by Saxons, Vikings and Normans Challenges and with a generous 6 hour time limit encourages runners from beginner to elite to attempt to push themselves.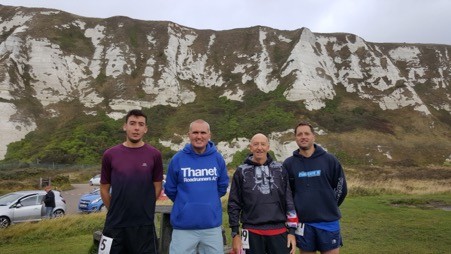 The results are shown below with Thanet Roadrunners leading the charge in the half marathon distance with the first 3 runners home over the distance.
Paul Brackenborough – 1:58:52 / 13.1
Alfie Grafton – 1:59:06 / 13.1
Spencer Hoult – 2:12:03 / 13.1
Mark Foster – 5:01:51 / 26.2
Runners are rewarded with race bling of epic proportions and an equally large bar of chocolate plus a well stocked aid station and very supportive marshals.