ASICS London 10K Race Report
I enter a lot of races. There is just something about waking up in the morning knowing that I have a race that I just love. Whether it's the nervous excitement, fear of not doing well, travelling to new places or the sheer joy I am filled with when I finish, I just can't seem to get enough of it (a new shiny medal also helps). Last weekend saw me return to the capital to take on the ASICS London 10K. This was the second time that I ran this event, previously branded as the British 10K,after really enjoying it last year.
Organised by Virgin Sport, this event gives runners the opportunity to run on an entirely closed road route through central London passing iconic landmarks including Piccadilly Circus, Trafalgar Square, the London Eye and the Houses of Parliament. With a field of nearly 9000 participants, varying in ability from elite to first time runners, crowds of people lining the course with live music at every kilometre, it is easy to see why this event is such a hit. Probably its only drawback is the price. At around £45 for your race entry along with travel to and from London, this does work out as an expensive 10k run. However, I would argue that along with an incredibly well ran event, the course, a technical finishers t-shirt and a large chunky medal, that this race still represents great value for money.
Earlier in the year I had earmarked this race as the one to target for a new personal best. It came at the right time of year after plenty of speed work and the course only has a few small inclines. However, after producing an unexpected performance at the Les Golding 10K Memorial run a couple of weeks ago I was feeling less confident that I would be able to replicate this again. The temperature had also been rising over the last couple of days and was close to 25 degrees at the start of the race.
I did however bring a secret weapon with me which I hoped with give me the edge in improving my time. This was the first time in racing in Nike's brand new Vaporfly Next% trainers. They are as light as air, offer incredible support and they just seem keen to drive you forward so I was also eagerto put these to the test today to see what they can do.
After making my way to the start pens, which ran alongside Green Park, I went through my usual routine of attempting to prepare myself for the race and pushing all the negative thoughts to the back of my head. Regardless of the importance of the event or the distance involved, I always get incredibly nervous in those final few minutes before the start. This of course vanishes as soon as that starting claxon sounds and race mode seems to kick in.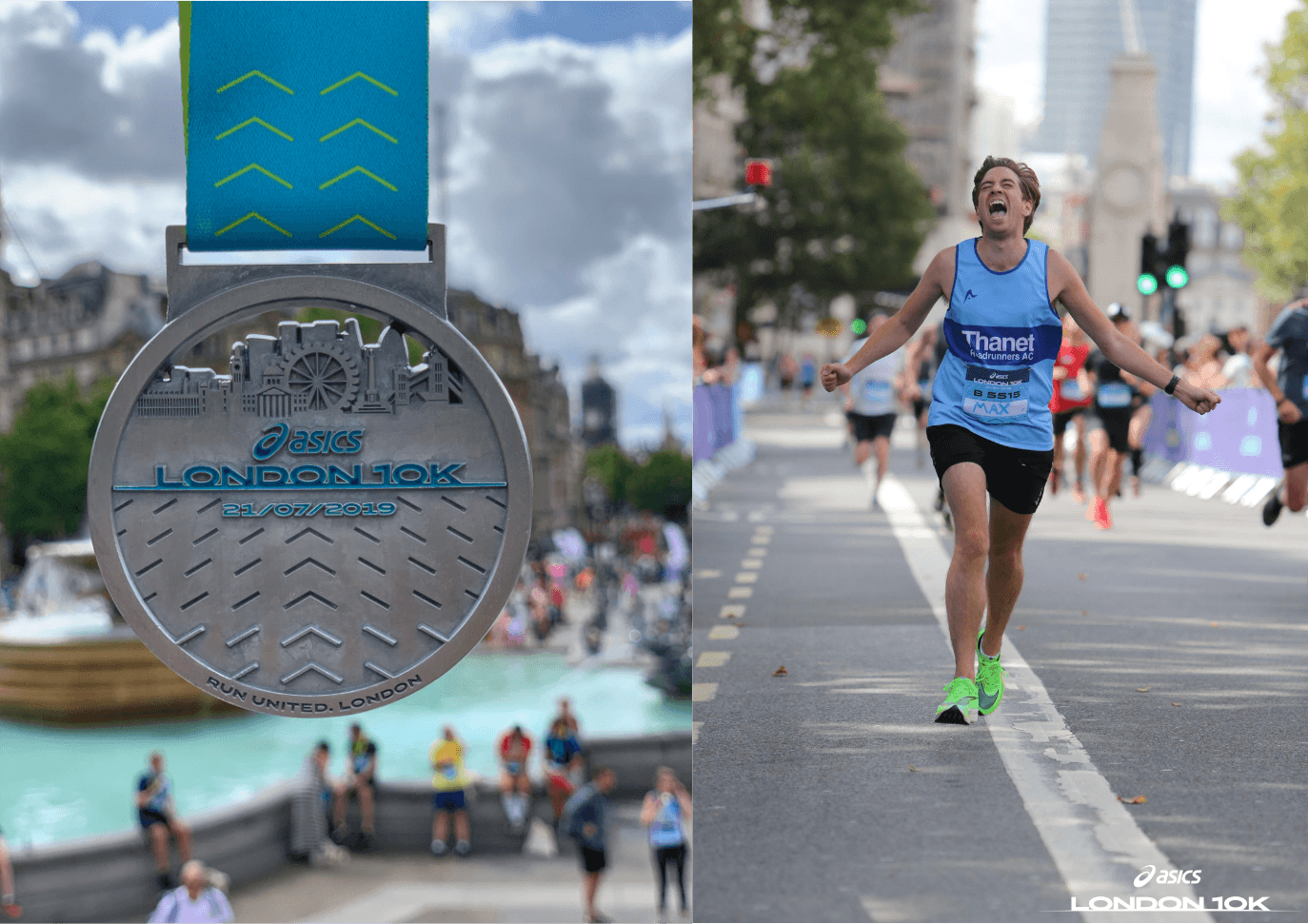 Being such a large event the start was fairly congested but after the first kilometre this was no longer an issue. I had started at the required pace, was feeling good and the atmosphere was fantastic. After passing through Piccadilly Circus we were sent out and back down Regent Street and before passing through Trafalgar Square which was the home of the event village and had some of the largest crowds on the day. The support from the crowd cannot be underestimated, it is genuinely something that helps make this such a nice event to take part in. At around 5k the route headed out towards Leicester Square and then back on itself again towards Temple and on through to Embankment. This section of the course, around the 7K marker, was the most exposed to the sun and the heat despite running alongside the Thames. It was here where I was started to doubt whether or not I could continue at my current pace. Luckily a water station was up ahead and after grabbing the paper cup I managed to get some of its contents in my mouth and the rest just hit me in the face. There was also what can only be described as a human car wash which sprays you with cold water as you ran through it. It was an incredible three seconds! Amazingly though, this managed to do the trick and with the London Eye on the other side of the river and Big Ben approaching I was rejuvenated. You are then sent over and back across Westminster Bridge, past the Houses of Parliament and around Parliament Square. This signalled the final 1000m and was time to dig deep and get it everything I had. I knew I was on for a good time but my legs were tiring and I was snatching at every breath of air. I gave it everything that I had left and felt myself accelerating, passing several runners over the last few hundred meters. As I went past Downing Street and crossed the finish line, a brief look at my watch told me that the pain and fatigue I was feeling was all worth it. I finished in a new personal best time of 41:08. Of a field that included a large number of very experienced runners I finished in the top 3% (280th out of 8912).
I was absolutely over the moon to have achieved a new PB at the ASICS London 10k. Although it was tough with a tricky route and the heat, it just clicked for me. The new trainers were an absolute joy to run in and can't wait to see what they are like over longer distances. It's been a challenging couple of weeks for me physically after struggling with my own health but so happy that all of the hard work I have been putting into training is paying off. Along with this summer'sEast Kent Road Relay races, regular hill and track sessions I've seen an increase in speed and strength. Just need to keep this up and carry on enjoying my running.
Max 💪