Boston Half Marathon race report
I knew that I would have to go to Boston for a work trip so thought would do a bit of race tourism and found out that B.A.A. had a half marathon race on the weekend I was away so quickly signed up for it. That was the start of what I'd say was one of my best blocks of training I've done, even managing to avoid injuries so I figured I must have been doing something right.
I knew that the course was described as rolling hills so figured that doing plenty of hills in my training would do the trick along with a lot of good interval training (usually on a route with a decent hill on it to push even harder) and a couple of races in the middle to test where I was with my fitness.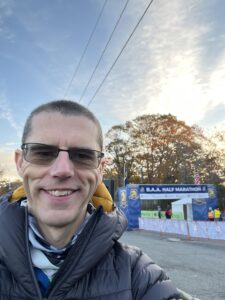 So onto race day, as the start time was 08:00 it meant quite an early start to walk from my hotel to the Copley Square where there was a fleet of yellow school buses to shuttle us all down to the start in Franklin Park in Boston. With 9000 people signed up for the race it was likely to be pretty busy to collect race numbers etc., but as B.A.A. are used to organising major races it was all very well organised with volunteers everywhere to guide us around the race HQ area in the park. It was seriously cold (-1°C) with a Northerly wind to add to the chill in the air, trying to keep warm before the race was definitely the priority and after dropping my bag (and multiple layers of clothes) I wrapped myself up in a foil blanket and headed to the start corrals (sign posted by the pace you wanted to go at).
The race started with the elites who were seriously quick with Half Marathon PBs down at around 1 hour… After a few minutes it was time for the mass entrants to set off and it was a relief to finally get going and move those cold legs. Fortunately the race starts with a nice downhill section for the first mile and I kept telling myself not to get carried away so just used gravity and went a little quicker than target pace rather than going too fast. The race carries on through the edge of an area of linked parks and green spaces called the Emerald Necklace which was really well supported with lots of crowds out cheering everyone on, it's clear that Boston takes their running seriously and those crowds braving the cold morning with their cheering and cow bells definitely helped keep the morale up! As I ticked through the miles I was still feeling good and knew that as long as everything stayed that way I'd be on track to hit my target race time. The second half of the race comes back on mostly the same route but is a bit more uphill so that slowed everyone by a few seconds a mile but knowing that there was a good bit of uphill at around mile 11 to mile 12 I knew that I had to make sure I had plenty in the tank to maintain the pace. It worked and then in the last mile the route goes through the Zoo, I think it was probably a bit cold for most of the animals as there weren't many out and visible from the race route but that was ok as I was focusing on my pace to try to push on to the end. Just after the 13 mile mark the route goes into a little stadium in Franklin park and it was time for a final sprint for 200 m on the track over to the finish.
Definitely a race to remember with great organisation from B.A.A., supportive volunteers and crowds and a fantastic route around a pretty part of Boston.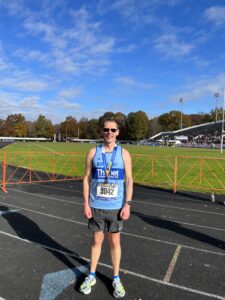 The training all paid off and I was delighted with a Half Marathon PB of 1:28:16 and 13th in the V45 category.
Thanks to Richard Allan for the race report and for proudly flying the TRAC flag on the other side of the pond !!