Centurion One Slam race report from Simon Clayton (and his dog Slinky)
I entered the Centurion One Slam event towards the end of 2022, and the 70-day period started on 01 Jan 2023, concluding on 11 Mar 2023.  The event had 10 mileage options to pick from to complete within the event period: 50, 100, 300, 400, 500, 600 and 1,000 miles which can be run and/or walked.  The distances from 50 up to 600 miles earned an epic 100 mm wide medal, and those brave enough to go for the 1,000-mile option were rewarded with an epic 150 mm buckle (below).  At the time of entering, I wanted to go for the 1,000 mile and entered with that distance, but I knew I would likely have to downgrade to a lower distance during the event.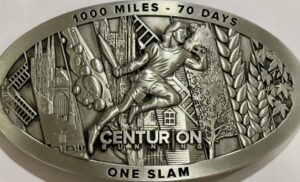 During the SVN Usual Suspect event last December, I talked to a friend who had done the One Slam in a previous year, and he persuaded me to stick with the 1,000-mile distance as it would average 10 miles a day, which was achievable with a daily 10K run and a 5K dog walk.
On News Year Day I excitedly completed my 10 miles and proudly posted it on a Run Every Day Facebook group.  Shortly afterwards, a friend commented that I had not done enough mileage and that I needed 14.3 miles per day!!  It seems that the event used to be over 100 days but had now been shortened to 70 days, meaning a higher daily mile count but is completed sooner.  That evening, my dog had a bonus late evening walk!
The hardest challenge for me, wasn't the distance, but the time commitment needed every day.  As I had some international business trips during the event period, I also needed to bank some extra miles to enable me to cover a significantly shorter distance whilst on those trips.  This extra banked distance was achieved by completing 3 marathons spread over the period.
I found that the extra miles on my feet during the event made me feel stronger, and 2 of the marathons I completed during the event I managed to run non-stop, whereas usually I tend to have some short periods of walking.  On Day 69, I completed the Track Wars Marathon.  I completed the event on Day 69 with a total mileage of 1,018, one day ahead of schedule.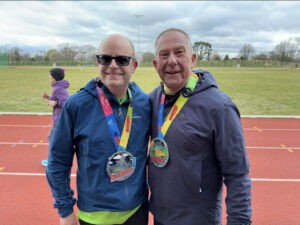 I recommend the Centurion One Slam event to anyone, especially those preparing for spring marathons such as Brighton and London.  Be mindful of the time commitment, and please slowly build your mileage up beforehand, to avoid injuries.  Remember there are plenty of mileage options available which can be upgraded/downgraded during the event as needed.  
---
Editors note: We love to receive your inspiring race reports.  
We feel Simon's dog Slinky deserves a medal too!  He's been a brilliant pacer!  Slinky now has a body like an olympic athlete (not that you don't Simon) but Slinky is wondering why, having completed the challenge, he's just getting one walk a day!  
Congratulations Simon on an epic achievement!