London Landmarks Half Marathon Race Report
Over FORTY Traccies applied for ballot places in the chilly London Landmarks Half Marathon this year, but just a handful were successful.   Several took the charity fundraising route and in total over £8 million was raised for great causes.  Interestingly, this race was female dominated, with well over half the entrants being women.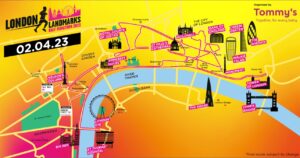 The race started in well managed waves from Trafalgar Square and took in so many iconic landmarks the runners eyes were almost as tired as their legs… well almost!  From Big Ben to Nelson's Column and St Paul's Cathedral to the Tower of London, it is hard to think of a half-marathon race that passes so many iconic buildings.  It was also a great time for the 20 or so TRAC supporters who also travelled up to London to see the sights, with closed roads across the centre of London.  The race was a lot less formal than London Marathon, with fewer barriers.  This was great for spectators, but in the last 3 miles spectators made the course pretty narrow. 
There were some outstanding performances from Thanet Roadrunners athletes. 
Charlotte Hadden was first home (crossing the line with fellow TRACCIE Steve Hawkins) and taking 116th place out of 12,616 female runners.  Both Charlotte and Steve maintained a steady pace throughout and to put Charlotte's performance in perspective, the first lady over the line was London based elite athlete (in her mid 20s) Alice Neil finished in 1.21.  
Charlotte very modestly said "I don't consider myself a good runner, I've just found something which enables me to eat and drink what what I like and I've found out I'm actually OK at it.  The TRAC spirit really helps too.  It's such a friendly club".
Steve Hawkins, another relatively new runner ran with Charlotte and finished in a dead heat.  Steve has Manchester Marathon as his main target and his performance looks very promising.  Steve felt that running with Charlotte and taking gels at regular 45 minutes contributed to his success.  Both maintained a steady 7.24 pace and looked really strong as they finished in the sun.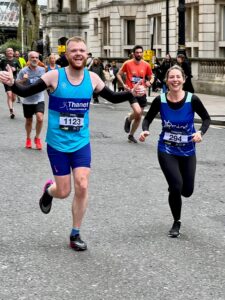 A break down of finishing times (gun times) is below:
Charlotte Hadden 1.36 
Steve Hawkins 1.36   7.24 pace
Simon Cowdrey 1.38
Max Hubbard 1.39 
Joanne Holl 1.43 (7.50 pace) in 8th place out of 297 runners in her category.
Spencer Hoult 1.53 
Gill Kennedy 1.58 very consistent splits
Jacquie Brazil 2.03  Just missing her sub 2hr target, but still making considerable improvement and clearly enroute to a sub 2hr half marathon before long. 
Donna Dharmasena 2.06
Gemma Hawkins 2.10  Recognition should be given for the huge progress over the past 12 months. 
Sorcha Page 2.40 (pacing a friend) 
Julie Neaves 2.45  Julie and Jan ran every step of the way together, encouraging each other.  Their smiling faces epitomised Trac spirit.  
Jan Hayward 2.45
You can pre-register for the 2024 London Landmarks Half Marathon here.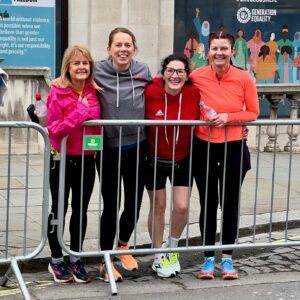 This photo seems to sum up the close friendship between TRAC runners.  They were still all smiling after the race too!
If you have a race report you would like to share we'd love to receive it.