Greenwich Park Meridian 10k Race Report
On Saturday 8th February, I drove up to Greenwich to take part in the above event, being born and dragged up not too far away from there, I was looking forward to running on some of my old stomping grounds. I was the only TRAC member there amongst a field of about 120ish.
This event was being run by 1m2go, the team behind various runs some of you are no doubt familiar with, such as the Richmond Marathon and the Green Chain Marathon to name but two, this was their first time running this event.
I was able to park for free just outside the park (it being a weekend), although there was pay & display parking in the park itself at just 30p for fifteen minutes, toilet facilities were the park's own on the hill that runs up the side of the Royal Observatory (more of that hill later in this report!) Race HQ was the bandstand, here there was the check-in desk, bag drop and refreshments.
The race was both a 5k & a 10k that both set off at 10am, we were told during the briefing that the 5k consisted of one lap, the 10k comprised of two laps, hmmm…
The route itself is all on paved paths or traffic free roads within the park itself, and consists of flat, downhill & uphill sections. Marshals were appointed at each change of direction with the usual black on yellow arrows, easy enough to follow.
After running downhill to then follow alongside the rear of the Royal Maritime Museum, you reach the water stop, this is at the beginning of the hill that takes back up towards the start, it was at this point that a muscle at the bottom of my glute/top of my hamstring decided to go 'pop' and send a shooting pain down my leg, just as I faced this ascent, a mixture of walking, hobbling and running saw me make it to the top and as it was not giving me any real grief on the flat, I carried on.
As I completed the second lap, I was thinking that I should have been directed back towards the start, based on what we had been told on the briefing, but a look at my watch told me I had only done about 7km at this, so it was round for a third time (each lap it transpires is about 3.3km).
Having competed my third lap, it all got very confusing with the marshals not really knowing what was left for us to run and the runners themselves deciding to run back to the finish once they had clocked their 10km up (okay, if you have means of checking this), I did hear that at least one runner was sent round for a 4th lap and ran over 13km based on the info given to them by the marshals, certainly, I was told I had to do another lap by one marshal when I was at the 9.8km mark (I disagreed with that!)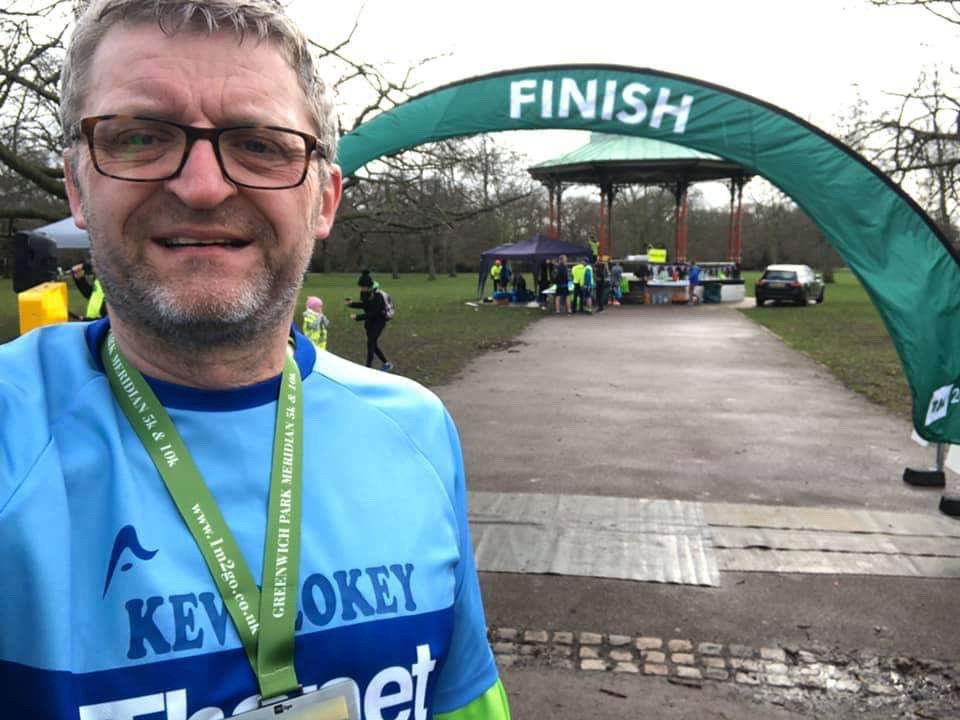 Anyway, I crossed the line on a poor showing of 01:01:10, having ran 10.4km by this point. I was looking forward to a massage on muscles that I had been told would be at the finish, there weren't.
The medals were on a table alongside the goody bags and it was very much a case of 'help yourself', when I enquired about the performance t-shirt that was meant to be part of the goody bag, I was told they were £3 each and then I asked someone else and they said I could take one, so, a very confusing end to the run.
Many runners were grumbling about the confusion over the distances and this tainted what should have, on paper at least, been a good, albeit, challenging run. Still, it was their first time putting this event on and hopefully, they will take on the feedback they receive. Having organised events myself in the past, I hope they respond and put on a better event next time with properly briefed marshals.
Kev Bullions