Lakeland 50 Race Report
A friend of mine (pete) has been trying to talk me into doing this race since the very first time I put a pair of trainers on, so last summer I decided 2019 would be the year I went for it. I managed to talk my old sailing crew, jez into running with me.
I could go on for hours about the entry system (website crashes as soon as it goes live because so many people are trying to enter) foons or sporks (mandatory kit) poles(cheat sticks or as I now call them win sticks) collapsible cups (just don't mention them at kit check as you will get a slap) taped seems (don't ask!!!) but I'm not going too as life's too short(just check out the Lakeland Facebook page and you will get the idea).
Anyway jez and I entered as a pair mainly so neither of us could bottle it and let the other one down.
Onto the race having missed the compulsory competitors briefing, because we were waiting in the wrong place (shush don't tell anyone).
We made our way to the coaches that bussed us to the start,after a pleasant hours drive, once there and after a final loo stop and a bit of kit faffing we made our way into the start pen. It was this point it started raining, not the usual ran we get in thanet. I am talking biblical rain, which didn't stop or even ease up a little for the next 24hrs.
Once start gun had gone we were on our way already soaking wet from head to toe(so much for keeping my feet dry for as long as possible. The first 4 miles was a loop of the daleman estate, slow jog due to the number of people then a 7mile leg to the first check point at howtown nothing to dramatic on this leg just a few up and downs to get you ready for what's coming.
The check point was the usual stuff so after a custard cream and a quick toilet stop we were on our way to mardale head 9 miles away shouldnt be too tricky this early on. A steady climb up away from howtown turned into a steep climb that kept going and going, my words here won't do it justice as just when you get to the top another peak appears then another then another 2500ft in all and a new record for me my slowest ever mile at 32 minutes despite us being quite quick on this leg compared to the people around us (we overtook 76 other runners according to results stat breakdown we got at the end) now if going up was hard at least going down will be easier right? No chance. Rocks,bogs,fog, the only path was now a river due to the sheer amount of rain falling from the sky. I actually found it easier going up the hills as coming down just destroyed your toes/ankles/knees and quads etc.
The next 30 miles basically followed the same patten. Rain,Checkpoint,hard climb,hideous decent checkpoint,rain. Repeat repeat repeat so i will just gloss over the rest with high/low lights. Passing the 100 runners that had started the night before us, sharing our food and painkillers with them. A checkpoint (not sure witch one) that resembled a rave from the 90s with people dancing on the tables and chairs. Running along a track with jez on one side of me and a deer on the other(I thought I was hallucinating but jez and I both saw it). Seeing a runner fast asleep with his head resting on his coffee cup.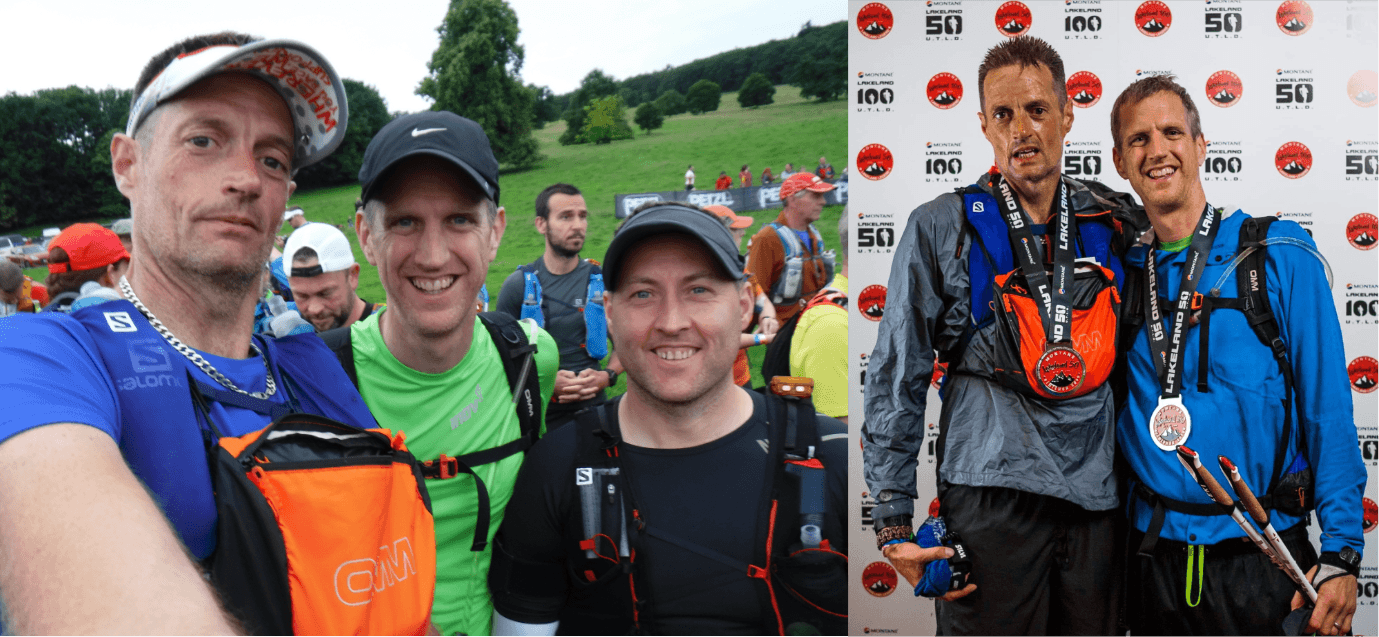 Running through Ambleside at pub closing time with crowds of people cheering us on. I am aware I'm going on a bit so will fast forward to the last 5 k where we realised if we kept up our pace we could get under 16hrs which is the magic number that gives you the entry qualifying time for you to enter 100 should you wish to do it(neither of us do) but we went for it anyway. So 3.5 miles in an hour and 10 minutes easy no probs. We made it with a massive 2 minutes to spare despite us running the last mile in 9 minutes.
At the finish you get led into the marquee to be greeted like rock stars have picture taken medal, tshirt hot food. I even managed a blag a pint off the barman who felt sorry for me as I couldn't find which pocket in my back pack I'd stashed my emergency cash in. Normally that would be the end of a run report, but nothings easy in Lakeland world.
I got back to our tent to find the kids asleep in the car because when Anna had gone to put them to bed she found their air beds floating in the tent!!! She was in my camp bed because it was off the ground. I decided to wake her. I thought she might be pleased to see me (wrong again) we had a coffee and when I got up to go for shower I promptly fainted, face down in the mud. She managed to accost two other runners to look after me while she got the paramedics. In all I fainted 4 times while they took my blood pressure etc happy to say nothing wrong with me just total exhaustion.
Finally must just say I had a quick chat with steve Hobbs while we were getting ready to leave he smashed the 100 course (actually 105 miles) in under 24hrs which is just incredible. He had had a good nights sleep and was just heading out for a cool down run!!!
Roll on the first of September when entries open again (just don't tell Anna).
Oliver 👍