London Marathon Race Report
Christopher Brenchley – Men's Captain
The 2019 Virgin London Marathon was one of the top six world marathons that form the World majors and is generally a flat course in and around our great City on the 28th April.
I could count 16 Traccies running this year at the London Marathon and many supporters making the journey too. Some performances really put TRAC in amongst the top runners in the world and some huge efforts raising money for the chosen charities.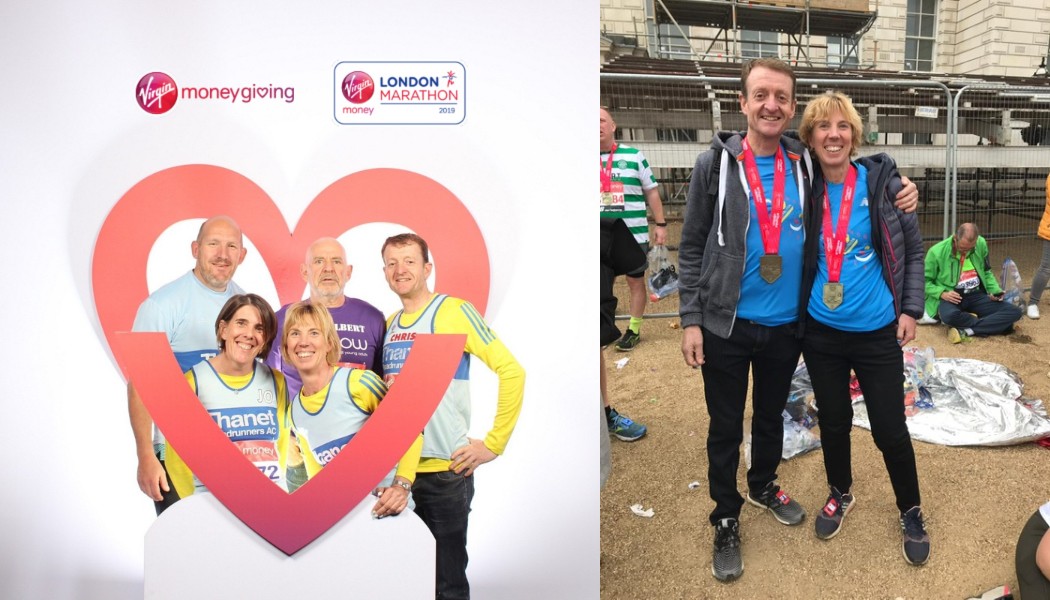 An outstanding performance was Ruby Spencer's PB and 305th Female overall, knocking on the door for the club record. Other notable performances were Max's PB within a two-week gap between events including fundraising efforts and David Winch's second-place finish in his age group. Steve Hobbs was also our first male as a Thanet Roadrunner. Our Chairman at the time Jon Holl was also running as well as ensuring we all enjoyed the day.
For me racing another marathon soon after a PB in Boston was not going to happen. I decided to take the opportunity of running my 7th attempt at the great sporting event with my partner Nicola. This probably made it the most enjoyable marathon I've ever run.
Great support from the TRAC supporters and family made this a memorable day. I've requested some of us add a little paragraph about the London Marathon.
Nicola Boyes – Ladies Captain
Two weeks after achieving a personal best in the Boston marathon I had the chance to run in my first London marathon. I was unsure if I would be able to do it with such a short recovery time and my aim was to run it in under 4 hours. Happily, for me, Chris decided to run it with me and did a great job in encouraging the crowds and generally keeping me going. It was fantastic to see so many Trac supporters in the crowds as well as family along the route. So pleased to have completed in 3 hours 56 mins, although just to run in London was a great privilege and experience, and I look forward to running again next year.
Oliver Northrop
After entering the ballot, I finally got the lucky "yes magazine through the post" at the tenth attempt. I had been allocated blue start zone 1, once I had made my way into the zone I quickly realised I was out of my depth (and must have been over optimistic with my finish time on my entry) so I headed towards the back of the zone, I bumped into David and Jamie which confirmed to me that I was in the wrong section but decided to start with them anyway.
The first few miles passed effortlessly at 8.45pm pace I got a nice cheer from TRAC just before our course merged with that from the red start. From here the pace stayed the same but it was a bit busier until we reached the Cutty Sark, that's when I first really felt the famous London atmosphere.
My best mate his sister and wife run the first water stop after the cutty sark, I saw my wife and kids a couple of minutes later which was wicked as I thought we would miss each other in the crowds. The next ten miles or so passed quickly. Either side of Tower bridge I heard some very strange cheering and as I turned to see what it was, I could see TRAC supporters bouncing up and down! It gave me a huge boost which was just what I needed to get up the slope onto the bridge. Still on pace oblivious to all the landmarks. I saw Anna and the kids again at about 20 miles which gave me a massive boost. From here on I would love to say I stayed on pace and managed my first sub 4hr marathon, but it wasn't to be. The dreaded cramp hit me and I had to run walk the last few miles which put about ten minutes on my time. I did manage to run with Chris and Nikki for a bit but had to ease up. The final bit to the finish was a killer and just seemed to take forever. The support from TRAC was fantastic. After collecting my medal I met Anna at the Pilgrims hospice charity place and had the best massage and cup of coffee ever. From my point of view the whole day was awesome and the organisation was very slick. Hopefully it won't take another ten years to get in next time.
Adrian Smith
Mo Farah Beat me!
I had a great day, with great support from the crowds and friends from TRAC, the Illegals and Coasties, nice to see everyone encouraging no matter if they knew you or if you ran for their club or not. Recommended to anyone.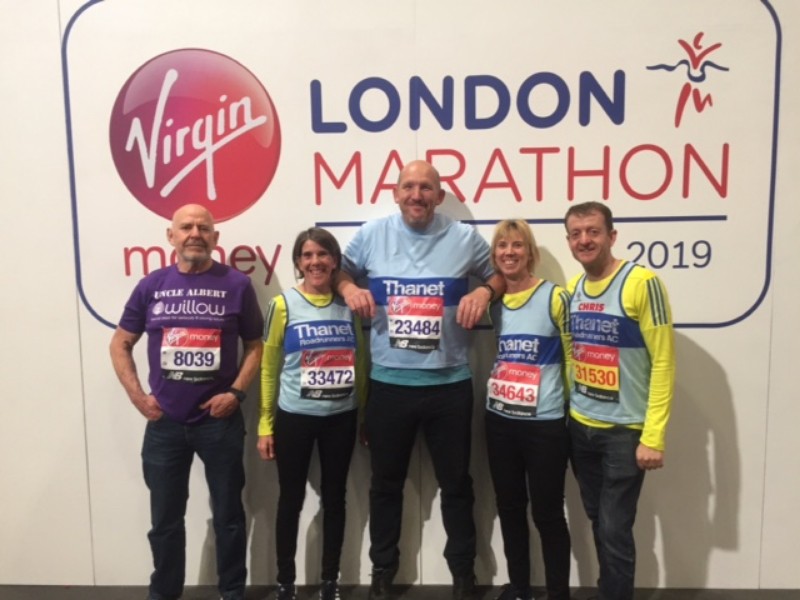 Maxwell Hubbard
Completing the London Marathon is something that I had always dreamed to do. Over the past 18+ months I started my running journey and I've put a hell of a lot of hard work in. With the support from friends, family and the Thanet Roadrunners, that dream became a reality.
Nothing quite prepares you for running the London Marathon with pre-race nerves, anticipation and excitement for one of the most incredible races in the world. Having run the Brighton Marathon just two weeks ago, I found preparation for this race strange with only two weeks to rest, recover and prepare again although I was full of confidence that I could do it. I followed the same pre-race preparation as I did at Brighton to ensure there was nothing new. The biggest difference for this race was that I had a lot of friends and family coming up to support me and watch which was great but I didn't want to let them down.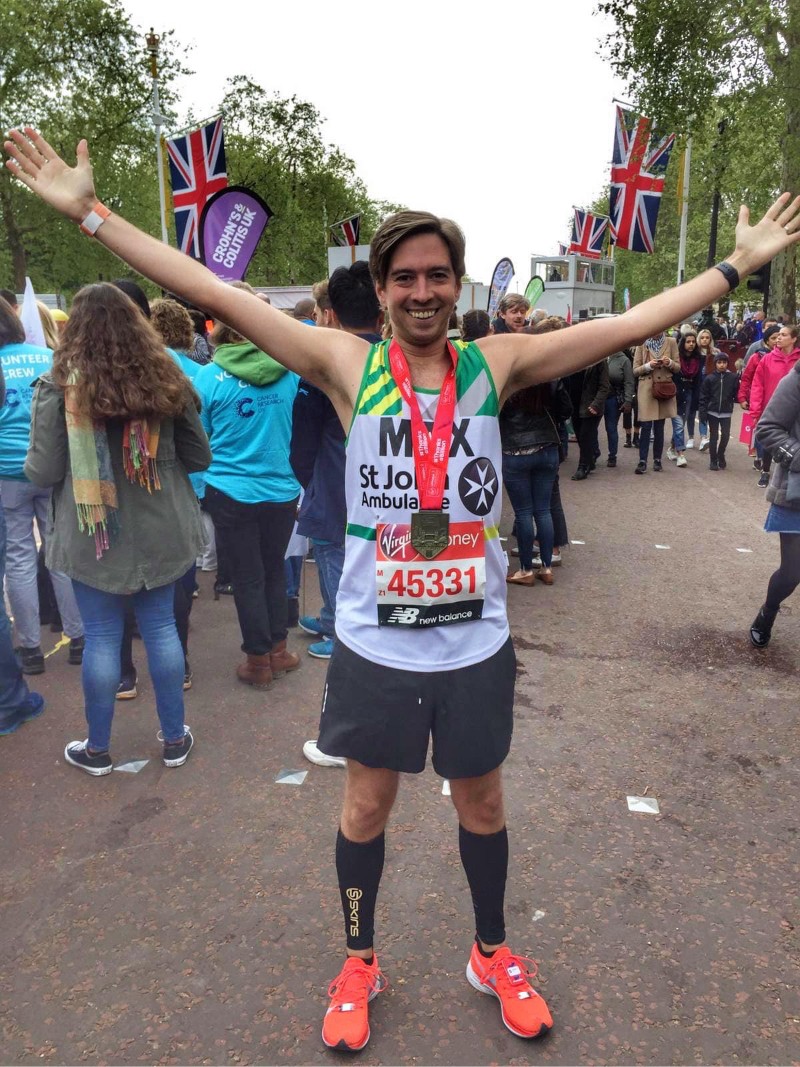 I stuck to my race plan for the first few miles. Excitement got the better of my all the way up to Tower Bridge as my pace got quicker and I got worried I had gone out too quickly. I blame this entirely on the impressive crowds of people, cheering and shouting my name at every turn. At halfway, I knew I had some tough miles ahead. I could feel my hamstring and calves had already started to tighten up. This I told myself was just a hangover from the previous run and nothing to worry about. Literally running past both Eliud Kipchoge and Mo Farah albeit that they had only 4 miles to go and still had 13, was a real highlight for me and gave me a much-needed boost to keep going. I focused on keeping going.
With about five miles to go my calves felt like lead and I felt like I was struggling. I had the chance for a new PB and decided to grit my teeth and go for it. Not long after going past Big Ben with Buckingham Palace almost in touching distance, I got another glimpse of my family who were waiting at the 800m to go marker. I got a little emotional but also knew that I had to relish this moment. I kicked on for the final stretch down The Mall filled with so many emotions. The pain had evaporated, and I was about to finish the London Marathon. Crossing the line was an incredible feeling made all the sweeter by managing a new PB of 03:33:59. Running this marathon is truly an experience that I will cherish for the rest of my life.
Don't let anybody tell you that you can't reach your goals. With plenty of hard work and determination you can achieve almost anything. Thank you to everyone for your support especially my wife, family and friends that came and supported me around London. Thank you also to everyone that has sponsored me. So far, I have raised £2,358 for the incredible charity that is St John Ambulance whose work at events like this really makes a difference.
Bradley Cameron
I was thinking about deferring as I hadn't trained at all really, but with knowing how hard it is to get into London it would be unfair on everyone who can't get a place not to run from a championship area. I should have been sensible and set out steady but when the gun goes it's time to go hard or go home. I got to halfway in around 1:24 and carried that on till 16 miles but then the lack of long runs paid its toll and my legs just gave up but its London so worth the horrid last 10 miles.
Steve Hobbs
Going into the London Marathon with an injury in my back probably not the best plan. Also, coming off the back of a 50 miler (sdw50) two weeks before so I'd not really put in any marathon training.
I went into it just treating it as a long run.  But it turned out to be a course PB!
New plan…..don't have one!
Warren Chambers
An amazing day filled with part nerves and part excitement, the wait was torturous but once I set off the first mile flew by and I was happy with my pace. Cutty Sark was a good as people said it would be and seeing family made it even better. About 14 miles in knee began to hurt and so the last 12 was slower and at times painful the crowd helped including seeing the supporters from Thanet running clubs and I finished so pleased as punch.
Noel Sutton
I had once again a great race day experience at London.  Loads of support and the usual incredible atmosphere.  My training and racing had implied I would run between 2:37-2:40 so I planned to pace to a 2:37 so that even with a fade towards the end I'd dip under 2:40. 
As it turned out my dip happened much earlier.  Pacing was spot on to 13 miles, but I felt sick and had a few cramps from 14-19 miles.  I ran with Steve Hobbs and another friend to about 10 miles and everything felt spot on.  I tried to lose myself in a bit of locomotion and just get some miles done without engaging which worked quite well.  I came out of my misery pit at 19 miles and although I was still on for sub 2:40 my legs were feeling tired.  I think my mental fortitude had been spent getting to 19 miles, so although I felt much happier and started to enjoy running again I couldn't convince my legs to go fast enough. 
I really enjoyed the last few miles, I'd missed my little support team of wife, children and trac juniors at 14 miles so was chuffed to bits when they popped up again at 23 miles.  I faded to 2:42 in the end, which although not quite what I wanted was definitely good enough for me on the day. 
Ruby Spencer
I was absolutely thrilled with my result, I had an absolutely fantastic time and very much look forward to running it again next year but this time from championship start.
Jamie Collins
Turning up to the start line at the London Marathon was like nothing I'd seen before. Slick organisation and the droves of lorries ready to cart our bags to the finish line really brought the scale of the race to the forefront of my mind. No pressure then.
A chilly morning, just a degree under perfect racing conditions but better than last years heat wave. The first half went well. On pace and the crowds were a great incentive to keep pushing. By mile 16 though, I was feeling like something was about to change. Seeing the TRAC support crew kept me hanging on until mile 18 but by then, I knew I had hit the wall.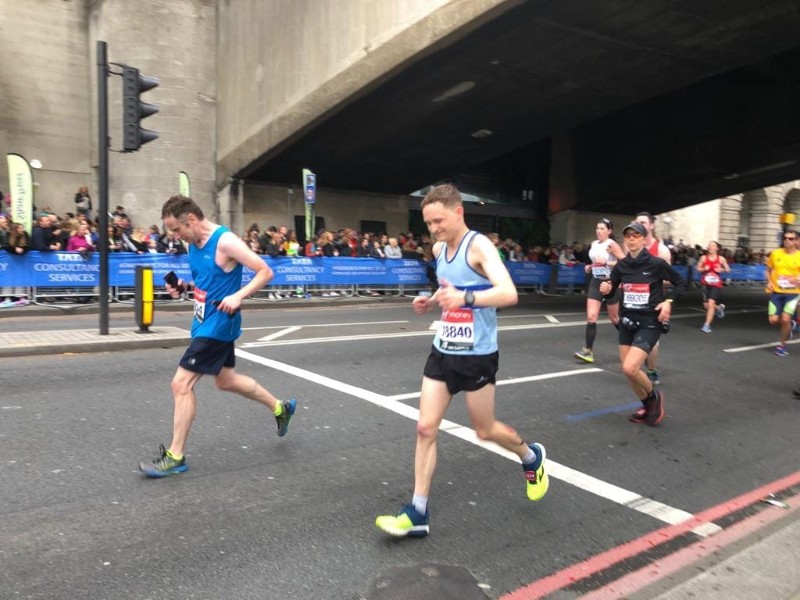 TRACs very own Ruby passed me, then the 3:15 pacer. I was going backwards! Digging deep for the last few, I knew I had to keep pushing. Coming down along embankment I knew the end was in sight. I mustered a thumbs up and a smile to my family and tried to pick up my feet to rush for the finish. What a relief.
I finally, after what felt like years of training, injury and deferral completed the London Marathon.
Janice Lee-Miller
Having won a ballot place in 2016 I did not expect to be successful for a second time so when I was I just had to run it again!  Training began in Jan 19 and I gave myself 16 weeks to get marathon ready.  It all went well until week 12 after my 20-mile run when my hip began to hurt – a lot!  Off to the physio I went and was told no running until the big day.  So, on 28/4 off I set and burnt and crashed at mile 11 but I managed to finish and I feel more proud of this marathon than the last because I know how easy it would have been for me to give up!!  If anyone thinks they can't run a marathon – you can – and London is amazing- the crowd get you round and the noise and atmosphere is just fantastic.  If you're interested in my time is was 5:30:00 exactly! Happy running!
Jo Holl
I thoroughly enjoyed the London experience, and have never spotted so many family and friends on the way round as I did this year. I really needed all their support more this year as I had very tired legs and it gave me a huge boost.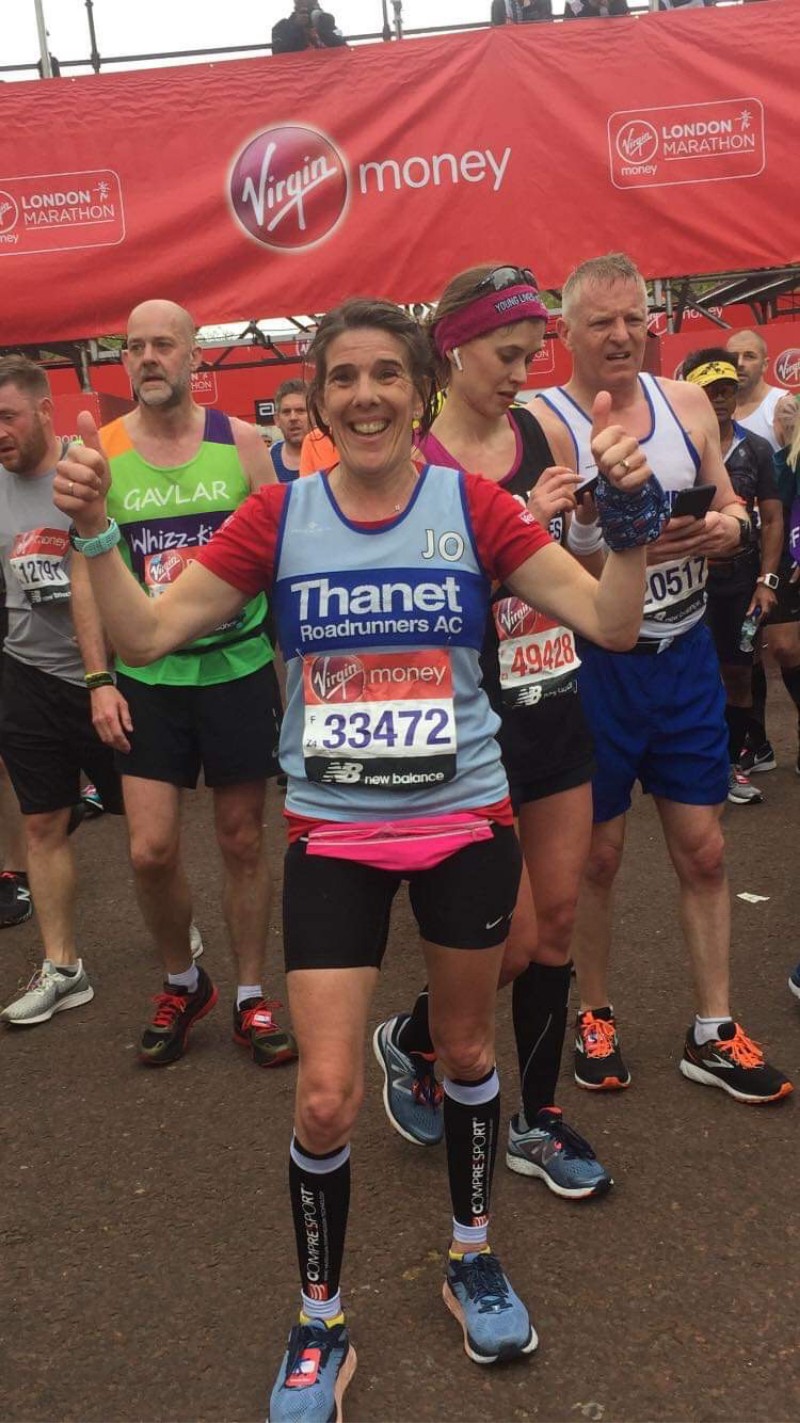 Adie Neaves on behalf of TRAC supporters
We arrived early and got our place at mile 14, although this was not the most picturesque part of London, it was a great viewing point. We were all humbled by the runners with disabilities, including wheelchair users, the responsibility of the guide runners supporting the blind.
It was a fantastic experience to see our fellow club members at this prestigious event. We shouted at the top of our voices and waved a TRAC vest to get their attention, it was great to see the reaction in their faces when they saw us.
We moved on to mile 21, this was a short walk for us from mile 14, again we managed to see most of our fellow TRAC members, at this point, they all seemed very happy for the support we gave them, Julies lasting memory of the day, was receiving a sweaty kiss from Chris Brenchley.
Results
Noel Sutton – 2:42:26 (running for his primary club)
Steve Hobbs – 2:48:02
Bradley Cameron – 3:07:56
Ruby Spencer – 3:11:31
David Winch – 3:17:13
Jamie Collins – 3:29:45
Maxwell Hubbard – 3:33:59
Nicola Boyes – 3:56:17
Christopher Brenchley – 3:56:17
Joanne Holl – 4:06:11
Oliver Northrop – 4:09:24
Jon Holl – 4:45:29
Phil Cope – 4:48:11
Warren Chambers – 5:13:37
Adrian Smith – 5:20:08
Janice Lee-Miller – 5:30:00