Max The Marathon Runner: Brighton Race Report
When I first started running the thought of being able to run a marathon one day seemed beyond my reach. Fast forward 18 months and I can now proudly call myself a marathon runner! Like numerous others after watching the London Marathon 2018 and with a few months of running under my belt I felt inspired to take the plunge myself. Brighton was to be the destination of my first marathon mainly as it wasn't too far away and I could just book it there and then to prevent me from bottling it.
With the marathon booked that was one thing out the way but training for one turned out to be a different beast entirely. I continued to work hard throughout the year and was finishing the racing calendar off nicely, that was until in December I picked up an injury to my calf. At first I didn't think much of it but after several weeks with minimal improvement and a consultation with my physio (Maryanne) I was diagnosed with a suspected calf tear. Frustratingly I was told to rest up and ease back into it. I had time on my side but had to take it easy. I slowly built up my running by assisting the Couch to 5K groups throughout the week and gradually increasing the longer runs. It wasn't until the end of February when I was able to really start to pick up my training and join in the club runs again. The long runs got longer and I stuck to the training plan as best as I could, it wasn't long before the marathon season was upon me.
Despite putting a number of long runs in at 20 miles and entering a number of half marathons to practice my marathon pace I was a bag of nerves in the days leading up the marathon. It wasn't because I hadn't done enough training, it was because of the pressure I had put on myself to finish with a sub 4 hour time. It was all I could think about and was desperate to not fail. Equally, I was just as excited to get going!
After checking into my Travelodge in Brighton I headed down to the event village to pick up my race pack. The village itself had a real buzz to it as if you could feel the excitement building for what was to come the next day. With the race number collected it was time for a carb loading session of pasta and an early night as part of my final preparations.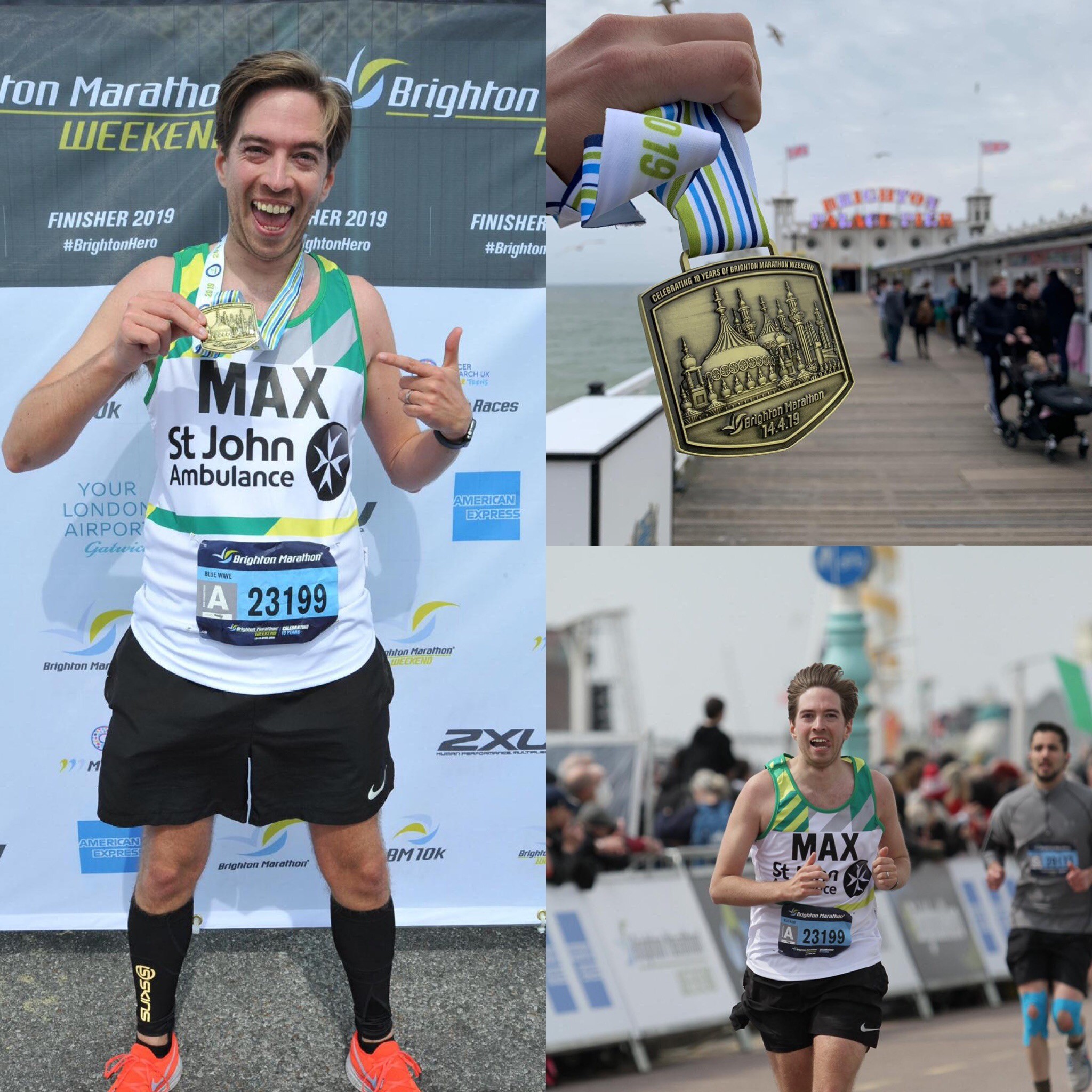 Despite sleeping well the nerves had intensified in the morning. There was nothing my wife could say to make it easier. I stuck to my morning route of going to the toilet, having a wheatabix breakfast drink, going to the toilet, eating a cereal bar, going to the toilet again and finally taking some Imodium! I had an attempt at a slice of peanut butter on toast but could only manage half of it. With about two hours before the start of the race, whether I was ready or not, there was nothing I could do now. After putting on my race kit and my trusty Nike Vaporfly 4%, it was time to head for the start.
As I arrived at Preston Park, crowds of competitors had already begun to gather. It was a nippy 2° and I was keen to get going just so that I could stay warm. As the start time approached all 16,500 runners were herded into our starting corrals which for me was a red start for runners with an anticipated finish time of 3.5 – 4 hours. I am always anxious about the start of a race due to the overcrowding and how compact it can get especially at larger events. The only thing in my favour here is that this was literally a marathon and not a sprint and there was plenty of scope for me to make up any time throughout the run. I kept reminding myself that I should try and enjoy the experience as I would only ever get to run my first marathon once. Once I was in position and the countdown had begun, it was almost as if I went into autopilot and switched to race mode. The nerves evaporated, I was remembering some of my recent long runs, I was confident of my race pace and I was ready.
3…2…1…GO!!!
I was underway in my first marathon. I had a smile my face and I was buzzing. The first mile is a loop around Preston Park with an immediate incline which was great for ensuring I didn't burn it off straight away. It was very congested but I was finding my pace and focusing on my breathing. These first few miles flew by as you head towards the seafront only to be diverted back up through the town past the iconic Brighton Pavilion. The crowds were great and were shouting encouragement to all the runners which didn't go unnoticed.
By mile five we were sent left along the seafront on a gradual incline out of town. It's a straight road with seemingly no end in sight but I was well into my rhythm now and slightly ahead of schedule. The 3:45 pacer was only a short distance in front of me and I was slowly making up ground. The aim at this point was to stick with the pacer which would ensure I stayed on track with pace and would achieve my goal of a sub 4 time. However, once i caught the pacer, I found it almost too difficult to slow my current pace so I decided to continue as I had been. I felt comfortable and didn't think I was over cooking it.
Six miles in, travelling past the Brighton Marina, I took my first gel (science in sport – Tropical if you wondered). I had been tracking these on my long training runs to make sure I had no issues with them. I have Ulcerative Colitis (a temperamental stomach) so was confident that I could take these with no concerns.
At one of the highest points on the route we cut inland towards Ovingdean which had great local support and plenty of words of encouragement. The further we got out of town the more exposed the route became to the wind. At this point it was still sunny but the wind was picking up. Thankfully just after mile 9 we would turn back towards town with the wind on our backs although this wouldn't be the last I saw of the wind today.
Now heading back towards Brighton going slightly down hill I was feeling great. You also got a sense of how big the field of runners was as we had essentially doubled back along the route. Thousands of runners of all ages and abilities giving it there all is genuinely an inspiring sight. As the back of the field came into view, so did some of the impressive fancy dress runners that included superhero's, a telephone, a T-Rex, the iconic rhino and my favourite a pair of testicles raising money for testicular cancer. When I saw them it caught me by surprise causing great amusement with my fellow runners and took a minute or two to compose myself again.
It wasn't long before Brighton Pier came back into view, the crowds had intensified and I was approaching the half way point. Having your name on your vest really does make a difference. I must have had my name shouted at me hundreds of times throughout the day. Along with looking out for my wife and in-laws at various points of the route it was this support that made the difference. At half way my time was 1:48:53 and well on track with my target which I was very happy with. I was feeling great and it was time for another tropical flavoured gel.
Miles 14-18 sends you slightly in land to Hove through the town and a residential area. Again, great local support and if there was a shortage of jelly babies in your local shop over this weekend the chances are that they had been snapped up by this lot. These miles felt great, my pace remained consistent and the cheer points ensured I remained focused.
After doubling back towards the seafront, miles 19-23 sent me through an industrial estate towards the power station. I had been warned about this section as it is a noticeably quieter section in that the support that has covered the route so far disappears and it is not the most picturesque. This was quickly confirmed and compounded by the fact that I was approaching the business end of the marathon.
20 miles! 20 is what I had trained up to and I was now in uncharted territory. I had been told by many fellow runners that a marathon is a 20 mile run followed by a 10k race. I couldn't agree with this more. This was also my cue to take my third and final gel (Blackcurrant just to mix it up).
Just after 21 miles the route loops around the power station and we turn back the way we came, although now is where I felt the wind. It had noticeably picked up and slowly the grim realisation that I was going to have a face full of this for the final 5 miles dawned on me. I was well on track in terms of my target time but grit my teeth and dug deep. I was progressing through the field well and maintaining my pace although the wind was taking a toll on me and a number of my fellow runners. St John Ambulance crews were visibly on hand providing first class treatment to a number of competitors that had pushed a little too hard.
As I passed mile 22 I caught a glimpse of that iconic light blue Thanet Roadrunners vest on the approach to the power station. It was the ever inspiring Steve Suttle looking strong. This gave me a real boost over my last few miles to see another Roadrunner giving it their all.
At a little over 3 miles to go I was on the home straight. I had had a gut full of this brutal wind that showed no signs of easing up but the crowds were also getting bigger and bigger. The support really did take me by surprise. Complete strangers cheering my name was an incredible experience and after a quick check on my pace, I had plenty to smile about. With Brighton's i360 and the iconic pier getting ever closer here was where my training really paid off as I intended on finishing strong. I continued to keep pushing although the smile became more of a grimace.
With just one mile to go I caught one last glimpse of my wife who had equally been braving this brutal wind and had been patiently waiting for me which gave me that final push that I needed. The crowds continued to intensify and I wanted to ensure I didn't let anyone down by finishing strong. As I went past Brighton Pier, the finish line was now in sight. The realisation that I was about to finish my first marathon dawned on me and emotions started to get the better of me. Roared home by the crowds over the last 100m, I felt like I was flying and gave the cameras the obligatory arms out, tongue out celebration crossing the finish line in 3:37:52! I was absolutely buzzing and couldn't believe the time. Despite just running the 26.2 miles I felt incredible and was on such a high finishing in the top 7%.
My first marathon experience is one I will never forget. Everything went to plan in terms of my pace and fuelling on the run. The people of Brighton and the support was incredible particularly those last 3 miles which help make this an incredibly enjoyable experience. The route wasn't as flat as I thought it would be and the wind turned out to be a real challenge. However, all the hard work, the long, wet and windy training runs had been worth it as I was now a marathon runner.