Boston Athletic Association Marathon 2019 Race Report
Some of us Traccies went over the pond to run the 123rd Boston marathon. A runners dream. Now everyone accepts Boston is NOT a PB course and it's freak weather adds difficulty. Part of a longer vacation including BIG whales and BIG steaks in Cape Cod it's race weekend and this ones on Patriots day Monday.
Everything here is big in the USA and the marathon here is BIG!
Parkrun in Jamaica plain "JP" provided Nikki and I with a warm up 5k along with hundreds of fellow friends of UK Parkrun. A nice two laps of the pond (we would call it a lake) made a lovely run to test the legs without pushing too hard. We flew the TRAC vests including a Union Jack. Parkrun is (was a) low key in the US until us Brits took over on Saturday probably the BIGgest ever in USA? Back in the City Jon enjoyed a 5k event with Jo cheering him on. JP provided us a good retreat for our stay New England style.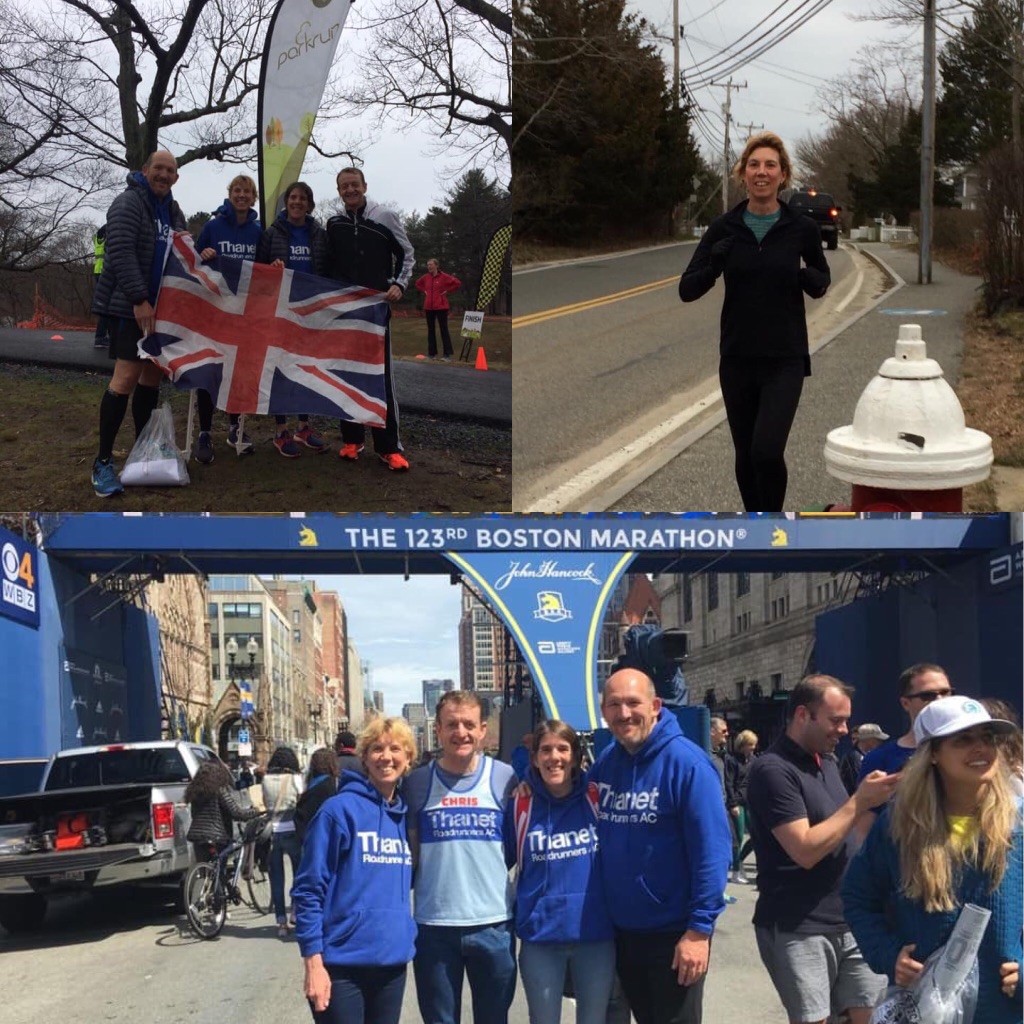 They say the Brits know how to queue
Expo, busy here in a line (queue) collecting our race numbers and spent lots of dollars on lots of stuff, seemed to just happen without even trying. Merchandise is nice and I was kind of just hoping I'd deserve it on Monday. We signed up and  joined the US Navy and the Army and ate my weight testing energy bars. Another line to the checkout.
Pre-race party. Busy here in a line but for feeding 10's of thousands of runners they did well and we danced with our naval friends trying not to focus on our task of 26.2 but drinking a can of the 26.2 beer sponsoring the event instead.
Early 0500hrs what do the "O's" stand for OMG its early and my race starts at 10? It was 17c and very humid and we still had no idea what to wear.
Boston is about being early, early to bed, early to the expo and early to the pre-party, otherwise your in line. I posted my post run gearbag and then Rain! I mean BIG biblical rain. I had to leave the girls and I'm on my own on my yellow school bus albeit a little damp.
Police shut down because of the lightning. The other runners were all taken to basements under the common, these basements must have been BIG! Luckily my bus left and I was wrapped up warm whilst others seemed to just have their vest and pants on!
The bus seemed to get lost in the BIG city along with many others temporarily. After about 50 miles we arrived in Hopkinton. Still warm but lighter rain with sunny spells, still had no idea what to race in.
Meanwhile the Girls were in cafe *bucks $$ watching the chaos in their fetching and coordinating black wheelie bin bags and later joined the now very wet finish areas to board the busses. It's a novelty going on a school yellow bus in the states.
Start area. Porta johns (loos) were a plenty and you could again eat BIG although everything you had at this point was to be worn or donated to charity. Still rain but warm and a very organised lining up of us runners military style began. This really helped to divide runners abilities. Stars and Stripes and F16's I love airplanes and this certainly put hairs on end along with the Army presence which I'm now enrolled. These guys are highly respected with many "thank you for your service shouts".
Snow plows? (Ploughs) really? Then I twigged it, these were barriers for our protection, sad but this is the extremes this race has gone to since 2013.
The race
Mile 1-5 some down hills led to an easy effort exchanging conversations with the corral's qualifiers, whilst others were testing their new Gucci Whipper-flies. These shoes seemed fast passing us at way more than the promised 4%! I was comfortable as you should be trying to keep to the plan at 6:45s with a hill adjustment here and there and my Adigas shoes were doing fine. Gatorade! Gatorade! Water Water came the continued shouts this was the get ready shout for runners to weave and stick arms about.
Mile 6-13 The girls would be starting shortly I was thinking of them hoping they were feeling good and not too soaked. And they were flying at a good pace in true TRAC style nails painted to match.
A good 10k time for me 42mins and feeling great. Onto Natick with wider roads and BIG crowds. Trying to look ahead for the race line, apexing the corners whilst trying not to scrub the continental rubber on my Adigas. Half was a good benchmark 1:28 but I was always intending to not negative split the race unless I was fast at the end as there's a gain to be had on these long downhills with only subtle ups in the first half.
Mile 14-20 Wellesley college screams could be heard and soon I was being proposed to by hundreds of young girls! And worse, but I'll leave them to the younger runners a long way behind me.
Start of the heartbreak hill I didn't really notice as I've always been a hill climber both on bike and running and I was only aware I was losing a few seconds. I picked out Jon Holl my supporter today in amongst millions. Thanks Jon for being the mule and go for and generally making it all happen in a nice way.
Meanwhile the guys had problems with the whippers and were in the pits. Seems like the Adigas were more adapted to the very bumpy tarmac and slippery drains where the whippers had been damaging the legs of runners! Gatorade! Gatorade! Water Water.
Sunshine BIG sunshine, very hot now pouring water over me like last years London race.
Mile 21-24 cruising and apparently according to the locals I was killing it. I could see the City but was starting to tire and adopt my shoulder down running style and kept shouting my mantra head up run tall. I could feel my TRAC and Strava friends following me and a certain peer pressure was in my mind with many up and coming new runners looking to learn from me. The guys going this far on the whipper tires were now in trouble and I was cutting through the field, this was now a race to the finish dog eat dog.
I'm only joking about the 4%'s I'd love a pair ha ha.
25-26.2/3/4 The Citigo sign was a welcome sign we were told to look for, legs were now telling me that's enough. The girls would be seeing Jon shortly at 16m I was thinking about them, imagining them side by side. Nikki was stronger as Jo was on the ski legs from the previous week but they were good together.
I was working hard but losing a few seconds, it felt like 10k pace but I was starting the running in the mud feeling and only just on the 6:50min/mile pace, still hot and sunny. This was ok tho (though) as I needed to ensure the marathon didn't beat me in the final mile and many had got this far and were failing BIG time. I was on fire but running out of fuel and I needed the sight of the Boylston street which was just indescribable. BIG noise BIG crowds it's down to me to give it the BIG sprint it deserves and my trademark wooing of the crowds. "Come on Boston". I feel like I'm winning in 2200 position, the time is ticking over just 2:59 but I know I started about 2 mins down, remember the camera look good and stop then stop the watch. Get in! Get in line, A BIG welcome from the marshals gave me my coveted medal from this most sporting of Cities. Gatorade! Gatorade! Water Water to pour over me now to cool down in the blazing hot sun. A cape to keep the sun off now struggling to carry it all a nice little sticker even to hold it tight.
2:58:20 a PB by 38secs.
I had time to get showered and get back to listen to the bells signifying the bombings and then Rain BIG rain perfectly choreographed. I was thinking the Girls are getting very wet now but maybe refreshingly. Nikki came in at 3:51:37 a PB by almost 3mins and Jo 3:54:52 a great run under 4hrs as well. We regrouped at the meeting point to find two very happy Traccie girls with capes now to keep dry. And a medal each. I'm now ready to party!
Post race party in a line, this was an opportunity to visit the Red Sox baseball stadium and again listen to the Stars and Stripes and Dance with the Navy "We are the champions". And meet more of the brave Army runners who ran with their heavy packs for special ribboned medals. As they walked away I noticed one soldier had no lower limbs., wow. A few more of the 26.2 beers as well ensured some dad dancing to the bootleg Whitney.
Special thanks to;
Boston and it's crowds of lovely people.
Boston marathons marshals.
All the 1000's of runners.
The US armed forces and the State Police for keeping us all safe and entertained.
Thanet Roadrunners AC for the training.