Mirage El Djerid 100km Race Report
It all started when an email popped up stating you could be part of a new and exciting race through the desert, Suitable for everyone.
That got me hooked. I had been bouncing from marathon to marathon and had completed a 50 miler approx ten weeks before so I was hopeful of completing the 100km. I had already acquired the clothing and equipment from completing the Marathon des sables, so thought I would put it to good use.
Flight booked, Insurance acquired, I joined a what's app group of Brits who were like minded primed athletes (aka loonies) most had completed the MDS and other impressive achievements.
I had to email my flight details to the admin team, other than that very little information apart from the website.
D Day arrived; I travelled to Gatwick with my new running buddy Michael who lives in Wingham (what was the odds on that!)
Journey to Tunis was chaotic but ok. We were met at the airport with a 5-6 hour journey to the hotel in ……
Poor communication and a language barrier, the journey actually took 8.5 hours, arriving at the Hotel around 12.30am tiredness does not describe how we felt.
Up at 8am, breakfast, registration and race talk.
Meet up with Ian Corless, a photographer who I had met at the MDS he was the instigator of the initial email in general conversation said I was travelling home on Sunday afternoon as I had work on Monday, Oh dear didn't you receive the email, no buses to the airport on Sunday, only fly out once a day, so will be Monday afternoon! – no email was ever sent !
A very stressful day, trying to cancel and rearrange my flight;
not to mention booking a hotel for overnight. The admin group were not at all helpful!! Basically I had to contact Michael and he booked the flight and hotel. At least it took my mind off the race, but gave Michael chest pain in the mean time.
Pack, equipment and clothing made ready. Vest weighed approx. 4.5km as advised to take own food due to limited choice of foods at the CPS.
Alarm set for 03.30am, suffice to say, hardly slept at all breakfast at 04.00hrs then 200 runners loaded onto coaches for an hours journey to …… film set of Stars Wars. Luke Skywalker's home.
Set off in convey, at some point the coaches had slowed down, and then we noticed the coaches were turning back on themselves. Yes, they had taken the one turning off the straight road driving away from the start!
Arrived later than planned, only twenty minutes to walk around the famous star wars set and take photos. Lined up and prompt start at 0.700hrs
As per usual everyone raced off at a speed of knots and I took it steadily.
Should say at this point every CP had a cut off of three hours to reach (more of this later)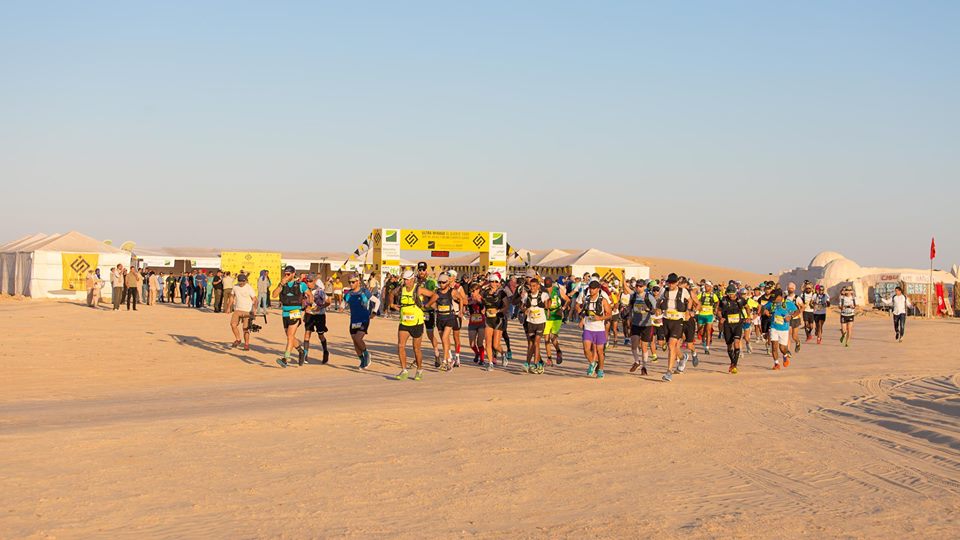 CP1 20km – felt good firm-ish sand with small dunes, sun starting to shine through.
Reached CP in 2hours 25 mins refuelled with water and drank some cola, wet clothes to cool down. Spread of food was not appetising with swarms of flies hovering around the food, hmmm, lovely, extra protein. Off I went.
CP2 15km – Sun becoming stronger, sand now soft and deep, past my ankles, ( if you are not use to jogging in deep soft sand it can be liken to trudging through boggy terrain, it is hard, slow work and tiring) luckily gaiters did their job well. Heat from the sun apparently 41 degrees, but more of an issue was the humidity of 50-60%. Oh, and there was also a wind, but not refreshing, a hot dry wind, blowing sand into my face and causing a dryness in my throat and nasal passages. It was at this point after approx. 5km, the next 6km called affectionally "death " it was just horrendous scrubland with more of the same trudging through soft sand, not even any mountain ranges or beauty of the Sahara to focus your mind. It was around this point, incidentally, most of the drop outs happen at this point…. Hmm wonder why???
It was at this point, I felt myself succumbing to heat stroke, stopped and walked a death march, wobbling a bit, no nausea or vomiting, so that was good, but beginning to get a pounding headache so I needed to cool my body, worryingly, I had to limit my water. As I previously stated three hours between a check point may seem fine but when you compare the Marathon des Sables, although more technical terrain was three hours between 10-12 km. Then hurrah! I saw a parked jeep at the end of section of " Death", at least I could sit in the shade and have some water. I met up with the other Brit ladies, also sitting in the shade of the jeep, however, the marshals had run out of water! We had a discussion and a good old moan and decided to plod on together as 5km until the CP, where we could rest and recover.
CP3 15km – Hurrah, reached CP3 with thirty-five minutes to rest, cool, replenish and recover enough to go onto the next stage. – That was the plan, but as soon as we arrived the marshals wanted us gone so they could close the CP. No coke and only one bottle of water 1.5lr, that will only fill my bladder, I had another 2 five hundred mls bottles to fill!
I had some serious thinking to do
Mild degree of heatstroke – could get worse
Not given time to recover
The terrain to the next CP was much the same as the previous slog
The next three hours would still be at height of sun and If I was to slow down any more then there was a chance of not meeting the cut offs.
Now the shocker, the trackers we were issued with did not work! We were told ambulances and jeeps would be basically going along the route, but the realty was we saw no one for three hours, this is not good in a desert.
The four female Brits ( my self-included) risk assessed and chose to finish at 50km, we felt if we were to continue we did not feel safe if we were to come into difficulty.
So basically, we founded a 50km desert race.
CP4 15km CP5 15kms CP6 20kms
STATS
200 starters – 140 competed
60% Tunis
40% other nationals
30% DNF – most dnf by CP3
12 Brits started – 3 Brits completed (most of the dnf's were other nationals)
Conclusion
This race is in its third year, with the aim of supporting tourism in Tunis. It was advertised as a race for all, but in reality it was geared at elite and top runners, the top winners from the MDS were invited to take part. The tail- enders had limited water supplies and less time to recover, felt like they wanted to get rid of us.
Trackers not working, that's a health and safety risk. Will not be going back.