Royal Parks Half Marathon – race report
Sunday 8th October 6 Traccies took on the Royal Parks Half Marathon. The course passes iconic London landmarks including Buckingham Palace, The houses of parliament, and the Royal Albert Hall and weaves through 4 of the central parks – Hyde Park, The Green Park, St James' Park and Kensington gardens.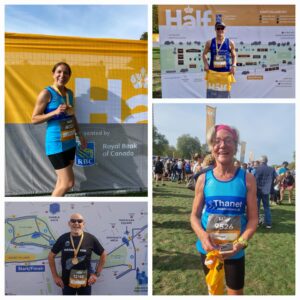 The route itself had a couple of undulations but generally flat. There were also a couple of sharp turns in the course. A great course for spectators to spot their runners and get to different parts of the run to see runners. I managed to spot my spectators 3 or 4 times in the run. 
As always with these big London races there were lots of spectators to cheer you on with various bands/drums and choirs through the course.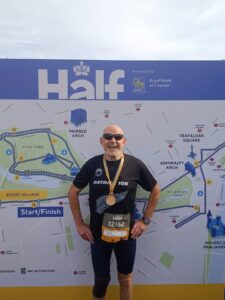 There were 4 water stations which were very much needed as this autumnal run was a hot one. The temperatures hit mid 20s through the run. Thankfully the parks offered some much needed shade in places.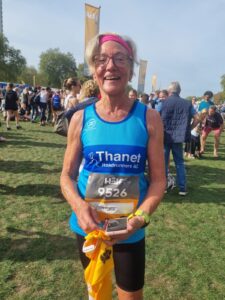 The start was very manic. The tubes were very busy getting to Hyde Park and the park itself was full of runners. I am glad I stopped at the station for the toilet as the toilet queues were massive.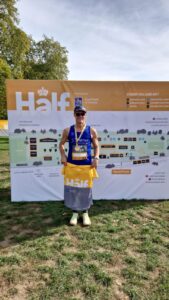 "Great course and my favourite of the 3 London ones I've run. Definitely try and do that one again". Simon
"Loved the drumming and London scenery – not the loo queues and rammed underground" Janet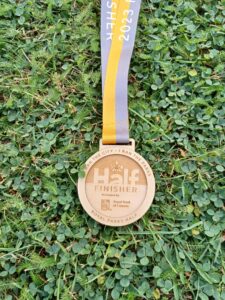 Simon Cowdery 01:39:00
Claire Greenaway 01:46:30 
Janet Morgan 02:05:44 3rd in age category
Mary Pearce 02:13:03
Martin Palmer 02:13:03
Adrian Smith 02:16:20
Well done to all TRACCies who ran this race and a big thanks to Claire for the race report.