Four Castles Half Marathon – Anna shares her enjoyment!
4 Castles Challenge – a report from Anna Harrison
There can't be many people with the bubbly, infectious energy Anna Harrison exudes every single time you meet her.  Her race reports seems to bubble with the same energy.  Enjoy it!
"I didn't expect to be so emotional driving to this run event!  Two friends couldn't make it due to personal circumstances and whilst I knew lovely Chris Pascoe would be present, I had no idea who would be at this half marathon.  All I knew was that I had deferred a few times and really wanted to do it – and was hoping I wouldn't have a spectacular disastrous end to is – as I did with the first Sacket 10k.  I hoped I hadn't overestimated my time, didn't set off too fast, get sun stroke and had enough water.  
I also sadly couldn't join my hubby for his 2nd 10K run – which was Vitality in London – (for those that know Rich or have heard me talk about him this is major for him to do a run event – yet alone 10k). 
Having worked in Folkestone the week before I had driven past Dover castle six times – initially I was buzzing and excited, thinking wow I will be going up there – 2nd day I was very daunted and thinking what am I doing. The 3rd day I was having to pump myself up and also took a proper look at the map I was sent (although I say proper I don't think I really grasped the ups and downs)! 
So it was great to spot a TRAC hoodie – and there was Chris in the queue, and people let me join him.  I then spotted our lovely Terry – who also hoped I didn't have a "Sackett event".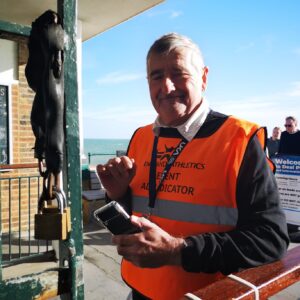 We couldn't see any other TRAC kit – we did spot some Coastal striders and recognised some illegal runners – who regularly do TRAC races – so great to have a quick chat with them.  Then came along Paul and Martin – Paul had done this before, swearing never again – but decided to support Martin. 
There were 3 waves – I was relieved to see I was in wave three!  Chris was wave one, Paul was due to be but started in 2 with Martin.  There were a few minutes between each wave setting off – and I found myself at the front of ours with loads of space and allowing me to set my own pace.  (With Sackets I was in wave 2 out of 7, with people I ran with on a  Monday night, forgetting they can go a lot faster – and I had become a lot slower!)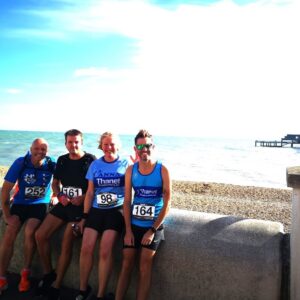 Chris was professional doing a warm up run – I felt my warm up was covered by walking to the end of the pier where the toilets were.  I say walking – it was more of a blustery blow down to them!  Once we set off out of Deal, Terry provided encouraging support as I went past him twice. Then into the wind up hills, occasional downs.  I won't do a blow by blow account – the map is on the website for …..  However, I can confirm that at times the route across the cliffs was beyond blustery – I am not a light/slight shape and even I found myself being blown sideways and backwards – lots of times!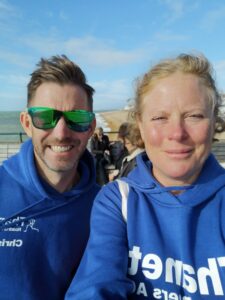 Lovely encouraging runners on route. A great terrain range, some moments where you couldn't overtake, but loads where you could.  There were definitely ups and downs and fabulous views – in my head I was going to be taking photos (as I know some were) but I just kept going.   I had been warned about the steps at Dover – I didn't quite know when they were coming – my there were a few and just as your energy is starting to zap.  The castles are a fantastic backdrop for a run but by the time I got to Dover, I was just grateful to get to the end – still standing upright and suddenly before I knew it, I turn a corner and it was over!
Very chuffed with my time – I didn't see the clock – my watch said 2.09.50, I was over the moon – the chip result was 4 minutes extra – I was still over the moon!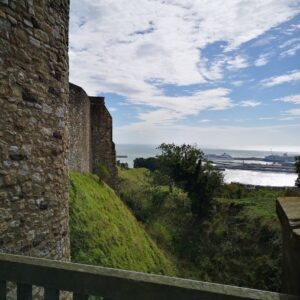 It was great to have some support on the route – and those on the water stops were lovely and encouraging – so too were some marshals. One thing I hope for on a race is marshals that encourage, an occasional clap or smile – maybe we are spoilt by TRAC marshals – and maybe I just get over excited when I marshal.  However, I do really appreciate they were out there and thankful they weren't rained on.  The Mum and son at the lighthouse get extra praise as they had to deal with a very windy spot!
I needed to wait to get a larger T-shirt (skin tight is not me) so top tip to self always order bigger so you can wear the T-Shirt!  It meant I got chatting to someone from Sittingbourne, who I then found came in first female and was able to see her get her trophies (top in her age group too). Great organisation for the event and a bonus for £2 to have a coach trip back to Deal.   The waiting for the coach meant a chance to chat with others and also on the bus a moment to celebrate the achievements – I didn't do a selfie with the trophies – although it was fun moment when others did!! Well done to all and especially my lovely TRAC buddies.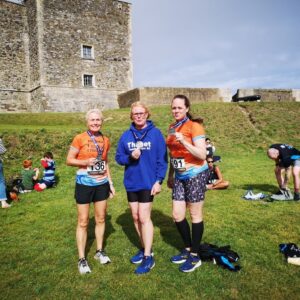 Results chip time of 212 runners
Chris Pascoe 1.45.11 – 11th finisher
Paul Preston 2.05.44 – 57th finisher
Martin Palmer 2.05.45 – 58th finisher
Anna Harrison 2.13.50 – 91st finisher
First male finisher 1.22.59
First female finisher 1.53.42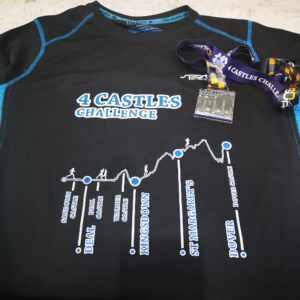 Then it was a final meet up in the Royston with hubby and friend (and new TRAC member) Ugen with our T-shirts and medals and one last flash of the TRAC top!
Would I do it again – yes please.  Loved it!!"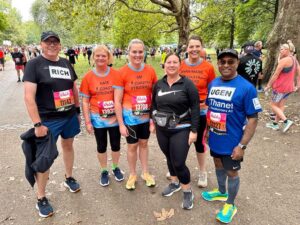 ---
Thank you Anna for an entertaining and energetic race reports.  We love to receive your reports.  A landscape image is always helpful for the main website image.  Nice to see some friendly Coastal Striders enjoyed the race too.  
Our next race is the Alan Green 5 and 10 mile road race on Sunday 3rd December.  Prices start at £18, with no hidden booking fees and any proceeds go to Thanet Roadrunners and Kent, Surrey and Sussex Air Ambulance.