The 2019 Santa's on the Seashore 5k Run Race Report
The Pilgrim's Hospice is a wonderful local charity that offers amazing care to those at the end of their lives and for their families. The Santa Run is one of many events put on throughout the year to support their invaluable work. The Margate Santa Run was the third of such events to take place with the previous two being at Herne Bay & Folkestone.
On a cold & blustery Sunday morning, 5 of this years C25K graduates represented TRAC at this event, these being Jacquie Brazil, Jo Gurr, Kirsty McMahon, Christine Ansell & myself (Kevin). There may have been other TRACies there, but when you're all dressed head to toe in matching Santa outfits, it is difficult to recognise people you may know!
The Race HQ was at the top of Fort Hill in Margate and was well organised with lettered check-in desks, on the day registration (handy for me as I was coming straight from working a night shift and didn't know if I could make it or not), outfit distribution, refreshment units, first aid & toilets. Local radio station Academy FM was also in attendance and belting out seasonal music as you would expect.
With registration done and having been issued with my wristband, I then obtained my Santa outfit, with words of "take your shoes off when putting on the trousers, else your feet will go straight through the material" you get the impression, this was very much a one-time use only type of costume, certainly confirmed as my trousers started ripping as I pulled them up, still…
The run itself consisted of a 5k run, 5k walk, 3k run & 3k walk, the choice being down to the individual, all of us, of course, went for the 5k run but it was great to see such an inclusive event on offer for all abilities. The course would follow the seafront towards Westgate before looping back.
Jacquie & Jo decided to get warmed up whilst we were waiting for the others by busting out some dance moves which attracted the guys from Academy FM who then interviewed us about why we were doing the run today. Jacquie sprung into life and told them all about TRAC, the C25K programme and about our progress thus far as well as plugging the forthcoming C25K programme.
The official warm up then took place and seeing over 300 Santa's performing aerobic moves together is quite a site to see!
The run for those of us dong the 5k set off shortly before 11am and provided no real heartache on the way out, turning around at the halfway point. As you turned, you soon started getting caught up with the rest of the walkers and runners in the other distances, so this was never going to be PB territory but we still ploughed through and headed back towards the finish line.
The costume was started to blow in the wind at this point and act like a sail, so with the jacket binned I made my way back to the finish line in about 26:00 (even that was a top ten finish on the day, I'll take that!).
Jacquie crossed the line a couple of minutes after me, the rest of the girls completing the run in about 35-40 minutes with mince pies, water and a rather funky race medal where waiting for us all.
I'll be honest, if you are a serious athlete and you want to go for personal best times and so on, probably best avoid this event BUT if you want to have a run with your mates, have a bloomin' good laugh along the way and raise some much needed charity money, give this a go next year.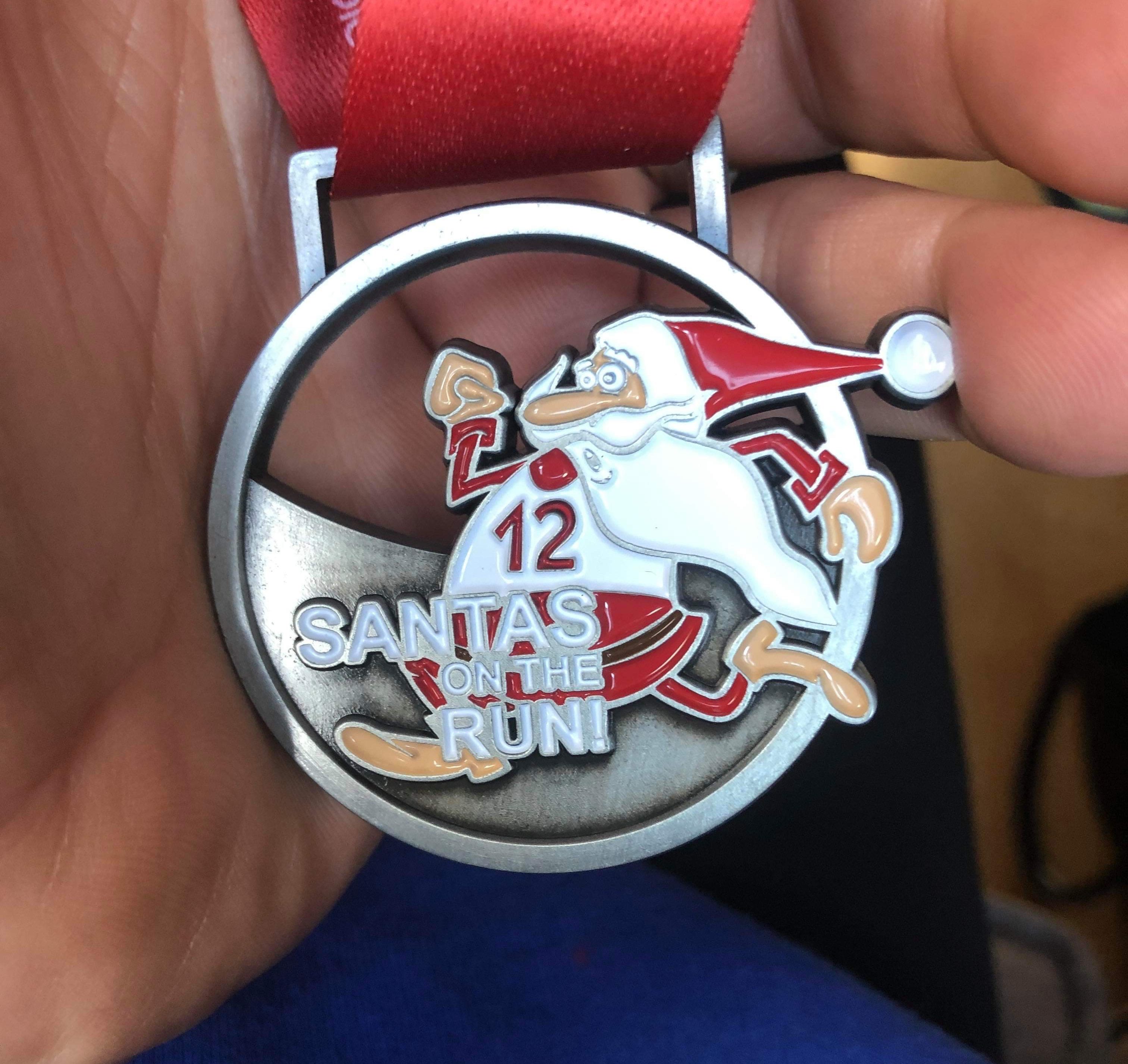 Merry Christmas!
Kev Bullions