Canterbury East Kent Road Relay Report and Results
Ladies East Kent relays Canterbury Round 5
The fifth and final leg and the decider!
Senior ladies – work commitments and injury have affected this team and tonight was no different with Abi Cardwell and Claire Morgan unable to run. A big 'thank you' to Sarah Harmes for enabling the team to run tonight and to Gen Case for attending all 5 rounds.  Janice Lee-Miller – another relay stalwart – made up the team this week to give them 6th place on the night and 4th place overall.
V35 – this is another category where we have struggled to get consistency. Jacquie Brazil, Aileen Christodoulou and Nicky Fewster ran in this team tonight coming 6th in this leg and 6th overall. Well done ladies a fantastic effort.
V35b – no team tonight but third overall
V45a – our regular team of Maria Skinner, Jo Holl and myself was joined by Sarah Bailey last week on her debut and she once again stepped up to the mark, standing in for Jo to help us gain 2nd place tonight and retain second overall. A fantastic achievement in a highly competitive category and well deserved after showing great commitment all season.
V45b – no team tonight but third overall
V55 – Janet Morgan joined the regular team of Pauline Petitt, Elizabeth Carr and Karen Daniels tonight, standing in for Elizabeth as their third runner. They finished third in this leg and achieved 2nd overall. Another fantastic result from a team that has shown great commitment throughout the series, with Pauline and Karen attending all 5 races.
I'd like to thank all the ladies who have run this series and helped to make it such an enjoyable experience. There has been a fantastic sense of team spirit and camaraderie throughout and it has been lovely to see the encouragement given to both new and experienced runners by all the TRAC members. I'm looking forward to welcoming even more ladies into the teams next year and if you just can't wait that long there's always the cross country season to look forward to!
Men's East Kent relays Canterbury Round 5
The Final round of the East Kent road relays had a great display of Thanet Roadrunners men with two senior teams, one team of two and two teams in all three age groups totalling 30 runners.
Seniors – A team. Jake, Owen, Jack and Alfie this time kept us 7th overall in the league with another great display of speed. 3 points tonight totalling 22. This certainly showed our neighbouring clubs from Deal and Canterbury our strengths as a competitive club as we knocked on the door of the top teams in Kent. Well done and thanks to the many Seniors who have featured in our A team. Its been great to see a junior from our club progressing with Jake Stevens stopping the stopwatch at 13:19!
Seniors – B team. Dan, Tom, Richard and Andrew. 4th place on the night ensured at good position in the B league with 4 points to total 20. The leaders were joint 1st promoting us to 2nd. Most seniors have featured in both our teams, it's a credit to you all to show the county we have the quality to have two competitive teams. Dan Clarke 13:39 looked back up to speed following the busy racing weekends lately.
Senior – C team. We had a few late injuries, so our C team featured young and not so young, Max and one of our V70s Terry. This team has featured many of our runners as they compete for placings in the A & B leagues. Thanks to Terry Brightwell, for stepping into this tonight and giving up your usual relay leg to our many V60s.
V40 – A team. We started in 3rd place overall but a win could promote us to joint 1st. Andy, Paul, Richard and I gave it all! Andy Stevens smashed out a 13:34 the 3rd fastest in the V40s. Despite all our efforts we ran out of road catching the leaders and 23 seconds was all that separated us to 1st as we closed in on the final leg. 6 points. A gallant effort guys and a fantastic joint second place. We will beat them next year! Well done Ashford & District and Folkestone for giving us a great race to the end.
V40 – B team. Our V40 B team this time with Stephen, Roger, Oliver and Simon has featured many of our committed club runners and has showed the county the size and quality of our club currently. From joint second in the league another performance from the team gives us another great 2nd place overall. No trophies for B teams ☹ but great to see our club above our local competitors. Say a belated happy birthday to Stephen Forshaw onto his new V50 category.
V50 – A team. We knew this would go to the wire! Our regular team of Phil, Simon and Scot all performed well to ensure we kept our league position. Ashford and Folkestone tied for 1st place and our lads accepted the 2nd place promotion. Fantastic display V50s in a league where some of the competitors times are quicker than most of the V40s. A credit to TRAC.
V50 – B team. 4th place on the night and 2 points raised our position to 4th in league. Jon Holl off the blocks this time handing to Royston and Michael.  Thanks to the V50 B's, and also thanks for some of you helping other teams throughout the competition.
V60 – A team. David, Steve and Steve have run together in nearly all the races. South Kent lead the league here and our team have chased them in all the races. Tonight, the local Canterbury team found their legs and gave us a race. Despite a 3rd place on the night we held onto another second place overall. South Kent this time with nearly 2 minutes lead. As Steve said Our David is a V70! Another Trophy David, Well done V60's we all look up to your achievements.
V60 – B team. Adrian, Glyn and our Chairman Peter. I'll repeat from my last report; Another great effort showing the other clubs the scope of our club putting out 2 teams on every meeting where most have nil. 2nd in the league after collecting 5 points in the V60B relays. Thanks, V60's I know we have revolved the teams, and your versatility to run in any age group has helped many seniors and vets make a whole team.
In summary we have stamped our name in history on 3 trophies for 2nd place in all the veteran leagues V40 V50 and V60's. Also 3 second places in B leagues and our position in the senior A league has said to the clubs in Kent that we are "one to watch out for, we are coming to catch you!" And we have young and experienced runners. I will be requesting all winners of trophies are awarded a trophy if you took part in a winning team.
For me my runner of the night was everyone who took part or offered to be on the bench. My competitive strategy I've used has hopefully not taken away the fun element of the relays. The numbers of runners and commitment to the club at the relays has been everything I could have asked from you
I was overwhelmed by our attendance and support for all our runners including help from my assistant Max, our TRAC photographer David and assistance from Andrew with posting these reports and results, thank you, you've made me a very proud team captain.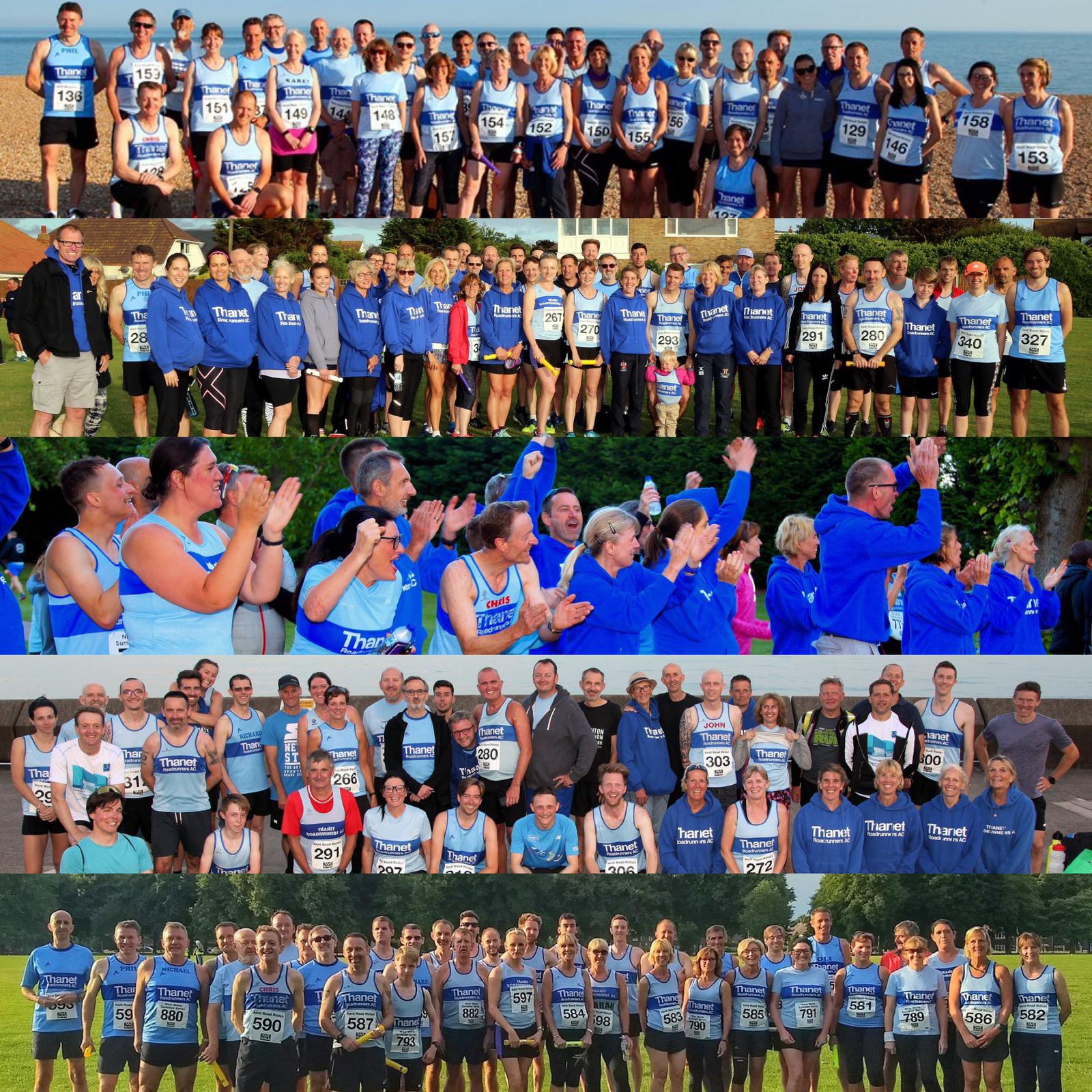 Next up for teamwork is the cross-country. Get a grip, I'll keep you informed.
Nicola Boyes, Ladies captain and Chris Brenchley, men's captain. 💪