New Forest 10 Mile Race and Weekend Report
Ade Neaves was originally responsible for this latest TRAC adventure. The New Forest 10 mile race had been resurrected this year – a long standing race that had had a year off.
Those hardy campers the Holl's had also entered, and invited me with the promise of being able to use their campervan awning, which was too tempting an offer to resist.
Steve Forshaw joined the merry gang, and announced that he was going to be 50 on the Saturday!! I already felt a party coming on, followed by a fairly sedate run. Ade Smith also entered and joined our camping party.
Our new club captains messrs Brenchley and Boyes also entered, aiming to join us at the campsite on the Saturday after a trip to Goodwood Festival of Speed. It was clear that a serious TRAC Saturday birthday celebration was going to take place.
Sadly for Ade Neaves, the instigator of this trip, injury forced him to pull out of the race, so Jon Holl took his place.
The New Forest is famous for its ponies and with good reason. Our camp site was right on the edge of a particularly large field occupied by what seemed in excess of 50-60 of the beasts. They have right of access, poop privileges and are generally regarded as royalty around these parts.  We frequently had groups of them wandering around our patch. They are in fairness very docile and used to moving around amongst crowds of campers.
So The Neaves, Holls, plus myself, Steve soon to be 50 Forshaw and Ade smith were all on site on the Friday night. Being the true dedicated athletes that we are, a healthy portion of fish and chips, washed down with copious amounts of alcohol was our Friday night preparation (eat your heart out Noel Sutton!! This is British nutrition at its finest).
There are 2 Park runs in the area, one at Brockenhurst, a mile away and one at Lymington, a few miles further down the road. Steve F had done Brockenhurst, proclaimed it a bit dull, and it was his birthday, so Lymington was the destination.
We all trooped down there and duly plodded round a 2.5 lap course in a very pretty If somewhat municipal park in warm sunshine. Ade Neaves tested his injury with a gentle jog round and declared that he was glad he'd pulled out of the 10 miler. We adjourned back to the campsite via Waitrose to collect more meat and alcohol for the evening!! We had a serious birthday to celebrate.
The hot afternoon demanded a trip to the nearby pub, so off we duly trotted across the field full of New Forest Ponies to the nearest hostelry to toast Mr Forshaw's elevation into the 50'something club. When meticulously planning for a serious running event you can't underdo things, so it was some time and a fair number of alcohol units later that we ambled back to the campsite.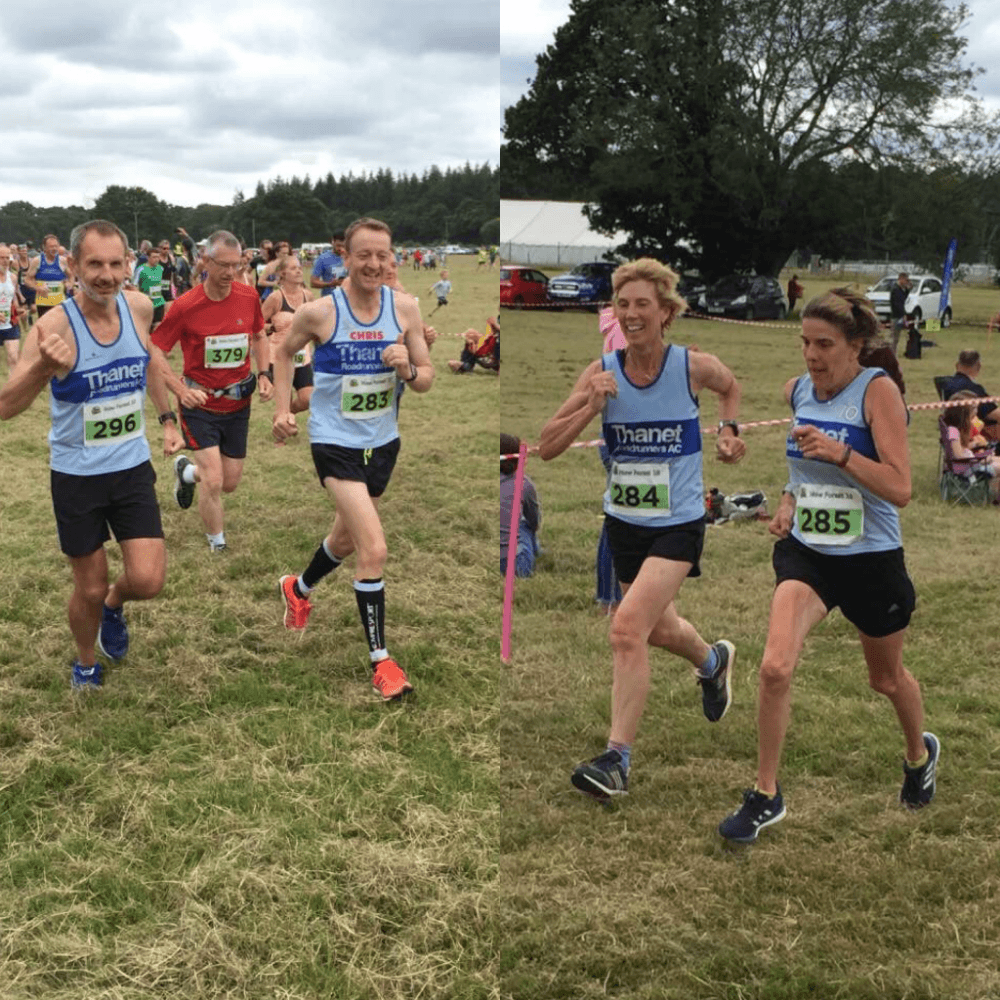 Soon our illustrious team captains joined us at the campsite, and so the serious business of ensuring that birthday boy had no chance of a pb on his first run in his new age bracket. We tried pretty much the same tactic on each other as the evening wore on, with, as you will see in the results, a mixed bag of success.
Sunday morning came in a cool and cloudy manner, which suited everyone down to the ground. We packed up our campsite and set of for the race HQ, which was only a mile or so away. The race site was a massive field, packed with coffee/ale/food concessions, ambulances, race HQ and every other nicety you could think of (except maybe not enough loos). There were a number of junior races taking place while we were getting acquainted with our race numbers. An 11.15 start meant that we had a fairly relaxed morning, even allowing for a 20min loo queue. Time whizzed round though and we were soon on the start line, in the field which had grass lon enough to keep even the hungriest cows happy, but a tad clingy and bouncy for fast running…thankfully this would only form the first couple of hundred yards of the course.
As for the race itself, well you've all run races so I won't bore you with too much detail. The course was like a giant Pegwell Park run, 3x the size of field, the trails were 3x as wide as Pegwell, and it was 3x as long!! Very flat, slightly undulating and picturesque in places for those of us running slowly enough to take in the scenery. The clouds kept temperatures very run friendly without any rain.
Race Results
Chris Brenchley – 1.04.07
Steve Forshaw – 1.17.11
Jo Holl + Nikki Boyes – 1.25.10
Pete Heath – 1.31.13
Jon Holl – 1.37.24
Ade Smith – 1.38.42
So there you have it. We all enjoyed the area so much we felt duty bound to stop at the first pub we came to on the way back for more beer and protein.
Look out for another TRAC outing to this race next year.