Chatham 10km Race Report
So excited/nervous for this race. Put everything in to my training and prep. Eating strict and no booze. Lots of water. Sleeping more 
Turned up nice and early to get ready. Collected my race pack/number (quick nervous loo 👀😂). Really nice area for a race, lovely marina with yachts and water sports. 
Did my usual warm up routine including a 10min jog and strides checking out some of the route and stripped down and changed in to my bouncy fly 3s 
As ever brilliantly organised and supported events with @sportingeventsuk who have a perfect set up for Covid safe races going in waves and my race number told me I was in wave 5. The other races iv been to during Covid Iv been in wave 2 and sometimes wave 1 so I thought I'd messed up my predicted time or it was a really strong field 
We all got in a queue in our waves and defo more nerve racking being further back. There was an issue with the start so delayed which added extra tension 😂
The plan was to not go off to fast and try and sit an even pace (6:40) for as long as possible. the target (41:25). 
We was finally getting off in our waves and I wanted to get to the front of my wave and then the plan went out of the window 🤦🏻‍♂️ mile 1 was 6:26. I really loved the course. Twists and turns, over gravel, up trail hills, along side the themes estuary with boats sailing, around the quay, through an housing estate and right down on the water on a pontoon. It was two laps of the marina.
The race was made more fun being in wave 5 as got to overtake lots of people weaving in and out and using people as a target in the distance. 
The race didn't go to plan. Few big hills and was super sunny but mainly as went out too hard. My splits 6.26, 6.38, 6.51, 6.54, 6.55, 7.07 and sprinted the end in 6.16 and my family was waiting and even gave my some a high five as I passed.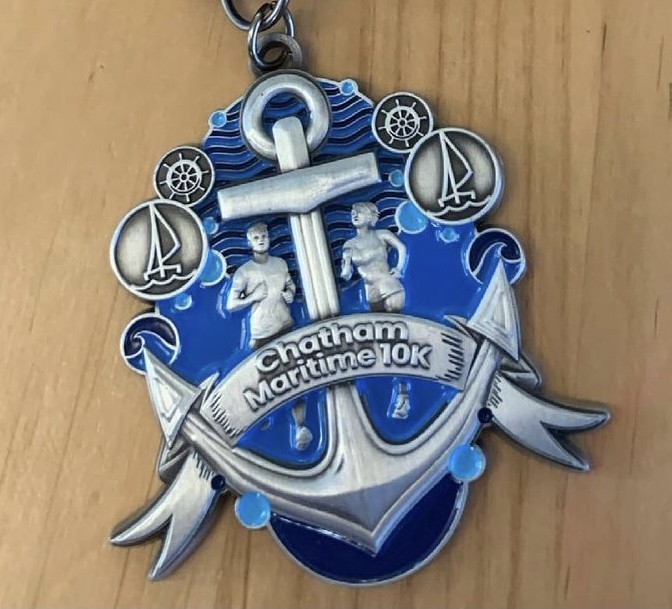 This was a big PB (46 secs) but oddly felt slightly dejected , had my plan in my head and really wanted to hit  it it was an optimistic target and that was mainly how'd us to how my training has gone. Today I'm really happy with my time and Hoping for a super flat fast course to take more time off my new shining PB
Ryan