Folkestone 10 mile race – SEVEN new PBs!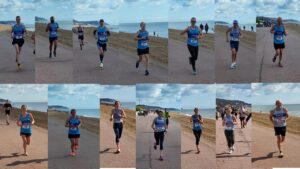 Folkestone Running Club's flagship event and was really well organised.  Their new completely flat and very fast, out and back 10 mile course was very positively received by all runners.  The race was won by Dean Lacy from Cambridge Harriers in an amazing 51 minutes!  
The morning was chilly, but as soon as the race went off the sun grew in strength and vests were the order of the day.  It's always warm for this race.
So the all important results…
Jack Bradley 56.06 in fifth place over all and a new PB, 2 weeks before London Marathon!
Jay Bailey 1.01.18 with a new 10 mile PB.
James Figgins 1.08.23 with a threatening Achilles.
Jamie Jordan 1.09.59 went off fast, but the heat was surprising.
James Newing 1.11.20 (new runner) with real potential. PB
Steve Suttle 1.11.59 For a runner in his sixties this is an awesome time!
Spencer Hoult 1.14.03 third fastest 10 mile time.
Brittany Crombie 1.14.12 PB 
Jo Kemp 1.14.52 New 10k, 15k and 10 mile PB.
Claire Greenaway 1.17.41 New 10k, 15k and 10 mile PB.
Jo Holl 1.18.40 
Julie Williams 1.19.49 PB.
Nikki Boyes 1.23.57
Jon Holl 1.26.66 
Terry Brightwell was also in attendance, taking some photographs and raising awareness of our Sackett 5k and 10 race on Sunday 18th June.  You can enter this race here.
Thank you Terry for all you do for the club.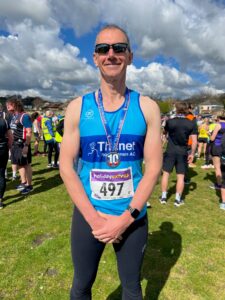 New runner James Newing finished in a very impressive 1hr 11 minutes.  Lots more to come from James!
Full results can be found here.
YEARLY RACE CALENDER has been updated. Faversham 10k has been replaced with Larkfield 10k in line with the KCAA race calendar and Mount Ephraim 10k has replaced the Margate Superhero race, which has now changed date and moved location. These changes are beyond our control, so please update your diaries.
TRAC runners points 2023 (version 1).xlsb
The next Club Champs race is Chislehurst Half Marathon, which takes place on 21st May 2023.  We've even inserted a hyperlink for you to book. 
How does Club Camps work?  Read about it here
Don't forget England Athletics membership gives you £2 discount on all races and will be necessary this year if you intend to compete for the club.  
---
Brittany was also first lady home on the tough 23k beach race 'Ten Bay Challenge' (Easter Sunday) in a time of 2hrs 7 seconds.  Fantastic running Brittany.