Bannatyne's day pass £35. TRAC 12 month membership £20!
There has never been a better time to join Thanet Roadrunners  
Why join Thanet Roadrunners?
Friendly, social running club with a huge commitment to the local community
Running over different nights, with over 30 local routes
More than a dozen qualified, DBS checked coaches and run leaders
Weekly speed training sessions on our floodlit running track
Weekly hills training, to build stamina and speed
Marathon training tips from some very experienced runners
Club insurance and retailers special offers for members
Numerous social functions including quiz nights, club barbecues, fun runs and festive celebrations
Club competitions, including a competitive Club Championships programme
Inter-club competitions including relays, cross country and Kent Fitness League
Get physically fit and improve your mental health
Become a role model for young people in your family
Improve self belief and self confidence
Safely build distance with others
Annual Couch to 5k programme
Charity fundraising – this year for Kent Surrey and Sussex Air Ambulance
Make new friends for life… we even have wedding bells ringing!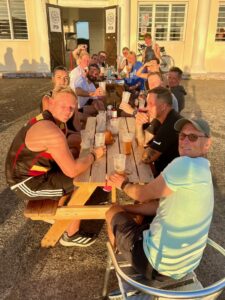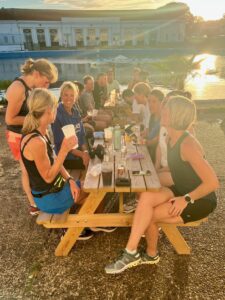 Not just a running club!  We like to socialise too.  In fact some say we're even better at than than running!  
Yes, we do have some seriously fast runners, but most of us are ordinary people who like to stay fit.  
In the words of Charlotte, one of our recent joiners, who we're really rather proud of: "I've found something which enables me to eat and drink what I like and I've found out I'm actually OK at it.  The TRAC spirit really helps too.  It's such a friendly club."
Are there any other costs?
There are no charges for individual sessions

 
If you choose to represent the club in races and competitions, you will need to purchase a competitively priced club vest for £15 and will also need England Athletics membership (£17 PA)  
Membership runs from April – April, so you really should join NOW
We also have a thriving junior section (age 11+) with some excellent DBS checked and qualified coaches.
What do we need from you?
A decent pair of trainers… we can get you a special price on those!
Marshal at least one of our three running events.  This helps keeps membership prices so low.
Encourage others and be a glass half full person and you will fit in perfectly!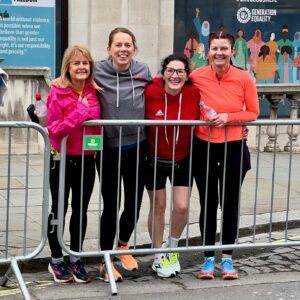 Special offers/discounts for members currently include discounts at Bay Running Shop (Herne Bay), Hot Pod Yoga Margate, Decathlon, The Running Outlet (Canterbury) and Sportsshoes.com 
England Athletics membership is strongly encouraged by the club and will be necessary if you wish to compete in inter-club competitions this year.  EA membership brings you further discounts including at least £2 off all race entries and the chance to enter their London Marathon draw each spring for the club place(s).  It can easily pay for itself over the course of the year.
Like to know more?  There is no such thing as a silly question.
WhatsApp us, Facebook message us, call us on 07974355811 or email hello@thanetroadrunnersac.com  
JOIN HERE