Larkfield 10K Race Report and Results
This race formed part of the Kent Grand Prix, the Kent Short Course championships and our own club championships. Before this race our men's team were in 4th place overall this year and we came out fighting in this one with 13 men hoping to help us score well and recapture 3rd. Nicola Boyes and Pauline Petitt represented our ladies.
The course was much flatter than most and where PB's were going to be achievable, despite a warm September day. We certainly didn't pick an easy race though to boost our team points as the field of runners saw a huge amount of quality turning out to race for the Kent championship short course. Two laps as well gave us all a great chance to pace our race and know what to expect in the second half.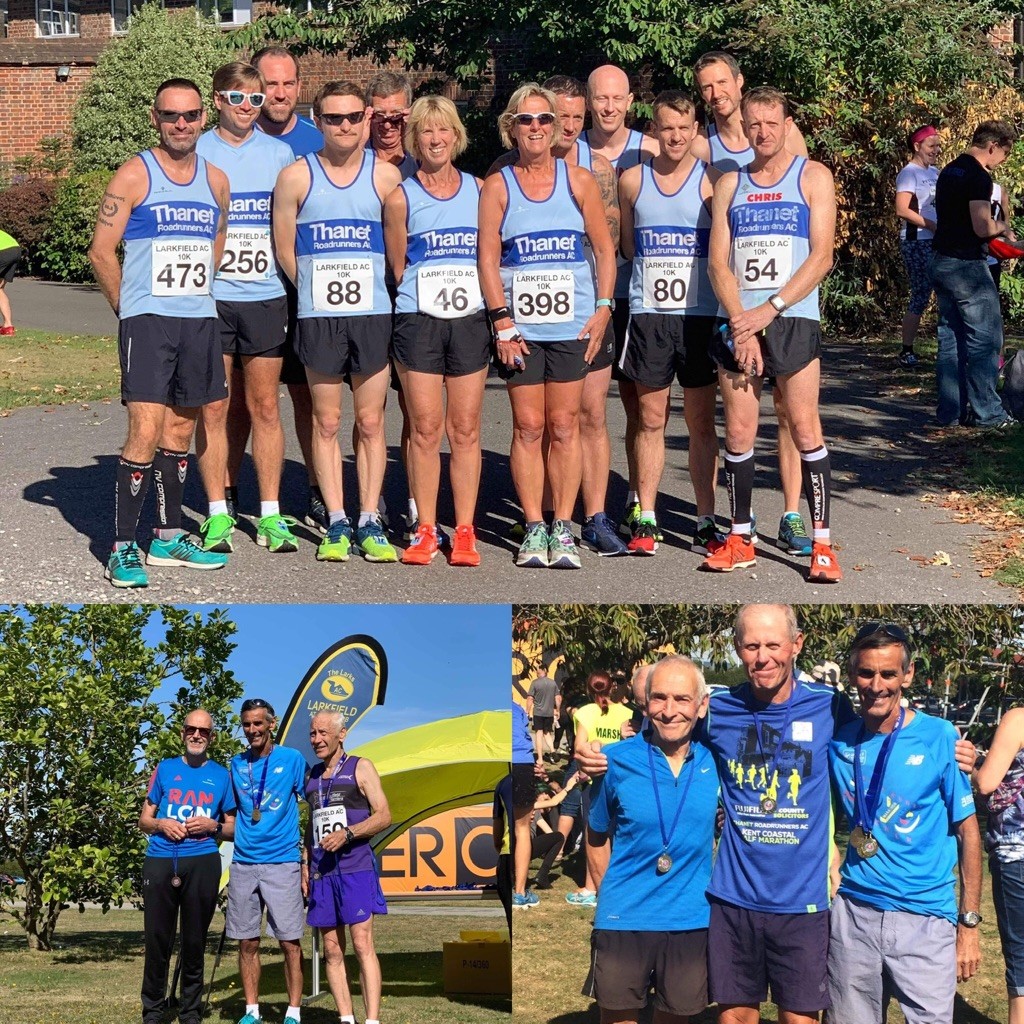 The race was won by Jamie Bryant from Tonbridge AC in 32:20. Bradley Cameron was our first Traccie in 9th overall collecting some great team points, followed by myself in 26th and well pleased with a PB.
David Winch added another V70 trophy in the veteran categories.
Our V40s collected a Bronze medal place team in the Kent short course Championships and our V60s took the Gold. A highlight of the day was watching four over 60-year olds squabble over who was to win the medals! "you have it, no you have it" As well as the Chairman misjudging his 50 minute target by 1 sec!
TRAC results.
Bradley Cameron 35:18
Christopher Brenchley 36:46 PB
Andy Stevens 37:25
Simon Arter 39:16
Jamie Collins 40:46
John Dickerson 42:24
Maxwell Hubbard 42:47
Steve Suttle 43:13
David Winch 43:28
Paul Brackenborough 45:28
Simon Burton 48:49
Nicola Boyes 49:10
Peter Heath 50:01
Philip Cope 57:17
Pauline Petitt 58:26
Dan Otley one of our Traccie's also ran today but not officially for TRAC gaining a time of 56:17
Next up in the club championships and grand prix is the Maidstone half marathon 13th October.
Thanks for the turn out guys, Chris.