Sandwich 10k – Race Report
It's been a long 18 months with so many challenges for many of us, so it was just brilliant to be back with the TRAC family and to be running in an event again.  This 10k had been postponed twice in recent months, so Sporting Events and the runners seemed delighted to just be there. For me, this was my first event after returning from injury and it was a lovely stress-free event.  I had committed to not going too fast and not getting injured again so my plan was to 'park my ego on the doorstep and have a good day'.  It was a lovely relaxing start to the day as my chauffeur, Janet Morgan and her navigator, Julia Hermitage, came to pick me up. We were doing so well until we got to the school and failed to find the car park but never mind; Janet ably manoeuvred into a small space on the roadside and not on a yellow line!
The race village at the Sir Roger Manwood School was wellorganised, so we collected our envelopes with bib numbers and medals and then joined the obligatory queue for the loos.  It was just so lovely to look around and see so many other people in the familiar setting of a race village and to fall into that familiar pre-race chatter.  It's at this point I am going to apologise for anyone who I fail to mention in this report as I saw lots of TRACcies, both old and new members, along with some I didn't even recognise; so well done to all and forgive me if I don't mention you.  
The race itself was started in waves and, luckily for me, I was in a wave with lots of running buddies. This was by pure chance! The start was straight forward as we gathered around the start and went off in a rather leisurely way for a race.  There was none of the usual eyeing up the competition and working out where you should be in the starting pack and the terrifying sound of that starting klaxon which always makes your stomach turn.
We came out of the school and made our way around the Woodnesborough Road side of Sandwich.  It was nice gentle start as we skipped our way through a traffic free Sandwich, around by the Guildhall and back along the quay.  The marshals were all fab and made sure we did not get lost down the narrow streets.  We headed up through the park by the riverside, very pretty, and out onto the Sandown Road.  Now this is a road that I am more familiar with cycling than running so I knew it was going to be a long, albeit flat, haul. I knew that I needed to dig in and find a pace I could hold. I knew that coming back from injury meant this was not going to be a super-fast race for me and I had told myself that I would be happy to get just under the hour which would mean keeping at a steady pace of about 9.50 min miles.  In the first mile I looked at my watch and saw I was running at 8.30! I knew I had to slow down as I would never keep that up for 6 miles so, as we headed out along the Sandown Road, I found a rhythm and settled in at 9 min miles.  I knew that I had Janet Morgan, Rebecca Turner and Karen Moyes on my shoulder as I could hear their chatter which was lovely.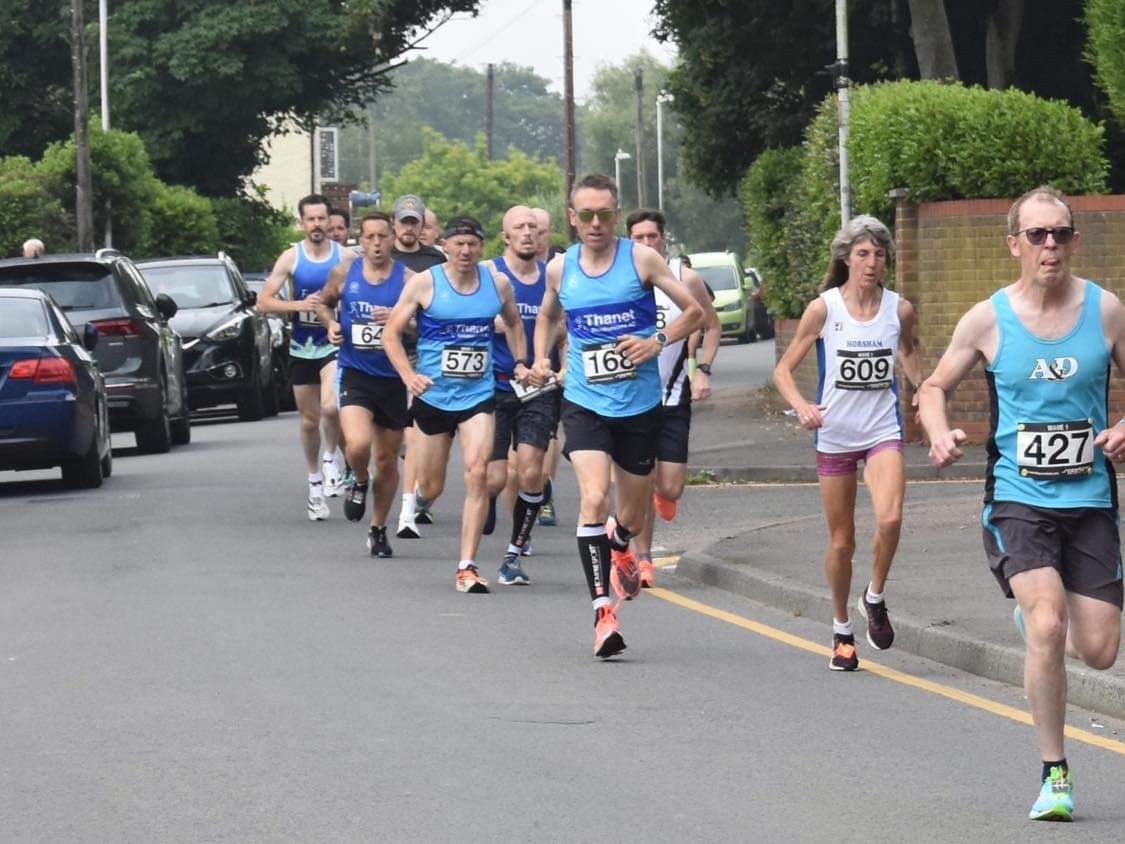 At just over 2 miles into my race the lead runner was coming back!  He was streets ahead of the pack and even appeared to be in front of the lead bike. I don't usually like an out and back race, but the benefit is you can see the faster runners returning and it was lovely to see so many Traccies doing some great paces on their way back as I chugged along the Sandown Road.  
Among the faster runners I saw were Abi Cardwell, Ruby Spencer and John Dickerson; all looking strong.  As I turned to go up into the private housing estate, I saw Simon Burton looking strong, coming back down from the seafront.  Digging in I tried not to lose pace as ran up to the seafront and turned into the wind.  The cooling breeze was lovely, but I am sure that the turn around cone kept moving further away. As I turned to come back home, I saw that Karen, Janet and Rebecca were still with me.  
As I made my way back giving thumbs up to any TRACcies I did not know I gave a shout out to Julia Hermitage, Karen Daniels, Nicky Frewster and Jackie Brazil who was returning from injury.  I also saw our new leader Kirsty along with her running buddy Chrissy; all looking strong.  
It was a long haul back along the Sandown Road and thoseinevitable niggly doubts came into the brain. Had I set off too quickly, overcooked it in the first few miles?  Would I blow up and have to walk home?   I had a bit of a talk to myself at that point which consisted of, 'come on you can run 6 miles!', 'it wouldn't matter if you slowed down as no one really cares', and 'just get on with it'.  By mile 4 I was OK again and I picked up the pace a bit to 8.50.  I always work out how long I need to keep up a pace and I knew I could do this for 18 minutes so it was all systems go again.  There were lots of distractions on the way back and lots of people to wave at pretty much all the way back. 
When there was no one to see I distracted myself with flowers noting beautiful poppies and delphiniums, basically anything to take my mind off of the task.    At about 5.5 miles my legs started to do that wobbly thing when they just kind of run out of fuel but by then we were nearly back. I could still sense the girls on my shoulder even though I had picked up the pace… go girls!!  At last, we made the turn into St George's Road but the distance to the school gate seemed a lot further than when we came out. Into the gate and almost a whole lap of the field before a final push to the finish. I was super happy with my time which was 55.26; way better than I had anticipated.  Janet, Rebecca and Karen came in right behind me which was brilliant given that Karen had taken a tumble and had a cut on her knee but she was soon patched up by the St John's Ambulance.
It was such a joy to be racing with others again, to have those familiar feeling of fear, anxiety and happiness. If you are new to TRAC and not familiar with racing come and join us at a local race.  The Deal Dinosaur maybe?  It doesn't matter if you are one of the speedies, in the mid pack like me or chugging along at the back its just a great way to spend a morning.
Huge thanks to Sporting Events for laying on the event, Terry Brightwell for his role as Race Adjudicator and last but not least to my running family
There were some notable achievements of the day
• 
Gillian Kennedy – first race
• 
Rebecca Turner – a 10k PB
• 
Janet Morgan – 1
st
 In her age category
• 
Jackie Brazil – first race back after a long break with injury
Again, sorry if I have missed any other notable achievements.  For anyone who wants to see the results they can be found here  https://resultscui.active.com/events/
Elizabeth Carr