Virtual London Marathon 2020
On what should have been the 40th anniversary of the London Marathon in the capital was instead celebrated around the World and in local communities in a virtual race. This Virtual London Marathon took place on Sunday 4th October and although runners could choose where and when than ran, it had to be completed within the 24 hours of the 4th to count.
Of course, several of our Thanet Roadrunners were keen to be a part of this very unique experience with a number of them opting to run the Kent Coastal marathon route whilst other ran their own 26.2 miles around the Thanet area.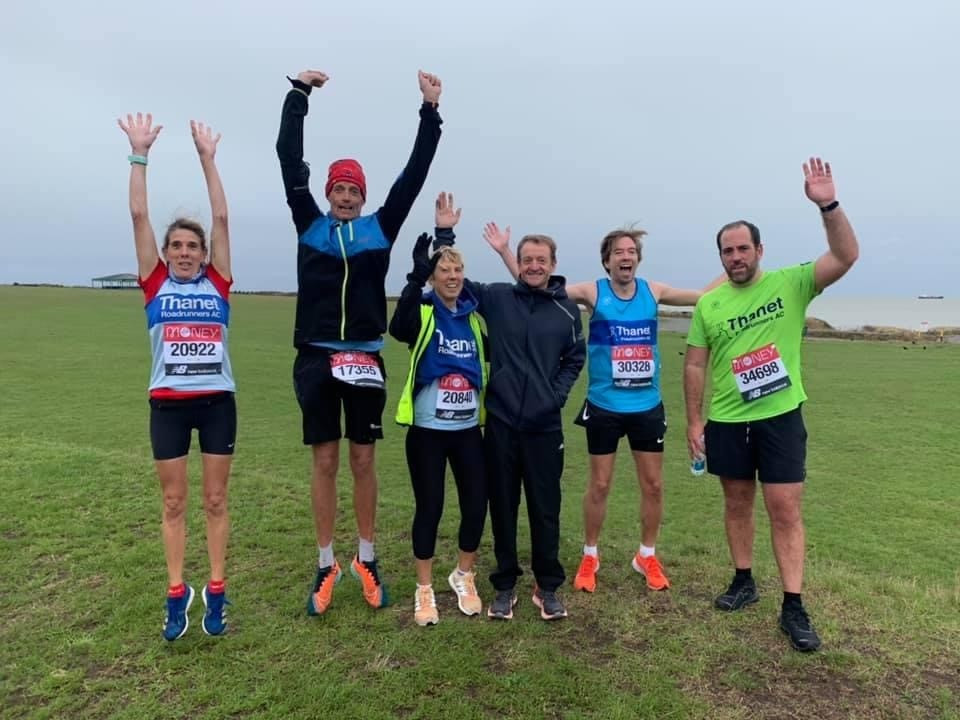 The TRACies who ran the Kent Coastal marathon route met at the start line at 08:00 in the wind and rain. They were also accompanied by several other club members and friends in supporting roles on bikes for that extra bit of encouragement which made all the difference in horrible conditions and in the later stages of the run.
For all of our TRACies it was a great day. The support each and every runner received from other club members, friends, family and members of the public gave this unique and special event a great atmosphere.
We had plenty of runners take part from marathon veterans to complete first timers. We have collected a few comments from some of them below:
Chris & Nikki – "It was dark cold wet and windy. We are about to start the VLM swapping Blackheath for Palm Bay and Big Ben for Margate clock tower. Fuelled by coffee from Pete's cafe in his van, we started. It was great to have Jordan Gilbert running for the first half as well as fantastic support from TRAC cyclists Pete Heath, Elizabeth Carr and Stephen Forshaw for all 26.2 miles. Several TRACies were seen on route to give us a wave and cheer. Not quite London but nevertheless a great team atmosphere and sense of achievement when the familiar finish line came into view.
Well done to all our TRAC VLM runners. A big thank you from Nikki and Chris for all our supporters."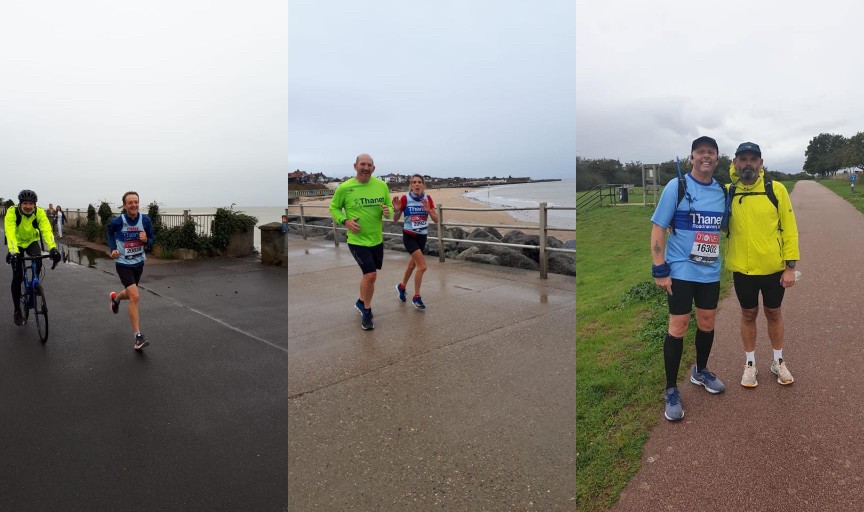 Jo Holl – "I enjoyed the VLM more than I thought I would, great to see so many others out there taking part, all supporting each other as we passed. Even people not taking part entering into the spirit, a chap in a car stopped and was offered me water as I ran pass, he had new bottles to hand out! Great feeling!!"
Daniel Otley – "I did it. My first marathon. Not quite the location and surroundings I anticipated but to actually run the distance has been an aim of mine since I started my running journey. The route was tough and the weather wasn't great. It was every bit as hard as I had expected but, at the same time, the sense of accomplishment outweighed the pain I was in for those final miles. I was so grateful to run with and have invaluable support from other TRACies, I would not have achieved my time of 4 Hours 23 Minutes if it wasn't for them, let alone finished. It was also inspiring to see so many other runners, of different abilities, out completing their own marathons. I would encourage anyone to take up the challenge, you can achieve it if you're willing to put in the training. It is so worth it when you cross that finish line!!" Dan also managed to raise £500 for the Pilgrims Hospice.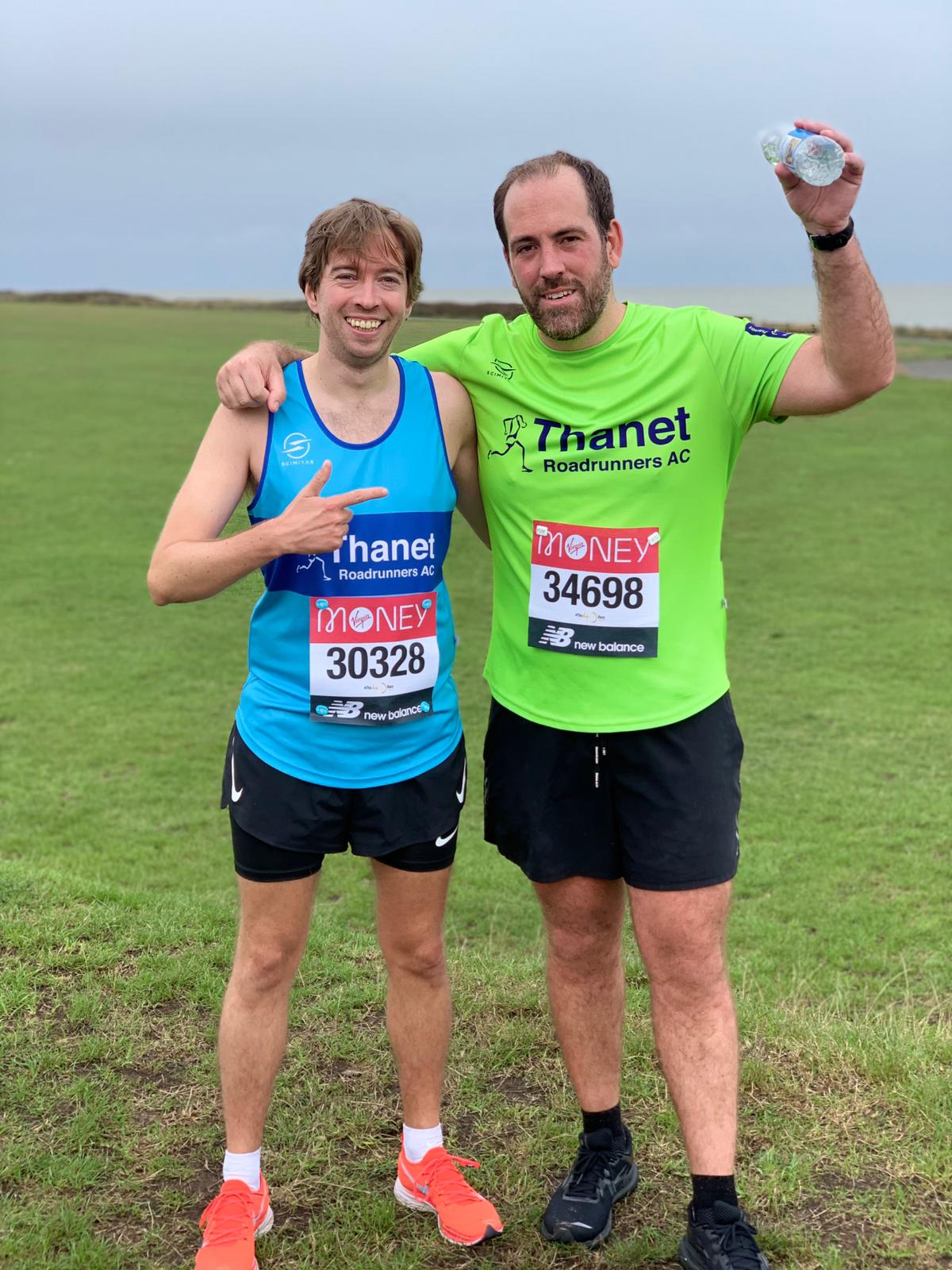 Jasmine Laslett – "The virtual London Marathon was so much more enjoyable than I thought it would be. With very little training due to all sorts of reasons I really was not looking forward to it. I set out at 8.30am with my amazing dad on the bike and although the weather wasn't the best we had a very enjoyable 13.85 miles along to Westgate and back to Broadstairs. It was lovely to cross paths with the Thanet runners at Palm Bay! In Broadstairs we were greeted by my family cheering me on. My wonderful fiance then took over on the bike for the second half and when we reached Ramsgate I was joined by the lovely Abi, Jacob, Andrew and Phil for the last 10 or so miles which was super motivating. 2 of my best friends also followed the route and cheered me on at various points and even made a banner! I cannot thank all my family and friends enough for all the support. It was also great to see lots of other virtual runners taking on their own marathons too Surprisingly I wouldn't say no to another virtual marathon… although, I'm hoping we can do the real London Marathon next year!"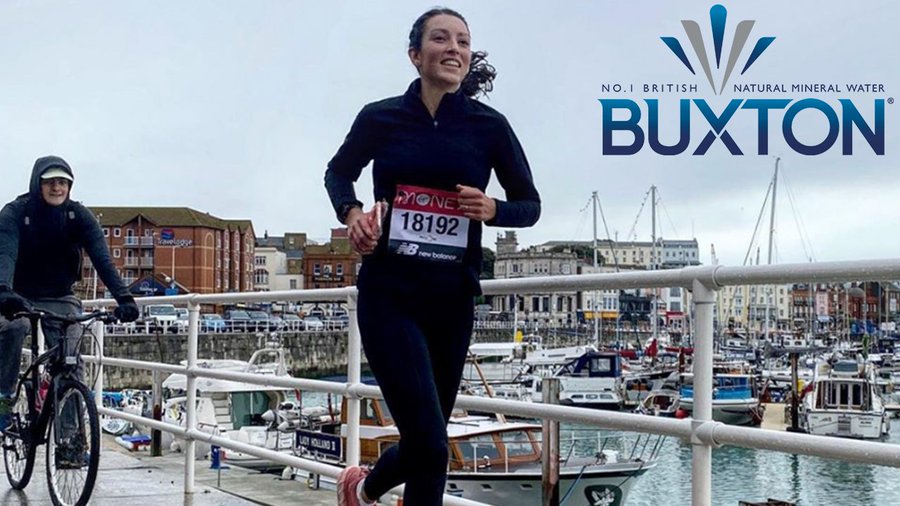 Paul Preston – "London Virtual Marathon completed. A massive thank you to Simon Burton for running with me all the way and for his first marathon. Also a big thank you to all my friends and family who sponsored me in aid of Cancer research. Believe and Achieve" Paul was also raising money for Cancer Research UK and raised well over £100.