Abigail Cardwell smashes TWO club records in a month!
Ladies 5k record (previously 18.48)
On Friday 21st April, Abigail travelled to Battersea, London to take part in her first "Friday night under the lights 5k" race in Battersea Park.
She describes the course as 2 laps of a flat route, with no sharp turns. Floodlights always seem to get the best out of athletes and weather conditions were perfect.
Abigail said "I was pretty nervous to be taking part in my first race based on timings but I had my coach, Cole Gibbens, with me to encourage me from the start line, which took away a lot of the anxiety."
Many of the runners competing in this London series are top level athletes and runners are split into categories, depending on their predicted times. Abigail slotted in with a group of women with a similar pace, which kept her on target. 
Her new PB and Club record is 18:25!
Ladies 10k record (previously 38.57)
Most people treat themselves to a lay in and even a nice breakfast on their birthday (Sunday 14th May). 
Abigail chose to get up particularly early for a warm up run before the Saxon Shore 10k race on Sunday 14th May.  She described the race as 'challenging', (she actually said hideous, but doesn't want to put people off the race), with the last mile up hill and a steep incline to the finish line.  Despite this Abigail finished as first lady home and in second place over all in 38.49, breaking her own PB and the previous club record which she set some time ago. 
Her new PB and club record is 38.49 
We asked Abigail what she's done differently, to achieve these impressive times.  She said that she has increased her core strength training to 3 sessions a week and doubled her mileage in preparation.  
Club Chairman Pete Heath said "We're very proud of Abigail.  She's a cracking runner, who is very focussed and committed.  We're sure she has much more to come."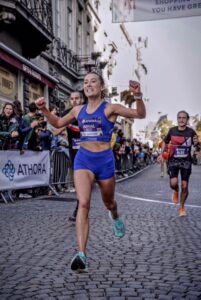 ---
Thanet Roadrunners next race is the Sackett 5 and 10k race on Sunday 18th June.  This race is open to all and we really hope Abigail will be achieving great things for the club here too!  Derek Sackett is our long standing Club President, so this is an important day in our club calendar.
You can enter this race here.