Thanet Roadrunners Sweep Up at Saxon Shore Race
On Sunday 14th May, a number of 'Traccies' took part in the Saxon Shore Half Marathon and 10k in Whitstable. The 10k runners had an out and back trip along the Whitstable seafront whilst the hall marathon runner has two laps of this, plus an extended leg. The weather proved nice on the day and the atmosphere was great at the Whitstable Castle Event HQ. From the gun, our runners went out hard as they headed downhill, out of the castle gates and onto the promenade. Lee Hardie was our leading club member representing in the half marathon, shortly followed by our 10k runners; Abigail Cardwell, Arron Baldwin, Steven Lennon, Jake Tallent-Wing and Charlotte Barton.
This course allowed runners to find their stride early with great flat sections, before finding the climb to the castle in the last mile (twice for those half marathon runners). All of our runners dug deep to secure strong performances as they crossed the finish line.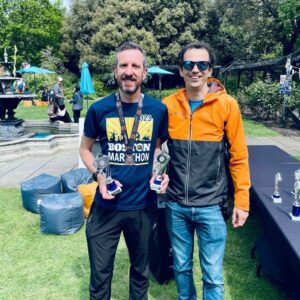 Despite only fielding half a dozen runners as a club, we came away with 5 trophies, 4 PB's and 1 club record! Regardless of positions, it's always great to see our runners working towards becoming better versions of themselves. Well done to our TRAC team for their fantastic personal accomplishments.
You can see the results below.
Half Marathon:
2nd Male & 1st V40 – Lee Hardie (01:19:11)
10k:
1st Female – Abigail Cardwell (38:49) PB! CR!
2nd Female – Charlotte Barton (47:34) PB!
3rd Male – Arron Baldwin (41:14)
7th Male – Steven Lennon (43:17) PB!
8th Male – Jake Tallent-Wing (44:14) PB!
It's always great to see the club represented at these local events and we hope to see a great turnout at our home fixture, the Sackett 5 and 10k, in the form of volunteers, runners and spectators.
---
Thank you Jacob Burton for this cracking race report.  We love to receive your reports.  A landscape (web page) main photo is also very helpful.