Chatham 10k race report
Chatham Maritime 10k Sunday 24th April 2022
The fourth Club Championships race took us to Chatham's Historic Dockyard and St Mary's island for a 10k, 14 of us raced around the two laps in a brisk sea breeze on an otherwise perfect day for racing.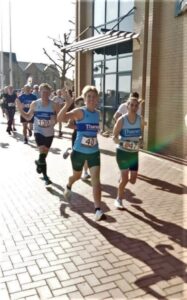 The Nautical feel to the event was different from the usual city and countryside races and we felt at home near the seaside. The welcoming start area and happy spectators and marshals made for a friendly race.
The virtually flat course had only a little rise and fall, however many sharp turns, obstacles and changes in surfaces were a challenge. Such as concrete kerbs, railway sleepers, timber moorings, bollards, rope, grass, gravel, coloured tarmac, and cobbles. This made a talking point after as we shared our clumsiness stories in the sunshine to await some silverware.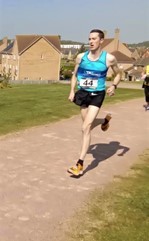 Trac featured heavily in the results. Our senior male Jack Bradley controlled the race despite a slip on the gravel and a hurty knee to take the first place in 35:38 a minute ahead of other competitors Ian Blackman and Tom Cotton. Traccie Jay Bailey had a strong race with 37:56 and 4th overall.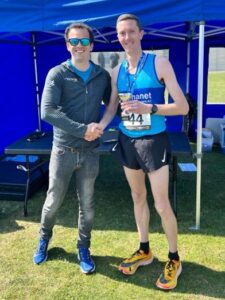 Overall, in the lady's other clubs' competitor Becky Morish was first in 40:07 ahead of Amy Seager and Chole Hammond. Our own Traccie Asmaa Hatim was the 5th lady overall with a time of 45:09 feeling she is having some speed coming back.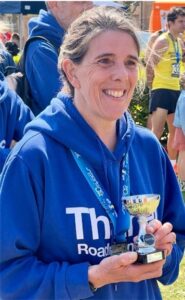 Traccie Jo Holl collected a well-deserved 1st W50 of 46:02 and 7th overall lady.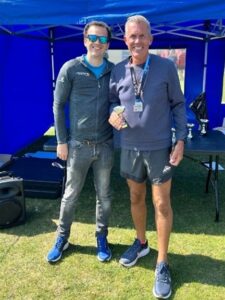 Traccie Craig Marsh claimed a V60 with a fantastic time of 45:54 just one second ahead of a following V60's chip time, some of us traccies saw Craig finish looking strong.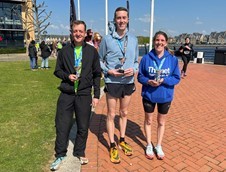 Me; Christopher Brenchley and (Faversham runners David Sadler) had a great race for the men's V50, I set a fast pace early on, and was surprised David passed me at 1km. Mentally I thought maybe it was his day and there would be other races, however I kept on his shoulder with some good race tactics and pushed him hard early on. We traded places a few times until 4km to go, where I put in a shift and kept pushing hoping he wasn't behind me. I never looked back, passing another runner to finish 6th overall and the V50 1st place. After David said, "I just kept speeding up!" We both really enjoyed the race, I'm sure there's more to come.
Other TRAC Results included Jamie Collins 43:46 21st getting back to racing. TRAC Stalwarts Spencer Hoult 44:54 28th 10th V40 and Steve Forshaw 45:12 30th 7th V50.
Ladies captain Nicola Boyes 48:58 13th 3rd W50.
Chairman Pete Heath 49:36 66th 4th V60.
Run Leader Jon Holl 51:09 74th 15th V50.
Our club secretary Mark Hadden 53:31 91st 10th V60.
Our own Terry Brightwell adjudicated the event and caught us today on camera. Thanks To Jon and Terry for photography.
Scores will be updated asap.
See you at our next club champs' race at Island run 10k Sheerness 10am 8th May.
Chris and Nicky team captains.