Manchester Marathon race report
On Sunday 3rd April a number of brave TRACCIES took on the Therme Manchester Marathon. 
The marathon is never an easy distance and training plans for some had started in the December of the previous year. It's a case of gradually building up the weekly mileage and increasing the distance of the weekly long run. At its peak the long run is about 20/22 miles and I know some of the club runners had used the Lydd 20 the previous month as a training run for this big day.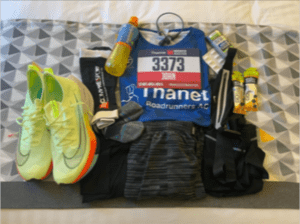 Manchester was my first marathon in 2019 and having done a hilly local marathon in Ashford last year I was looking forward to coming back to Manchester and having another go.
The night before it was an early night and some familiar pre race photos on Facebook.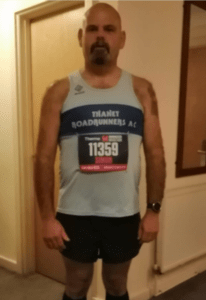 On the morning of the race, having eaten a banana and some porridge in my premier inn room, I had a gentle jog to get to the start area which was about 2 miles away. I remember someone shouting out ''Isn't 26 miles enough for you!''. That got me thinking that maybe the tram would have been the smarter move.
The start area was at the Old Trafford Cricket ground and I changed into my race shoes and got rid of my bag at the drop off. It was then a case to wait for a specific time before you were allowed towards the start line. It was a wave start with the wheelchair race at 9am, followed by the white/elite at 9.05, Red A at 0915 and Red B (my wave) at 0925.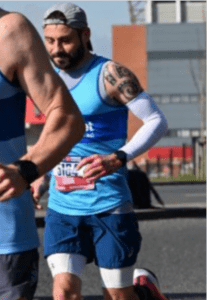 I did another warm up and some drills in an underground car park and our wave were walked to the start line. The organisation was superb with more than enough toilets by the start line and an area where you could get rid of your old jumpers/sweatshirts (all collected and given to charity). It was about 4 degrees so I kept my jumper on till the last minute.
The sun was coming in and out, hardly any wind and with the temperature where it was, these were perfect racing conditions.
I knew that also in Red B were fellow traccies Jacob Burton and Leigh Thain but with a few thousand in each wave I was surprised and really pleased to find them both for a pre-race chat.
We were ushered closer to the start line after seeing Red A head off and before we knew it we were off. The crowds were superb and I had to force myself to slow down and not get carried away. 
Within a few miles I'd settled into the pace I wanted and was pleased to have the company of Leigh who was running at the same speed. 
Every 3 miles there were drink stations (small bottles of water) and some of the stations were also giving out SIS energy gels too.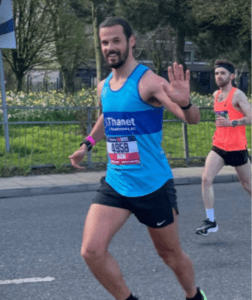 I'd decided to put my watch on mile laps and just keep to the same pace as Manchester is a pretty flat course. I was trying not to look at the mile markers as this can mentally be quite disheartening. 
A massive thanks to the marshals, crowds and entertainment which lined the entire route. There were singers, musicians, cheerleaders, brass bands, choirs and house/techno music under the motorway bridge which you we went past on the way out and on the return.  The only noticeable hill was at mile 16 in Altrincham.
I was feeling pretty good until mile 20 and then it started to get harder. Although, being a West Ham fan, running past the Man U football ground between miles 7 & 8 was quite traumatic.
At mile 22 it was getting really tough and I started to think about my personal mantras.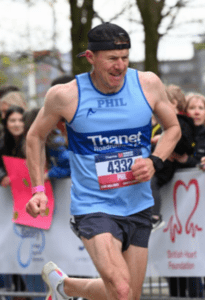 The crowds in Sale and Stretford (miles 22/23) really helped and around the 24/25 marker, Ben Burton was shouting out huge encouragement (thanks Ben) and a bit further on was my wife jumping up and down. With just 1 mile to go, I dug deep and gave it everything I had as a PB was on the cards. 
A long straight lay ahead and I could see the finish line. I tried to sprint and when crossing the finish line gave my West Ham cross armed salute (for my dad). 
On YouTube you can watch everyone cross the finish line in a live feed and watching myself back it looked like I'd drunk 10 pints! Bear in mind because of the wave starts the finish clock will not match (unless you went off with the elites).
I apologise if I have missed any fellow traccies but as far as I am aware every one of them got a PB.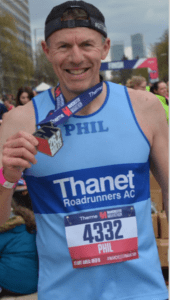 Of particular note was a Sub 3 marathon time for John Dickerson and massive PBs for Jacob Burton and Leigh Thain. Also a special mention to Simon Burton who following a tough battle with Covid worked so hard on a training plan by Jacob, got himself in great shape again and also achieved a huge PB. 
Phil Stevens
Chip times: 
John Dickerson – 02:59:44
Phil Stevens – 03:03:56
Jacob Burton – 03:05:30
Leigh Thain – 03:06:13
Simon Burton – 04:05:51
Well done everyone !  Some epic running and great times.  Andy.