Couch to 5K returns in January 2023
Our NHS approved running coach led 'Couch to 5k' programme returns again in 2023.
This takes you through a 9 week programme, culminating in a 5k Parkrun as a group, where other Thanet Roadrunners will join you in celebrating your achievement.
Our programme starts on Wednesday 11th January at the floodlit Royal Harbour Academy running track.  Every Monday and Wednesday evening at 6.30pm we will lead you through a progressive programme to fitness.  Our 'Celebration Parkrun' and programme graduation will be on Saturday 11th March.  
Couch to 5k is a tried and tested NHS approved programme, aimed at people who are not runners or even joggers, who want to get fitter.  The most important thing for us is that the training is steady and progressive, preventing injury.  For this reason we support you with England Athletics trained and accredited run leaders.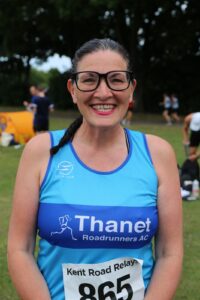 We asked Jacquie (above) what she would say about Thanet Roadrunners C25K.  She said;
"Couch to 5K gave me my life back.  I was unfit and unhappy.  No one knows what running does for your mental health, your self esteem and your well being.  I couldn't run from the car to Tesco in the rain.  But in 2019 I started C25k and it changed my life."
We asked Jacquie about her biggest running achievement.  She said;
"Without doubt the friends I've made in Thanet Roadrunners… the fitness I've gained…and the 1hr 29 minute 10 mile race time I can now achieve.  The best thing is I've done it for myself."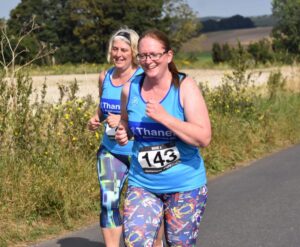 Kirsty (pictured above right) is another C25K graduate and is now one of our England Athletics accredited run leaders.  She loves developing our 'chatty' runners after the C25K.
We can't promise to change everyone's life, but we do promise to work with you as an individual, giving encouragement and advice, to get you fitter.
The cost… Our C25K has always been free, but this year the cost of floodlights and track hire have understandably risen.  England Athletics have generously subsidised our programme, but there will be a one off charge of £15 (about 90 pence per session) towards track hire and floodlight costs.  We'd love to share our passion for running with you…
Interested? 
Call or message Jon on 07974355811 or Jo on 07974355811 for a friendly chat.
There is no such thing as a silly question!