Pam Philpot returns to the Sahara…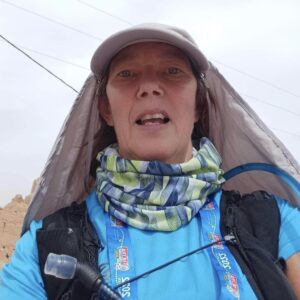 In 2019 Thanet Roadrunners stalwart Pam Philpot ran Marathon Des Sables, a six-day, 251 km (156 miles) ultramarathon, which is approximately the distance of six regular marathons and known as the toughest foot race on earth, across the Sahara Desert. 
Marathon Des Sables describes itself as "an extraordinary race, for extraordinary people, in an extraordinary race"… that just about describes 'our Pam'!
So why on earth would you return to the Sahara Desert again in 2022?    Pam explains…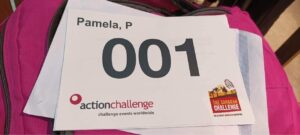 My Sahara Experience (by Pam Philpott)
The idea of returning to the Sahara came about pre-covid when a running friend of mine, Beryl had said she would like to do a marathon in the Sahara but had not found anyone mad enough to say "Yes" Oops, so I said "Yes" and that is how it all started. I have had enough of "fending for yourself" type of events over the years and we opted or an Action Challenge event. We had done a few UK events and have always felt well looked after and safe. The allure of the luxury of having a tent provided and cooked meals was too good to turn down.  Two marathons in two days across the Saharan desert – Fab
Before that, there was the little matter of running the London Marathon two weeks before. This is the most magical road marathon of them all; the crowds just make for a great atmosphere and running over Tower Bridge is emotional. There was one or two little problems I encountered, I fell over at mile five and mile twelve and twisted my right ankle each time. I walked through a few yards then continued to jog. That's the last thing I needed! I cared for my ankle, no running until the marathons; at least I knew I could weight bear and hobble, so that was a bonus.
The flight to Morocco was fine; we met up at the airport, a small group to become part of a 165 strong challengers.
It was a long, tiring eight hour journey before we arrived at the base camp which was the UNESCO World Heritage Darra Valley. Arriving in the dark we had some food then sorted out our equipment and clothes for the early start in the morning. Strange how quickly you adapt to new surroundings, using a head torch for your main source of light, minimal water system etc.
Day 1.  Early start whilst it was still dark. Silly me thought being in the desert we would see sand, but no, it was a rocky terrain, like a lunar landscape. Lots of ankle rolling scrambling, bouldering, hiking along narrow ridges, jogging the straights. We ascended into the Atlas Mountains which was a sight to behold.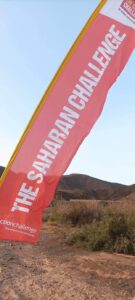 Day2. 'The sand dune day' so we were told. Yippee I thought, but much the same terrain as before. The first five kms started in the dark and was a treacherous downward, loose scree type terrain; A few folk lost their footings and sustained injuries. The medic team were great.  There was a constant haze of dusk. Breathing in dust, dust on our clothes, hot, dry wind. This time the route took us through red clay Berber villages especially to the amusement of the local youths! More scrambling, tripping over hiking and jogging. It was quite a technical challenge at times.  The check points were fully laden with food, which was a bonus, except I did not see the point of having chocolate bars, or melted chocolate bars I should say!
The finish took us along the few sand dunes we encountered. .. Hurrah!
I had a great time- met some amazing ladies with whom I shared an extraordinary once in a lifetime experience.
---
Editor's note:
What an amazing lady… so while we've all been freezing, Pam has been enjoying some winter sun!
We've been so busy updating you all on cross country, Christmas celebrations and club races that its taken us a little longer than usual to tell you about Pam's most recent challenge, but we would love to receive similar inspirational reports from you.